Not every cooking project in the kitchen has to end up as a disaster. Let the dedicated bakers and teachers at Genius R Us help you.
Over 100 recipes to learn and try
With more than 100 recipes (and counting!) for cookies, cakes, muffins, and savoury treats to make and bake, coupled with easy-to-follow instructions, it's no surprise that their recipes are a hit.
More than just baking
Apart from providing kids with a platform where their interest in baking can be discovered and honed, Genius R Us is a baking cove where kids build their confidence and learn skills beyond the perimeter of a classroom.
During this process, they learn about:
• Basic arithmetic
Learn to count, tell apart units of measurement, and fractions (i.e. pouring a quarter cup of flour)
• Science and general knowledge
Learn how to use different equipment and kitchen tools safely, with supervision
• Social and language skills
Pick up and use words pertaining to food, the kitchen and baking.
• Creativity
It can't just taste good, it also has to look good. Watch their imagination take flight as they decorate their freshly baked muffin or cookie.
• Motor skills
Pick up some practical skills such as learning to crack an egg confidently, knead dough and whisk batter.
• Self-esteem
Being able to dish out food on the table fosters a sense of accomplishment. These contributions, however small, are monumental to the development of self.
Learn More Through Their 5 Senses
Baking offers them the experiential platform to engage their sense of sight, smell, touch, taste, and hearing. Making something from scratch with their own hands, there is an immense sense of achievement when children complete a product of their own. They also derive pleasure from baking as they observe, take instructions, and plan their agenda.
Be it in dressing a cupcake or garnishing a cake, baking at Genius R Us is never a chore!
Group Learning
At Genius R Us, kids do not work individually but work in a team of two. Such joint efforts not only allow for the exchange of ideas but also facilities social skills and foster cooperation in them.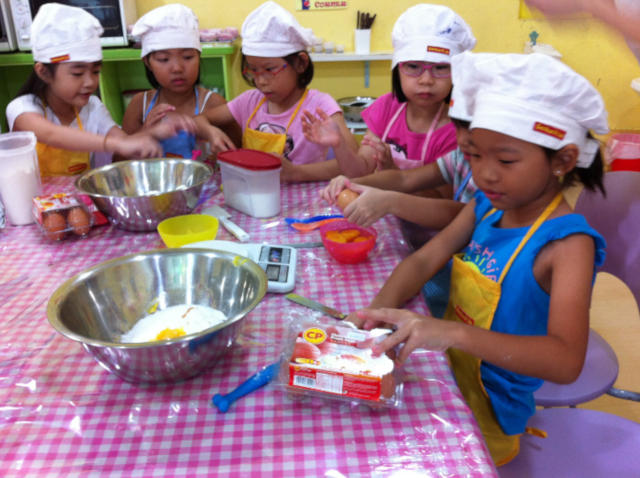 To the very last cookie crumb…
From the moment your little chefs put on the chef hats and colourful aprons, it's truly a melting pot of fun for parents and kids alike. Even if the last crumb of cookie has been consumed, the sweet aroma still lingers on.
Because it's the experience that really matters.
Bake a date with your child today at Genius R Us!
Genius R Us
City Square Mall Studio
180 Kitchener Road, #07-08 Singapore 208539
Tel: 6634 6020 / 8183 0563 (SMS)
Email: info@geniusrus.com
Website: www.geniusrus.com

This was first published in Parenting with Love: Preparing your child for Primary School.
* * * * *
Like what you see here? Get parenting tips and stories straight to your inbox! Join our mailing list here.
Running a service or business targeted for parents? Reach out to a wider audience in our Best Enrichment Classes compilation. Leave your contact details here and we will get in touch with you.