Every baby has the potential of being a water baby; comfortable in the pool without the use of floats or being confined to the shallows.
The key is early introduction. This is the first step towards learning to swim. As your baby is exposed to the water, they discover the water environment and freedom of buoyancy. Activities in the water also help to develop their gross motor skills, coordination, balance and confidence.
Can my baby be submerged?
From birth, babies have a natural reflex called Diving Reflex (Gag Reflex) which allows them to be submerged without swallowing any water. When your baby is submerged underwater, their epiglottitis – which is the flap at the base of the tongue that also keeps food from going into the windpipe – closes. Early introduction to the water allows your baby to use this reflex and progress from involuntary muscle action of holding their breath underwater.
TIP: Don't be in a hurry to see results immediately. Baby swimming is most effective when is relaxing and fun for you and your baby. Focusing too much on the results might take the fun away.
Benefits of Baby Swimming
Although there is a small percentage of babies that do not have this capability, and the Diving Reflex might disappear from 2 to 6 months, some babies maintain them until much older. This varies from baby to baby. Discuss with an experienced baby swimming instructor to know if your baby still has this reflex.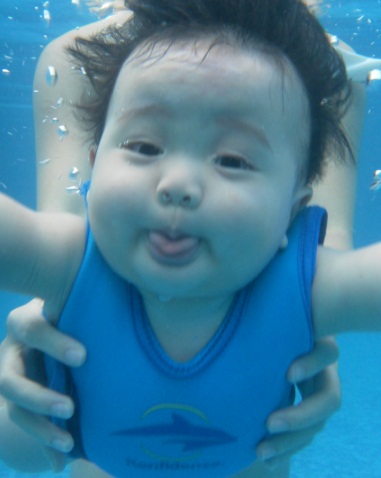 Babies who are exposed to swimming and being submerged before 6 months have an early start in holding their breath. Being in the water also helps babies feel more relaxed. When they get older, they will slowly learn how to hold their breath and not depend on the reflex. The length of each submersion can gradually increase with more practice on their breath control. However, babies should not be submerged for too long. It's highly encouraged that you practice this with a professional coach.
Benefit babies with low muscle tone
There are various reasons for babies to have low muscle tone (muscle tension): inactive use of their muscles, babies with Down Syndrome or Hypotonia (also known as Floppy Baby Syndrome). Baby swimming is very beneficial for babies with low muscle tone as the buoyancy of the water encourages them to move their bodies.
The involuntary muscle movements encourage them to use their muscles and the water "cushions" their body; creating a stronger resistance of movements that strengthens the muscles surrounding their joints and spine. Inspire Mum & Baby has helped and managed many cases of such babies. We found that the results are much faster than land-based therapies.
By Linda Tan, Head Coach, Trainer & Therapist, Inspire Mum & Baby.
Inspire Mum & Baby offers pregnancy, baby and kids swimming classes. To find out more, go to their website.
This was first published in our Parenting with Love Seminar Booklet.
* * * * *
Like what you see here? Get parenting tips and stories straight to your inbox! Join our mailing list here.
Want to be heard 👂 and seen 👀 by over 100,000 parents in Singapore? We can help! Leave your contact here and we'll be in touch.