If you haven't already heard, KidsSTOP is Singapore's first and only children's Science Centre, catering to kids between the ages of 18 months and 8 years. Created with young children in mind, this initiative seeks to cultivate a lifelong love and appreciation for science and technology in the younger generation.
The space, which covers over 3000 square metres (over 32,000 square feet), includes a wide variety of interactive play stations which allow little ones plenty of opportunity for hands-on play and exploration. In fact, you can think of it as a kids-version of the Singapore Science Centre!
KidsSTOP officially opened to the public on 6 June 2014. The centre includes 17 themed zones such as Flight and Space, Built Environment and The Human Body, which promise to hook your child's interest and engage him in meaningful discovery. My boys and I went with a few mums and their littles – all in the preschooler age range. Everyone enjoyed themselves tremendously, and we were more than a little sad to leave when our time was up!
Story Behind The Name and Logo
If you're wondering about the meaning behind the name, wonder no more! We found out that the STOP sign in the logo is meant to represent a magic wand, beckoning kids to step into an imaginary world, and embark on an exciting and inspiring journey of discovery! KidsSTOP seeks to be a place where kids can escape from the busy world outside, to Imagine, Experience, Discover and Dream. These four themes provide the blueprint for the design of the various stations. However, instead of physically grouping the stations in themes, you'll find them artfully spread out over the whole centre. From a parent's point of view, this is really an awesome idea, because it means that children can move seamlessly within these themes throughout the space.
IMAGINE
A series of role-play type environments based on familiar settings for children to immerse themselves in some pretend-play.
DISCOVER
Children will be introduced to basic STEM (Science, Technology, Engineering and Mathematics) principles and other modular interactives that are both fun and educational, and aim to foster problem-thinking skills in our young minds.
EXPERIENCE
Here's their chance to personally interact with nature, art and the world around them through a variety of hands-on activities.
DREAM
Dream-themed displays will transport children into a dream world, a total contrast to the other zones, which are based on the rules of the 'real world'. To help you get an even better idea of what's in store for your children, here's an overview of the various stations you will encounter in kidsSTOP, as you make your way inwards from the entrance into the main hall.
Built Environment
Upon entering KidsSTOP, children will be greeted by a bustling construction site scene, complete with kids-size diggers and construction worker gear. The highlight of this space is a mechanized crane that picks up and drops plastic balls at the press of a button! My older boy was completely fascinated with this contraption, while my younger one was happy to play with the dropped balls! There is also a wall with a set of magnetic mechanical gears which kids can arrange to create a path, with the aim of reaching either a cuckoo clock at one end or series of lights on the other side.
Dino Pit
Let your mini paleontologists dress up in style as they try to uncover a T-rex skeleton buried in the sand. This was definitely one of the boys' favourite stations! There's also lots to learn about the various kinds of dinosaurs – all at the press of a button along this wall!
Nature
Between the various zones or stations within KidsSTOP, you'll find a winding path connector that links them to each other. Along the path, children learn interesting facts about the four seasons, identify different animal prints and use mounted binoculars to search the canopy for birds and animals that are native to our country. The staff patiently explained to David the general direction to look at, rather than just turning the binoculars for him. I appreciate that effort to take a step back and let the children discover things for themselves.
Flight and Space
Children can dress up as pilots and experience life in a cockpit. My boys had a field day pretending to fly their very own plane, and Daryl was so enamoured with the plane that he kept running back to this station even when our group had moved on to other ones inside! As part of this zone, children can create their own unique mini flying machines, using a wide variety of materials, and release them upwards into wind tunnels.
There is also an area where you can generate electricity to power a panel of lights and fans by either cycling or cranking up a lever. The boys loved this too!
Human Body
Here, children will get an interactive introduction to the five senses of the human body, as well as learn about various systems like the digestive system, respiratory system, and so on. A mannequin patient on display allows aspiring doctors to examine his (removable) organs, an activity that my elder one was intrigued by. He even took the "sick man's" temperature a few times, and pronounced that he was "all well" when we left.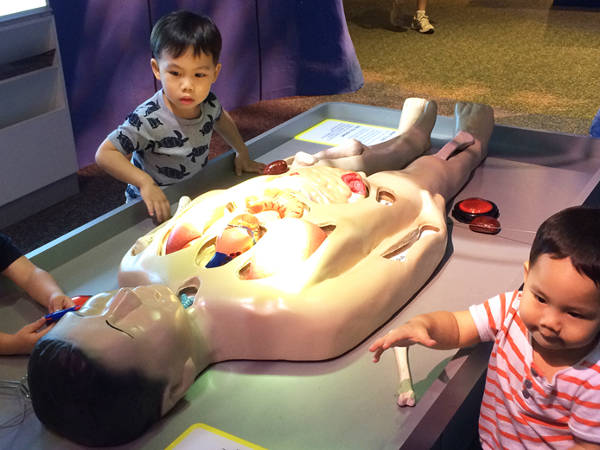 Small World
Everything is awesome here for LEGO enthusiasts! As my son exclaimed, "Wow, mummy, look at all those blocks!" A huge pile of giant rubber lego blocks can keep children entertained for a very long time indeed. There is also an infant nest (for the very young ones) and a Nursing Alcove. The boys and their friends were busy building houses and a swimming pool, and we had to tear them away from this station with promises of more excitement to come.
Smaller World
Welcome to a magical garden where the young can do a little gardening. Let them 'plant' or 'pluck' flowers, and sort the flowers by colour or shape.
The Supermarket & Café
One of the most popular zones within KidsSTOP, this space was filled with kids from beginning to end. The set-up includes extremely well-stocked supermarket shelves (complete with fake ice for the fake fish), a cash register and weighing machine for customer "purchases", and a chef's kitchen where the food is cooked for hungry café patrons to eat.
Some of the kids were very drawn to an interactive screen at the side, which allowed them to scan the barcodes of different food items and learn about how that particular item was processed from its raw form into the product you see in the supermarket. Very informative, I must say!
Giant J
This seven-metre J-shaped slide gives visitors the sensation of a free-fall before sliding to safety. My elder boy wasn't keen to give this a shot, and we were afraid my younger one, Daryl, wouldn't be able to follow instructions about holding on to the handrail, so this mummy ventured out for a slide of her own, just shy of the 7 metre mark! It was an exhilarating experience, that's for sure! The staff will assess the readiness of your child, and recommend an appropriate height to be dropped from accordingly. I understand that, for most pre-schoolers, they would be allowed to slide from the 3 metre mark.
The Big Dream Climber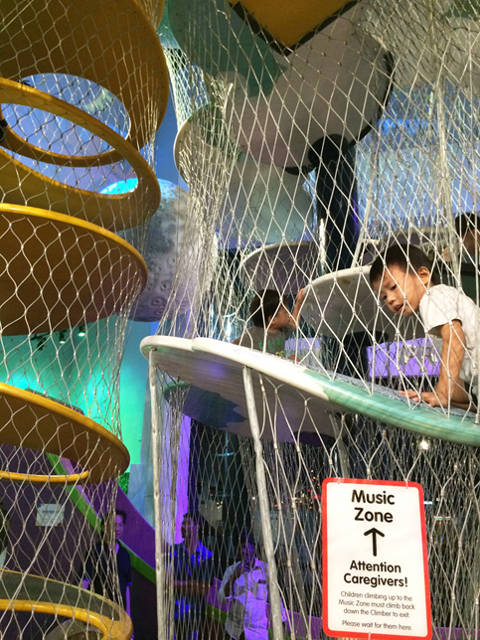 When you first enter KidsSTOP, your attention will immediately be drawn to this 9 metre climbing structure that goes all the way up to the second level! Various hanging elements, in the shapes of leaves, fanciful doors and gears, lead young climbers on a happy maze of exploration, ending up at the Music zone above. For safety, everything is encased in strong netting.
At the back of the main hall, there is a doorway that leads you out into a corridor that surrounds the omnitheatre. Here's what you expect from these last few zones
Critters
Young animal lovers can get acquainted with real-life mice, chicks, frogs, fish, hermit crabs and some insects in their enclosures. They'll learn about the families of various animals (e.g. mammals, birds, amphibians, etc.) and how they differ from each other.
Kiddie Theatre
Children can live out their film-directing and acting dreams, creating their own unique storylines and videos. A green screen area allows kids to enact scenarios like underwater swimming or flying through the air, before superimposing it onto a scene of their choice. Costumes and props provided, acting skills not included.
Math
In the Math Zone, children will be introduced to interesting ways in which Math affects their everyday life. Activities here include creating patterns using tessellation tiles, experimenting with shapes and volume, and riding a unique Square-wheeled Tricycle.
Tinkering
This versatile space is ideal for hosting various workshops, including some worktables, and surrounded by cabinets filled with materials and tools for children to, well, tinker with.
Kitchen Lab
While the café kitchen in the previous zone is only for pretend-play, the Kitchen Lab is a fully equipped kitchen setting where young ones can create food items, such as pizzas, cotton candy or ice cream, with the help of trained staff personnel during workshop sessions.
The Innovation Lab
Sponsored by LEGO Education, The Innovation Lab will deliver educational programmes based on LEGO Education platforms and serves to allow young visitors to learn naturally about the world around them.
Unfortunately, the boys were having such a good time in the main hall that we didn't have time to explore the other stations. We did, however, manage to spend some time in the Music Zone!
Music

Up here, children can bang on different types of drums, play the xylophone and step on a giant piano. We also enjoyed jumping on the trampoline and listening to each other's voices coming through pipes.
Final Verdict
I must say that the stations in KidsSTOP are really conceptualized very well, to appeal to a wide range of personalities and children of different ages. Most of the stations had a kind and friendly staff member on hand to facilitate the children's play, giving them instructions and/or suggestion without overly directing their playtime. I was very impressed by the rapport they built with the kids, and how vigilant they were in making sure that no one got hurt or lost by accident.
KidsStop
Address: 21 Jurong Town Hall Singapore 609233
Opening Hours:
| | | |
| --- | --- | --- |
| | Weekdays (excluding public holidays) | Weekends (including public holidays) |
| School groups | 9.30am – 11.30am | – |
| Public | 12pm – 3pm, 4pm – 7pm | 10am – 2pm, 3pm – 7pm |

Text and images by Dorothea Chow
This post is brought to you by Singapore Science Centre
Want to be heard and seen by over 100,000 parents in Singapore? We can help! Leave your contact here and we'll be in touch.
Like what you see here? Get parenting tips and stories straight to your inbox! Join our mailing list here.