What's a mum to do if your baby hates being in a stroller? Here are 6 stroller-saving tips!
1. Let Your Baby Face You
Not all strollers are made equal. Some are more aesthetically pleasing than others, and you might be tempted to buy them. Choose function over form. What can come in really handy is the option to reverse the handle of the stroller, such that your baby faces you when you are pushing the stroller.
This way, your baby can see you and know that you are there, and that may help ease the anxiety of being in a stroller. Some strollers that can go in both directions may not be easily manoeuvred in the reverse mode, so try the strollers out before you buy them.
2. Comfort is Key
The heat and humidity in Singapore can get to most of us, let alone our babies in strollers. Make sure that the seat is lined with fabrics that help to disperse instead of retaining heat. Look out for those that come with vents at the back that can be flipped open for ventilation.
Get a stroller that offers a good range of motion for its reclining seat. This gives you a higher chance of finding that sweet spot for your baby to rest on. You can also attach a battery-operated fan with foam blades to help your baby stay cool.
3. Talk to Your Baby
Sing to your baby and point out different things that are in sight while they are in the stroller. This lets them know that mummy is around, and is doable if you aren't preoccupied with running errands. You can also try attaching toys at the front of a stroller to entertain your baby.
4. Offer Snacks
If your baby is old enough to sit upright and can have bite-sized pieces of food, prepare a variety of healthy snacks to distract your baby from the distress of being in a stroller.




5. Timing is Everything
Find what makes your child more willing to go in the stroller. For some children, it could be because they were feeling cranky and stressed over something. Watch your baby's cues and learn what makes them happy or unhappy to be in the stroller.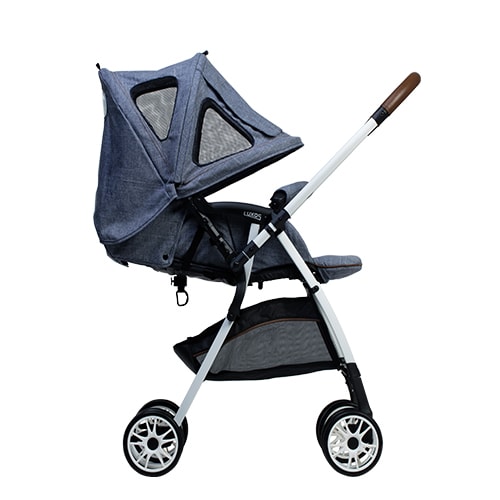 6. A Smooth Ride
Bonbijou LUXOS Stroller is not only compact and light, with front and rear suspension, its reversible handle allow you to look at your little ones while navigating busy streets and bumpy terrains. Plus the extra-spacious seat allows your baby to stretch out for comfort on the go. Suitable from birth up to maximum weight of 25kg.
When all else fails…
A baby carrier can be quite handy in situations when you're out, and your baby does not want to be in a stroller. Don't risk having to carry a wriggling baby in one arm, and pushing the stroller with another.
This can be dangerous if you can't manage both at the junction of busy roads for example. You can use the carrier and place your diaper bag in the seat of the stroller.
Try putting your baby back into the stroller again when you have the opportunity to do so. It's all about practice, for both you and your baby to get used to the stroller. Having a baby carrier on hand might make the learning process less stressful.
This was first published in our e-book Your Baby's Feeding and Growing Years.
If you find this article useful, do click Like and Share at the bottom of the post, thank you.
Like what you see here? Get parenting tips and stories straight to your inbox! Join our mailing list here.