Family holidays are one of the best times to bond with your spouse and kids, so choosing a holiday destination that can fit everyone's needs is quite an important decision.
Thankfully, South Korea has many attractions for unforgettable holidays, with a mix of novelty, nostalgia and delicious Korean food to please everyone.
We list down a few of the amazing places to visit with kid-friendly activities for the whole family!
1. Winter Skiing and Theme Parks
Source: Korea Tourism Organization
Had enough of Disneyland and Universal Studios, and want to experience something different? South Korea is a haven for winter skiing and unique theme parks such as ONEMOUNT, Everland and Legend Heroes.
If you have not tried winter skiing, South Korea is a family-friendly destination to start. You can embark on a basic ski lesson with a tour guide, and easily rent ski equipment (such as skis, ski poles and ski gear).
Regardless of when you visit South Korea, ONEMOUNT is one place your family can experience winter at Snow Park and summer at Water Park 365 days a year.
Source: ONEMOUNT
Try ice-sledging with dogs – an exciting experience you'll not get to experience in sunny Singapore! Or bring your kids to the Santa Village to snap and capture holiday family photos to keep. Kids who love water play will love Water Park's indoor and outdoor slides, surf wave pool, flowing pool and aqua play.
Source: Korea Tourism Organization
Everland, South Korea's largest theme park, has five themed zones: Global Fair, American Adventure, Magic Land, European Adventure, and Zootopia. Adventurous and older kids can try the T-Express, South Korea's first wooden roller coaster, the Rolling X-Train, and the safari ride.
Source: Legend Heroes
Sports fans will love Legend Heroes, a screen sports theme park where IT and sports combine to provide a variety of screen sports and arcade games including baseball, curling, and soccer. This is a place that will engage families who like to stay active and fit, or simply love sports.
2. Themed Cafes
Are your children big fans of Tayo Bus?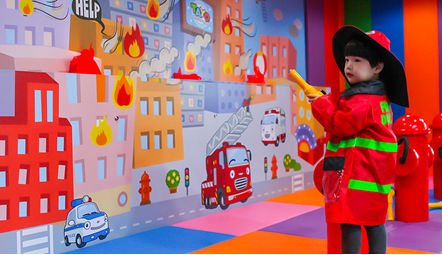 Source: Tayo Kids' Cafe
Tayo Bus Café has many self-directed playing facilities developed through careful analysis of children's behaviour and psychology. The café has various activities, such as the Jungle Gym, Tarzan slide and car zone. These are all connected in a circle so kids can play to their hearts content within the play area, while parents can relax at the café.
3. Delicious Korean food
When you're in South Korea, it's a must to taste authentic Korean food. Look out for the local favourites like mandu (Korean dumplings), tonkassu (schnitzel-style fried pork) and patbingsu (shaved-ice dessert).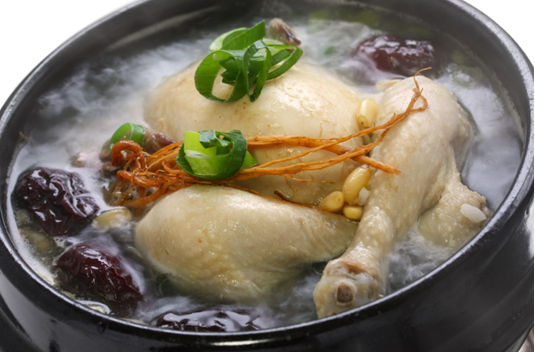 Source: Dynasty Travel
Travellers on Dynasty Travel's 7D5N kids friendly travel package enjoy a mouth-watering Korean Fried Chicken, an 8-colours Korean Pork BBQ dinner and a hearty and healthy Korean Ginseng Chicken meal too! These are all non-spicy dishes, so kids can tuck in and enjoy their share too!
Source: Dynasty Travel
4. Visit A Hanok For An Authentic Korean Experience
Who says history has to be learnt in class? Immerse your kids in Korean culture and history as you visit a hanok, a traditional Korean house. South Korea has a famous 600-year-old Bukchon Hanok Village with more than 900 hanoks, also known as "the street museum in the urban core".
With many historical spots and cultural heritage sites, the Bukchon Hanok Village is also surrounded by Gyeongbokgung Palace, Changdeokgung Palace and Jongmyo Royal Shrine, making it a first-hand cultural experience for children.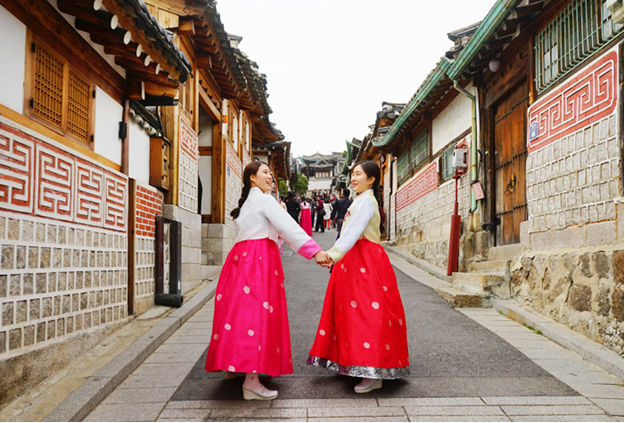 Source: Korea Tourism Organization
Dynasty Travel's 7D5N kids friendly travel package includes the opportunity for your family to tour Bukchon Hanok Village wearing a hanbok (a traditional Korean costume). Korea Tourism Organization has even published a step-by-step guide on renting and taking photos with hanboks. Visitors wearing hanboks get free entry into palaces too!
5. Kids Museums
Source: Korea Tourism Organization
For a visually stimulating experience, take your kids to the Trick Eye 3D illusion Art Museum above to pose in comical and giggle-inducing illusions, augmented reality included! While you're there, don't forget to check out the Ice Museum, and be awed by life-size ice sculptures. There's also a 10 metre ice slide for the kids too!
How To Plan Your Trip To South Korea Efficiently
Unless you're fluent in Korean, getting around and conversing with the locals can be a little tricky. Why not opt for a well-thought out tour instead?
Dynasty Travel's 7D5N Little Travellers' Escapade To Korea is ideal and super worthwhile for families with kids aged 3 to 11 years old. It covers airflights, attractions, quality accommodation and authentic local cuisines in both Seoul and Gyeonggi-do, planned by their team of professional tour consultants and tour managers.
This itinerary has no compulsory shopping stops, so you can choose what is relevant to you and your family. There is also a day that is free and easy, if you'd like to have some private time with your family to explore Seoul on your own.
Booking with Dynasty Travel also includes a pre-tour briefing that includes flight schedule, travel documents and guidelines on check-in and carry-on baggage. You will be informed on what to pack, which currency to change/credit cards to bring and what to bring/not to bring to the airport to go through a smooth customs check.
Plus, you'll learn the dos and don'ts in South Korea, weather, simple terms in Korean language for ease of communication, time difference between Singapore and South Korea, security and safety, attire advisory, TAX refund and more.
To learn more about 7D6N/5N Little Travellers' Escapade to Korea for your family's next school holiday trip, contact Dynasty Travel at 6338 4455 (hotline) or 6532 3833 (for group enquiries).
This post is brought to you by Dynasty Travel and Korea Tourism Organization.
By Julia Chan.
* * * * *
Like what you see here? Get parenting tips and stories straight to your inbox! Join our mailing list here.
Stay in touch! 📣 Subscribe to our Telegram here for our latest updates.