It is recommended that mums should exclusively breastfeed their babies in their first six months of life.
However, as babies grow, it is important to start incorporating solid or complementary foods into their diets to meet their increasing nutritional needs, particularly in zinc and iron.
The best age to do so is when your baby turns six months old.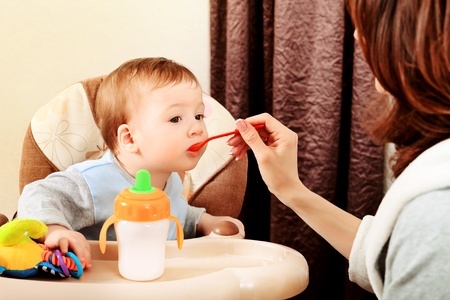 Of course, breastmilk remains the main source of nutrition for the baby, especially in the early weaning stages.
It is also important for parents to remember that each baby's readiness for solids depends on their own individual development.
Introducing solid foods or weaning is an exciting milestone for parents and babies alike. While watching your baby explore new foods, flavours and textures is a lot of fun, planning and cooking every day can be challenging and time consuming especially for busy parents.
Weaning can be a smooth transitional phase and a time for parents to spend more quality time with their babies.
Here are tips to help you along the way:
#1 Food Storage Hacks
To save cooking time, you can consider cooking your baby foods in batches and freezing them every couple of weeks. Just remember to cool the food quickly and store it in clearly labelled and dated containers or ice cube trays in the freezer. Try to finish all the frozen food before starting on another batch to prevent any food wastage.
#2 Food Preparation Hacks
Making separate meals for your baby and the rest of the family can be exhausting. It helps to plan a menu that has dishes suitable for all (E.g. vegetables that can be pureed or mashed for your baby).
It is also not necessary to prepare different foods for babies every day at the start of the weaning stage – let them get used to and enjoy the flavours and textures of solid foods. Do so by introducing new foods every few days which also helps parents to identify the type of food that causes allergic reactions or rashes.
While most foods require cooking before they are ready to be pureed, foods such as avocados, bananas or papayas only need quick mashing before consumption.
For parents on-the-go or travelling, commercial baby foods or food pouches can be a great time-saving alternative. Take extra care to choose age appropriate baby foods without added salt, sugar or preservatives.
#3 Cooking Hacks
Busy parents can consider a baby food maker. It may be good to consider a food maker that is versatile enough to prepare food for every weaning stage and reduces the time spent preparing wholesome foods for their babies.
For example, the Philips Avent 4-in-1 Healthy Baby Food Maker can steam, blend, defrost or reheat food. It's able to prepare healthy and nutritious meals for baby efficiently in a single jar, making it a suitable product for every weaning stage. This allows parents to spend more time bonding with their baby and lesser time on preparing meals.
#4 Feeding Hacks
Introducing solids to your baby can be a messy affair at the beginning. Invest in a mat or put a plastic sheet under the baby high chair for easy clean up after. Plastic bibs with scooped bottoms are also great investments and will catch most of the drips and spills.
Alternatively, feeding the baby in just a nappy will reduce a lot of unnecessary washing of stained clothes as well.
With all these tips, we hope your weaning journey will be more enjoyable for both you and baby.
Most importantly, relax and let your baby lead the way in the weaning journey. Babies and children eat when they are hungry and stop when they are full.
Respecting such cues will help them to develop healthy eating habits in the future.
Take things slowly. It takes time for a baby to learn to eat a variety of food, flavours and textures, don't hurry them and let them explore at their own pace.
This article is contributed by Ms Izabela Kerner, President, Singapore Nutrition and Dietetic Association.
---
Philips Avent 4-in-1 Healthy Baby Food Maker Giveaway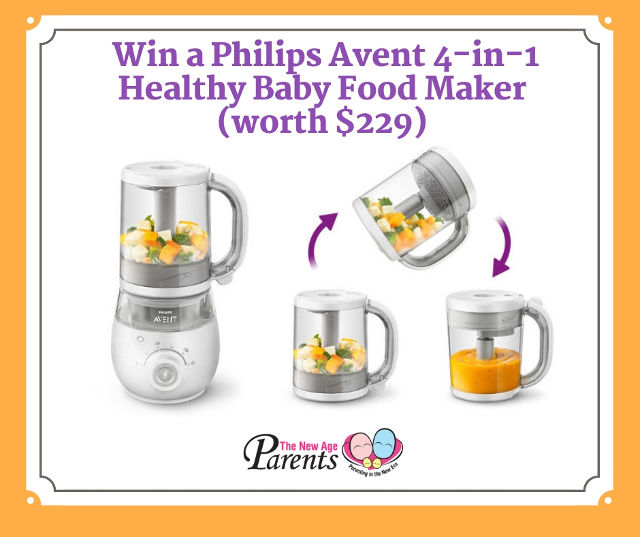 Be it steaming, blending, defrosting or reheating food, the Philips Avent 4-in-1 Healthy Baby Food Maker ($229) is able to prepare healthy and nutritious meals for baby efficiently in a single jar, making it a suitable product for every weaning stage.
The New Age Parents is giving away one set to two lucky winners!
To take part, all you have to do is:
Join our

2018 Babies

OR

2019 Babies

Facebook group
In either of the above Facebook group, like and share this giveaway post (Remember to change your privacy settings to 'public' so that we can view it too)
Comment "I hope to win a Philips Avent 4-in-1 Healthy Baby Food Maker because…"
Bonus chance to win: Tag two mummies who just had a baby or are expecting
Important notes:
Winners will be notified via Facebook and have to respond via Facebook Private Message (PM) within 24 hours else the chance will be passed to the next eligible entry.
Winners will have to self-collect the prizes from New Age Consulting Office.
Terms and conditions apply. Please also read our Privacy Policy.
For more contests and giveaways, go to The New Age Parents Contest Page.
Want to be heard 👂 and seen 👀 by over 100,000 parents in Singapore? We can help! Leave your contact here and we'll be in touch.