Sometimes, as the only nursing mother in the office, you may feel alone or shy to ask for space and time to express milk at work. It's also not a common topic or a conversation starter where mothers can openly discuss at the office, unless your workplace consists of mostly women and mothers.
As a result, most working mothers are usually too shy to seek help from their employers, out of fear of being judged as too 'demanding' or 'unprofessional'.
But working breastfeeding mothers don't have to and shouldn't have to feel that way.
Even as the Singapore government is pushing for more family-friendly work places, there is still a lack of understanding on breastfeeding in the workplace.
We debunk some common myths of breastfeeding at work that colleagues or employers may have.
1. "Can't mothers express their milk before and after work? Why should my company be concerned about their breastfeeding routine?"
A mother needs to express milk about 2 to 3 times a day in order to sustain her milk supply for her baby. Not expressing breastmilk regularly may also cause engorgement, which can be very uncomfortable and painful. Engorgement can lead to a condition called Mastitis, which is an infection of the breast tissue and can cause fever and chills.
For optimum nutrition, babies should be breastfed exclusively for the first 6 months, as recommended by the World Health Organisation (WHO). As maternity leave in Singapore is only four months, many mothers need to continue breastfeeding after going back to work. The WHO also recommends mothers to continue to breastfeed for up to 2 years and beyond, while introducing solid foods.
2. "Breastfeeding is a mother's job. It doesn't concern the company."
In a survey about breastfeeding at the workplace conducted by NTUC U Family, 51% of mothers stopped providing breastmilk to their child because of workplace challenges such as the lack of time, flexibility, lack of space, nature of work and lack of support. And 65% of them claimed they did not have exclusive nursing space in their office.
This shows that working breastfeeding mothers feel that they are not getting the support they need. Not just from the government and companies, but also from their colleagues. Employers' support is invaluable to cultivating an encouraging and family-friendly culture at work.
3. "Wouldn't breastfeeding at work disrupt their work and affect their productivity?"
Breastmilk helps in a baby's immunity. Studies in the USA have shown that breastfed babies had statistically fewer episodes of illness as compared to formula-fed infants. This means reduced absenteeism in the workplace. With less absenteeism, work will not be disrupted.
Breastfeeding mothers are also more likely to return to work and do so earlier if employers extend support to continue breastfeeding. This saves employers the cost of replacing and training new workers.
Mothers usually take about 20 to 30 minutes to express milk. Phua Pek Lin, a working mum clarifies, "Yes, we can multi-task while expressing. We can be clearing emails or planning for some important presentations." Joyce Yap, a working mum, further explains, "I can still answer calls, do tele-conferencing, I can still work on my laptop. So expressing milk doesn't really affect my work life."
4. "How can this benefit my organsiation if I only have a small percentage of females and mothers?"
It is shown that employees are more loyal to companies with family-friendly policies. This leads to easier employee recruitment, better public image and higher shareholder value.
Bosses who support their workers to continue to breastfeed find that the savings in reduced absenteeism and recruitment costs far outweigh that of providing breaks and facilities for breastfeeding.
5. "I don't have the resources and skills to educate my employees."
To prepare workplaces to be baby friendly, NTUC U Family and The Association for Breastfeeding Advocacy Singapore (ABAS) have jointly developed a Workplace Breastfeeding Mentor Programme to provide information and support to working mums who are new to breastfeeding.
What do they learn during the Workplace Breastfeeding Mentor Programme? In this programme, participants will learn the basics of breastfeeding, how to make the transition to expressing milk at work after their maternity leave, and how to support other breastfeeding colleagues.
Who are the trainers?
The Workplace Breastfeeding Mentors would be trained by accredited trainers from The Association for Breastfeeding Advocacy Singapore.
How long is the course?
It is a 1-day course.
Where will it be conducted?
The course is currently held in NTUC Centre at One Marina Boulevard.
Who is this course eligible for? Is it suitable for male co-workers who are fathers as well?
The course is suitable for expectant mums who are keen to continue breastfeeding at work after their maternity leave, mums who are currently breastfeeding or have breastfeeding experience and would like to support other colleagues in their breastfeeding journey.
As a mum, I think this is a great idea but how can I inform and convince my employer about this?
Interested mothers can seek their employers support to let them attend the 1-day course. You can forward this information to your HR department or simply inform your supervisor. The application form can be found here.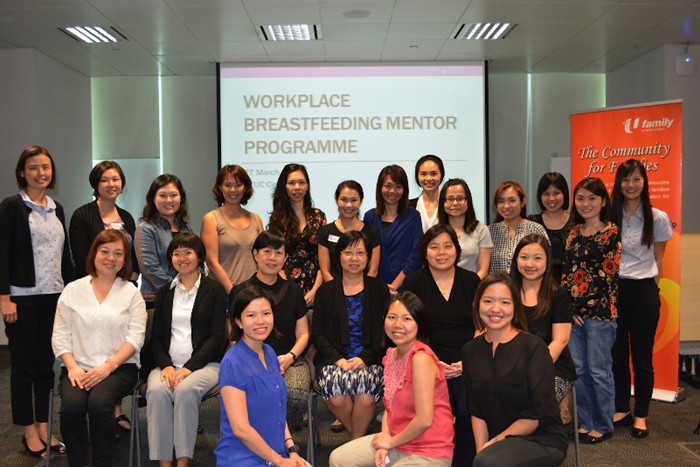 You can also highlight the benefits of breastfeeding and share why you think why your employer's support is invaluable. Share with them on the various companies who have come on board the programme:
Allianz Managed Operations and Services
CMA CGM & ANL
Duke-NUS Graduate Medical School Singapore
Nanyang Academy of Fine Arts
Ngee Ann Polytechnic
National Trades Union Congress
PUB
Resorts World at Sentosa Singapore
Sembcorp Industries Ltd
Sheraton Towers Singapore Hotel
Singapore Technologies Kinetics Ltd
Singapore Workforce Development Agency – CaliberLink
If you like to find out more about this programme, you can contact U Family at ufamily@ntuc.org.sg
An NTUC initiative, U Family is the voice for working families. They advocate the building of strong and happy families by championing work-life harmony. Join U Family at www.ufamily.org.sg
Project Liquid Gold is an initiative by U Family targeted to raise awareness of the importance of breastfeeding to advocate for more support for new mothers who are returning to work after their maternity leave.
For more information, go to www.ufamily.org.sg/plg
This article is part of Breastfeeding with Love campaign, initiated by The New Age Parents and New Age Pregnancy.
Join the Breastfeeding with Love Group to find out more and be part of our breastfeeding online community!
Click on the logos to find out more about our supporting partners.
* * * * *
Like what you see here? Get parenting tips and stories straight to your inbox! Join our mailing list here.
Want to be heard 👂 and seen 👀 by over 100,000 parents in Singapore? We can help! Leave your contact here and we'll be in touch.