Since becoming a mum, I can relate to wanting to run a home business instead of having a full-time job. It makes the prospect of becoming a stay-at-home mum (SAMH) less daunting when there is some income to support the family's expenses. Besides, it does seem like a dream to do what you are passionate about and earn money from it – all while having a flexible schedule that allows you to stay home and care for your child.
We look at three mums who have linked their passions to create businesses that benefit the community.
1. Jingyi from A for Apothecary
Photo credit: A for Apothecary
Jingyi's first product for A for Apothecary was inspired by her second son's cheek eczema. It was difficult for her to obtain steroid-free and natural baby skincare that alleviated the situation. Out of desperation, she applied raw organic coconut oil on his skin and realised that it worked amazingly well. From there, she developed her first product – the baby balm.
It's a beautiful and relatable story that tells of a mum's passion to help her child. Her passion has become a love story not only to her children but also helps mothers and children facing similar skin problems.
2. Serene from @heartstringsincolours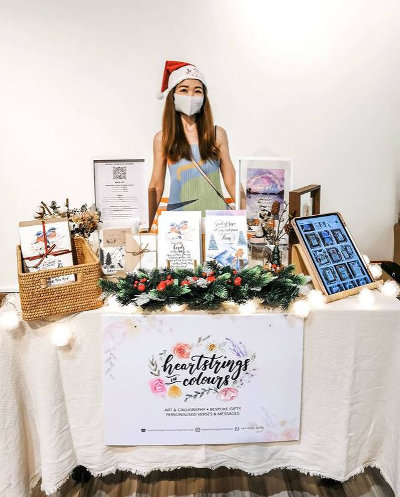 Photo credit: ig @heartstringsincolours
I got to know Serene after I saw a friend share a piece of hand-drawn artwork on Instagram. Back then, I was in my third trimester and about to give birth to my first child. I had been looking for an inspirational piece of artwork that would serve as an encouragement to me in the labour ward.
I commissioned a piece from Serene and asked if she could complete the piece soon, just in case I were to go into labour early. She readily agreed and personally delivered the artwork to my doorstep after hearing about why I needed it soon.
Beyond her skills and ability to create beautiful drawings and paintings, her act of going the extra mile touched my heart deeply. She also has a beautiful personal story on overcoming health issues that exudes strength and encourages others.
I did eventually bring the artwork to the labour ward, though my labour was fast and smooth – and I did not get to look at it while I laboured.
3. Aunty Amy from Kin and Kith Kitchen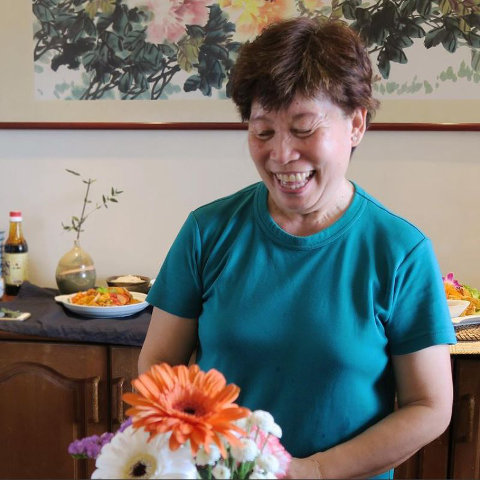 Photo credit: ig @kinandkithkitchen
During the Circuit Breaker last year, Aunty Amy decided to start a catering "dabao" service for lunch and dinner. It was a lifesaver for someone like me – I was pregnant and missing my mum's food but couldn't visit her because of the Circuit Breaker rules.
Aunty Amy is a former hawker and is skilled at making different types of cuisines. The best part? Her food tastes like home and was a warm comforting hug to me. Aunty Amy is a mother to three grown beautiful daughters and teaches cooking lessons to those keen to learn her art (and secrets!).
Turning your skills into a business
Some may belittle the talent and skills that women possess. Nevertheless, like the story of the five loaves and two fishes – these mothers have shown how they can multiply their talents and make a big difference.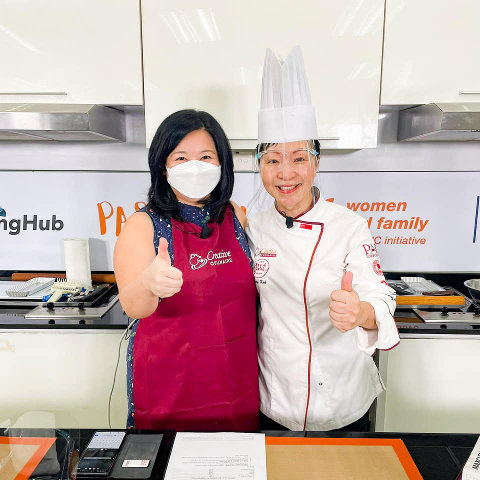 NTUC's only female MP, Ms Yeo Wan Ling, also shared about this topic in her recent Facebook post. Ms Yeo attended a baking class with Chef Judy from Creative Culinaire The School. This is part of a "From Mum to Mumprenuer" series, which is a collaboration between NTUC LearningHub and NTUC U Women & Family. This initiative seeks to help women upskill and fulfill their entrepreneurial dreams.
Like all these inspirational women, you too can turn your passion into reality – while utilising your Skillsfuture credits too!
P.S. This article is not sponsored, it's my way of giving back to these women who have inspired and blessed me on my motherhood journey 😊
This article was contributed by Faith Koh.
* * * * *
Like what you see here? Get parenting tips and stories straight to your inbox! Join our mailing list here.
Want to be heard 👂 and seen 👀 by over 100,000 parents in Singapore? We can help! Leave your contact here and we'll be in touch.