Transform into an Investor, a Detective, an Inventor, a Programmer and More at The Keys Holiday Camps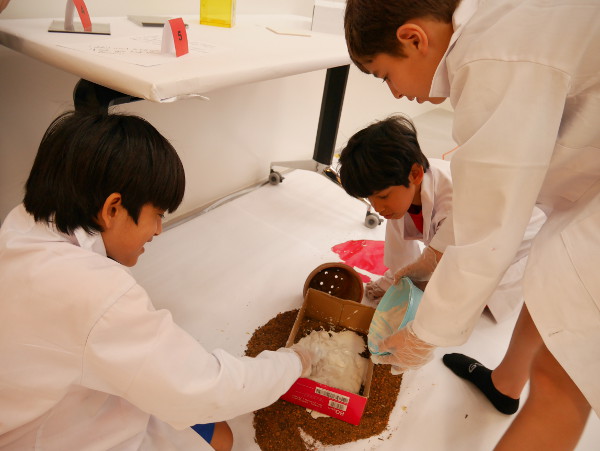 This November holiday, The Keys Academy is transforming kids into professionals. Our innovative and interdisciplinary camps go beyond the classroom and into the real world. Students learn to think creatively, solve problems, and communicate with the support of our award winning teachers and visiting industry leaders.
In just five days, your child could be inspired to become a:
Wall Street Investor
Invest like real-life financiers through a simulated $100,000 portfolio.
Students will learn about stocks, bonds, currencies, and the way financial markets work. Through investments, they will understand how wars, elections, and national fiscal policies impact the market. Let your child experience the thrill of making money, and tackling challenging market downturns.
"My son really likes news, current affairs, and financial information. Now he understands more of the terms, interprets what he's reading and about the consequences of events." Francis Lim, mother of a Wall Street Investor
Camp: Wall Street Basics for 14-17 year olds
Forensics Scientist
Someone has been murdered, and our detectives need to figure out how and why.
CSI students use science and mathematics to create evidence to argue in front of a grand jury. The case is ultimately cracked through a mock trial where the accused is deemed innocent or guilty.
"The program was very well organized and the team at The Keys was super enthusiastic about what they were doing. The forensic work was very cool and the trip to the Supreme Court was great." Joellyn Ash, mother of a CSI Detective
Inventor and Entrepreneur
Design the next great tech invention, print a prototype, and sell it. Students will learn how to think like an inventor, express their ideas in software, and use a 3D printer. Then they'll learn and apply entrepreneurship skills to get their new product out into the market.
"They have to think of the reason why they are designing their product, if it is feasible to produce such product, if the product is attractive and probably what kind of customer, the cost of the product and even the selling pitch…They are learning a lot of things that they don't normally learn in school." Francis Lim, mother of an inventor and entrepreneur
Silicon Valley 12-14 years olds
Computer Programmer
Students become computer programmers using MIT Media Lab's software Scratch. They learn to storyboard, create plots and twists, and bring their stories and games to life online. At the end, their programs come to life on their own computers at home.
"[My daughter] really felt comfortable with the teachers and with all the people working there. She really liked both Mike and Tracy. She was very excited going in every morning, and was excited every afternoon to tell us what she had done, and show us the products." Tiernan Downes, father of a Scratch Programmer.
Tech Star Jr. for 8 – 10 year olds
---
These camps are running on the following dates:
Nov 23 (Mon) to Nov 27 (Fri): 9 am to 3pm
Nov 30 (Mon) to Dec 4 (Fri): 9 am to 3pm
The fee for each camp is $560 inclusive of GST. A 25% discount is available for groups of 3 or more students signing up together.
Visit www.thekeys.global to sign up or call +65 6734 8559 to learn more.