How cute are these? These little teddy bears holding on to nuts make them too adorable for us to eat!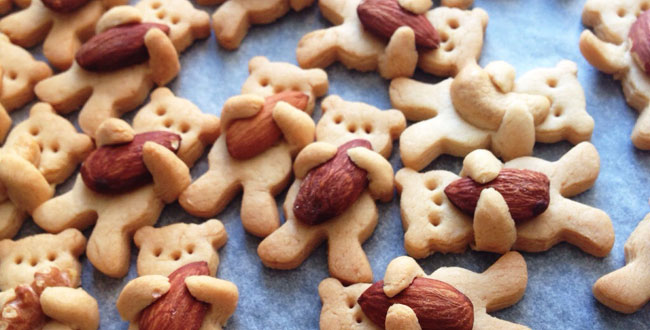 The recipe is available on Maa Tamagosan's blog, a French-trained Japanese cook, who made these cute little things.
We have reproduced the recipe here for you.
Recipe for Kawaii Teddy Bear Cookies
Ingredients:
110g flour
20g potato starch
Pinch of salt
40g of beet sugar syrup
10g of honey
30g salad oil
Cinnamon powder or cocoa powder (optional)




Directions:
Preheat oven to 160C / 300F
Mix the potato starch, flour and salt (dry mixture) together and stir with a whisk in a bowl.
Mix the beet sugar syrup, honey and salad oil (wet mixture) in a separate bowl.
Combine the wet and dry mixture with a spatula until it becomes a dough.
Roll the dough out into a flat sheet.
Cut out your bears using a bear cookie cutter.
Make holes for the ears and noses with the tip of a chop stick. (tooth pick or satay stick is fine too, depending on the size of your bear)
Place a nut of your choice on top of the bear's stomach.
Bend both hands of the bear gently inwards, towards the nut.
Press the nut down lightly to make it stay in place.
Bake for 10 minutes. (for a darker coloured bear, you can bake it slightly longer)
Fancy a Panda Bear? Throw in some cocoa powder with your mixture and place them at the eyes, nose, ears, and paws area. (Refer to photo below)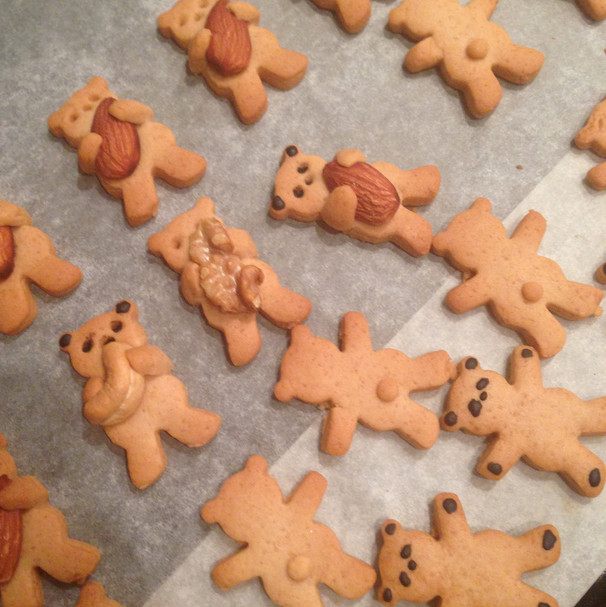 Allergic to Nuts? If your child has a nut allergy, you can use other fillings too. The choices are boundless!
Why not try chocolate chip, dried fruits or gummies instead. Or what about gummy bears? That doubles the cute factor – a cookie bear hugging a gummy bear.
Plus, this makes a great and fun way to bond with your child in the kitchen. Get your little ones to help out with the pouring, mixing and cookie-cutting.
Here's the tutorial video by Maa-san to help you out. We may not understand what she's saying but we can still follow her actions.
Happy baking!
Original recipe and photo images: Maa Tamagosan's blog.
If you find this article useful, do click Like and Share at the bottom of the post, thank you.
Want to be heard and seen by over 100,000 parents in Singapore? We can help! Leave your contact here and we'll be in touch.