June holiday is here! Are you pondering over what your kids can do? Play? Explore? Learn? Exercise? Dine?
Hey, look no further! We found something Fun, Exciting and Cool for you and your kids that will make everyone scream for more! It's going to be a memorable holiday at Sentosa with this award-winning interactive storytelling event as they return for the fourth year! These little Playmobil fans will be delighted to find Storytelling with Playmobil, a Playmobil playpit and larger-than-life Playmobil characters! There are countless of fun and interactive activities that promise endless fun for the whole family this June.
What is it: Storytelling Comes Alive! with PLAYMOBIL
Where: Palawan Beach
When: 31st May – 29th June 2014, 11am – 7pm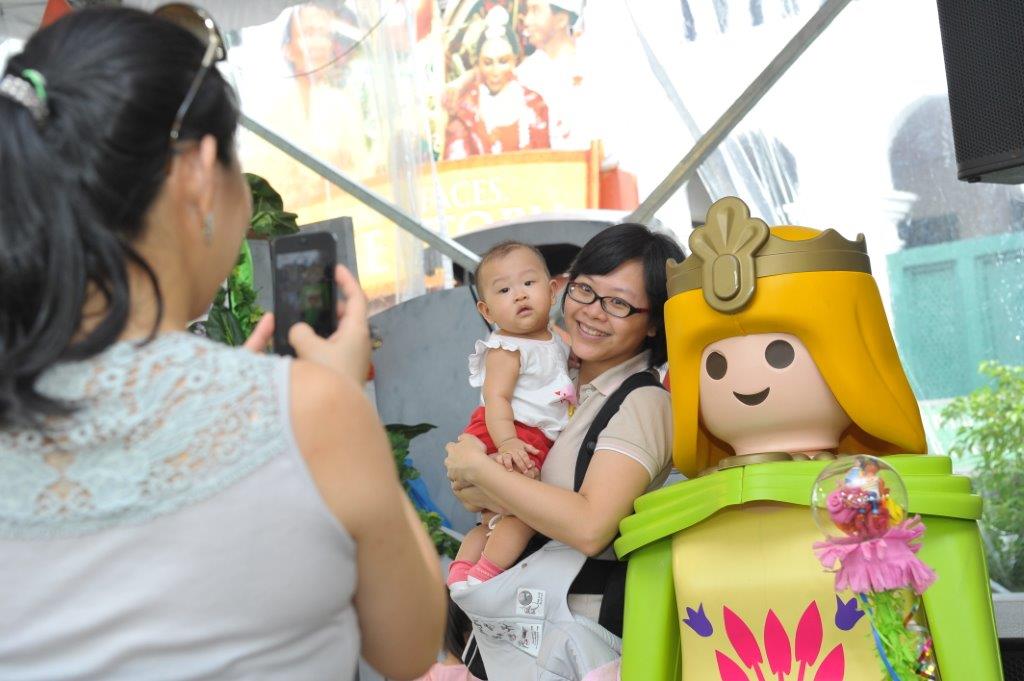 First, let's go and immerse ourselves in a series of enchanting and magical stories with:
Storytime with PLAYMOBIL
Go on a magical and exciting journey with the brave fairies to rescue the Queen in The Search for the Magical Unicorn, stop evil magician and his accomplice from stealing in The Stolen Dragon Heart, and don't miss the opportunity to join Prince Plucky in his adventure to search for treasures in Prince Plucky and the Treasures of the Ocean. Visit www.sentosa.com for schedule.
Available: Wed – Sun at 11.30am, 2.30pm & 5.45pm
PLAYMOBIL Playpit and Sandpit
Let's be a brave warrior, kind fairy or even a magic unicorn in our little castle in Magical Land! We can play pretend at the Playpit or Sandpit with the PLAYMOBIL toy sets and watch how our stories come alive.
The PLAYMOBIL Toyshop
Want to own that beautiful and attractive set of PLAYMOBIL? You have to check out these exclusive bargains. If you spend a minimum of $80, you will receive a FREE* PLAYMOBIL figurine! Don't miss it!
*While stocks last. Terms and Conditions apply.
Getting excited and eager for more? Let's get our adrenaline pumping as we move, sing and groove to music at:
A Magical Story with Professor Messy
Let Professor Messy transform you into princess and prince as we engage in a role-play session of the story of Cinderella with fun props and costume. We will have tons of fun imagining and engaging in role-play, games, magic and interaction!
Available: Tue, 11.30am, 2.30pm & 5.45pm
Tips and Hints:  Tell A Good Story
Have you always wish you can take the stage and tell the most touching and magical story? Your wish may just come true with a professional storyteller, who will share with us tips and hints on how to tell a good story.
Available: Tue, 1pm & 4pm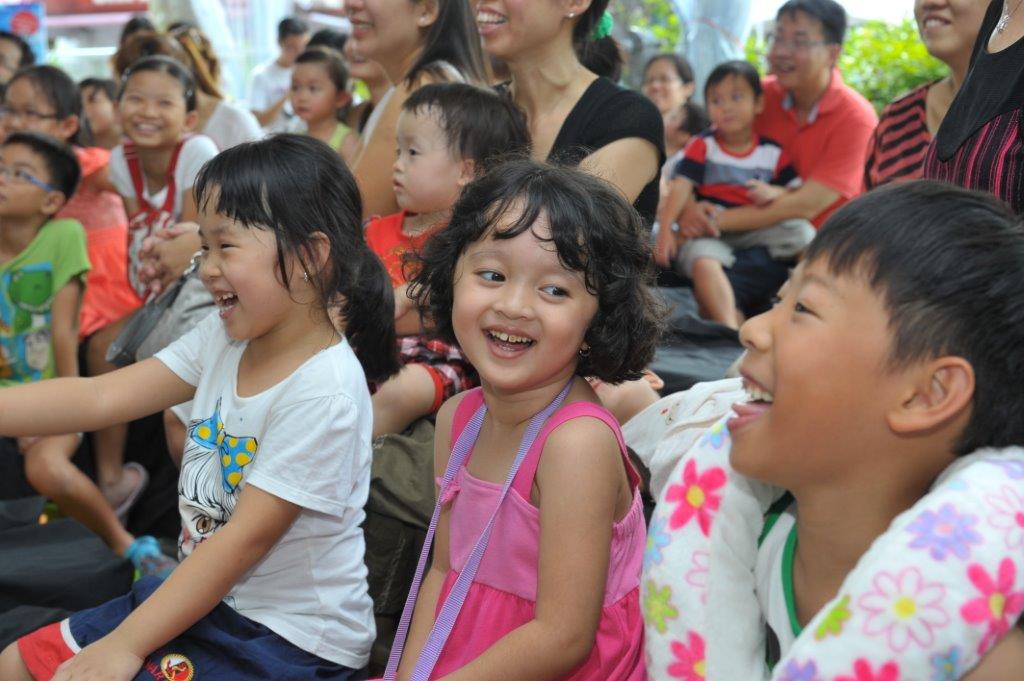 Ukulele Groove
Pick up a ukulele and create happy tune to entertain everyone here at Ukulele Groove. You may fall in love with this four-stringed instrument and tadahh.. A musician is born!
Available: Wed & Fri, 1pm
Rhythm and Senses
Move and feel the different rhythms and create a musical piece together in this interactive percussion workshop led by Caryn Cheng. You may just find your calling and love for music.
Available: Thu, 1pm & Sun, 4pm
Sing-a-long
Music is fun and enjoyable! Even so if you can sing these familiar tunes with a twist! Come down here and get some singing tips and vocal techniques from Ricardo Cartelli and Hannah Lucas.
Available: Thu, 4pm & Sat, 1pm
Dance with Me
So you think you can dance? No? Of cause it is possible with David Puvan! Get ready for some funky shaking and moving as we learn some basic dance moves! We will show our Mum and Dad what we got!
Available: Sat, 4pm & Sun, 1pm
Fancy some fun games and craft? We too! Let's go for:
Little Hands & Minds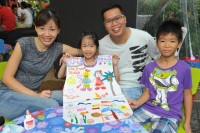 Who love crafts? Don't miss the chance to create your own unique arts & crafts masterpieces with simple materials at only $5 per activity. Flash this uniquely-you design to everyone and make them green with envy!
And if you Flash your Islander, Jewel or POLW card, you will receive a FREE*personalised badge with every activity purchased.
Promotion: 1-for-1 deal on every Monday.
*Terms and Conditions apply.
"Tell Us Your Story" Contest
You get a chance to win great prizes when you participate in "Tell Us Your Story" Contest. Simply colour and script the comic to tell us a unique-you story and the 3 best entries each week will win a prize! What's more, bring your completed entry to Storytelling Comes Alive! event and you will receive a FREE* gift. You can also email your completed entry to marketing@sentosa.com.sg! Download the entry at www.sentosa.com now!
Weekly Prizes:
1 x Sentosa Islander Family Membership (worth $50)
1 x PLAYMOBIL 40th Anniversary Knight's Tournament Compact Set with Cannon Wagon (worth $39.90)
1 x PLAYMOBIL 40th Anniversary Princess Island Compact Set with Romantic Gondola (worth $39.90)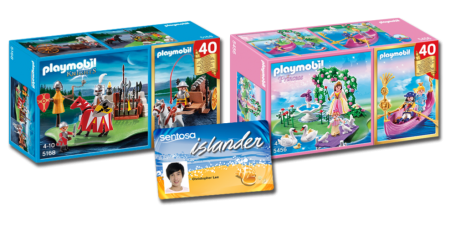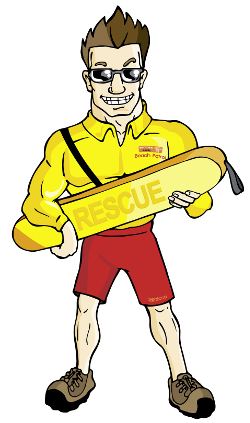 Let's go to the beach for some amazing life demonstration. Learn new knowledge and some safety rules and tips.
Beach Patrol to the Rescue
Catch an exciting rescue scenario by the Beach Patrol Officers. Learn a tip or two about water and beach safety, you will be more conscious of safety when you play at the beach next time!
Available: 31 May & 28 June, 2pm
Sun, Sea and Sand with Buddy Cool
We love marine creatures, do you? Come up close and personal with live marine creatures as well as specimens. Our beach safety ambassador, Buddy Cool is going to share valuable beach safety tips with us!
Available: Wed & Fri, 1pm
After all the activities, do you feel your tummy growling? Let's fill that Grumpy Tummy with scrumptious food from different parts of Asia:
Tastes of Asia Promotion
We can't wait to indulge in flavourful cuisine from all around the World! If you spend a minimum of $30 in a single receipt, you will receive a FREE* limited edition Storytelling Comes Alive! notebook.
*While stocks last. Terms and Conditions apply.
When: 31 May – 29 June
Time: Weekdays: 11am – 8pm (last order 7.30pm); Weekends: 11am – 10pm (last order 9pm)
Where: Tastes of Asia, Beach Station
You may also want to check out SEA Aquarium as they are having a special price for you and your family!
Be a Sentosa Islander!
You can enjoy UNLIMITED island admissions and island-wide privileges with your family if you sign up for your Islander Family Membership! You will also receive a FREE* PLAYMOBIL figurine if you are a new sign-up.
When: 31 May – 29 June
Where: Sentosa Station (VivoCity), Beach Station or Merlion Plaza
Price: Islander Family Membership at $50 per year
*While stocks last. Limit to 1 figurine per family membership. Terms and Conditions apply.
For more information, visit www.sentosa.com.