KooBits, a Singapore company using technology to improve learning, is lauching its next generation workbooks app for Primary 1 – 6 students to practice their English, Math and Science facts. This innovative learning app integrates the traditional approach of practicing with elements from role playing games.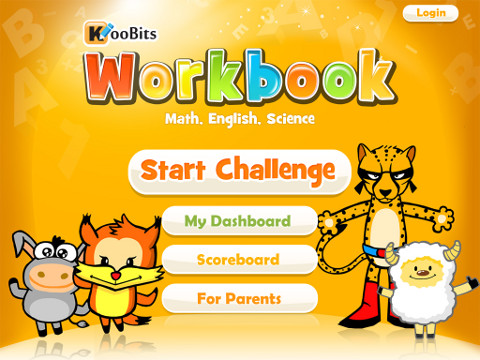 How does the App work
With KooBits workshop app, children can level up via experience points, which are earned through attempting the workbook questions. These experience points, in turn, can be used in competitions for individual or school honours. These role playing elements serve as strong motivators for children to practice their school subjects.
The KooBits also taps on the iPad functionality to provide an entertaining experience to otherwise mundane practice sessions. Each workbook comes with colourful characters, beautiful backgrounds and fun music to engage the child on multiple senses. Combined with a game-like levelling up and league competition, it is taking practising to a whole new level of engagement.




Benefits to children
Daily practice:

Our app aims to cultivate a healthy habit of daily practice, rather than doing marathon study sessions. It has a daily challenge section which features 10 practice workbooks that will be changed every day. Any unpractised workbooks will expired after 24 hours, which means students will miss the opportunity to gain any points from them.

Strong motivation to practice:

We leveraged extensively on psychological behaviour design from games to increase the motivation of children to practice. Nurturing their interest in learning through what we called motivation dynamics (the study of motivation) is a core value of our app.

Collaborative learning:

Through competitions and leader boards, children are motivating each other through participation. The team dynamics ensures that children do not give up easily and will be motivated to practice more for the benefit of the team.
App availability and pricing
The KooBits workbook app is a free to download educational app on Apple's app store. The free app delivers 3 new workbooks every day to children to practice their math. Additional workbooks can be purchased at USD 2.99 per level per subject. Each purchase will deliver 10 new workbooks every day in a particular subject and level.
Pre-launch Lucky Draw
Be the first to experience the KooBits Workbook App on iPad, iPhone & iPod Touch (Free download) and you'll stand a chance to be one of their 50 lucky winners! KooBits Workbook App is currently under AppStore review. Register your interest below to receive updates about the download address when it is available.
To take part in this lucky draw, simply fill up this simple form.
The giveaway has ended.
If you find this article useful, do click Like and Share at the bottom of the post, thank you.
Like what you read and want more? Receive our latest articles and giveaways when you sign up on our mailing list here.