Mummy, Daddy, let me tell you about my exciting day at Singapore Hokkien Huay Kuan SchoolAfterSchool!
I love going there in the afternoons because I get to learn both English and Chinese with its bilingual curriculum, and my teachers make Chinese culture super fun with songs, dance, and performances.
A Warm Welcome
When I step into Singapore Hokkien Huay Kuan SchoolAfterSchool at 1.30pm, my friendly and caring teachers welcome me and make me feel right at home. After a long day at school, I have a fulfilling lunch and a refreshing shower, followed by a power nap to recharge my brain and body. I feel energized and ready for the exciting afternoon that lies ahead.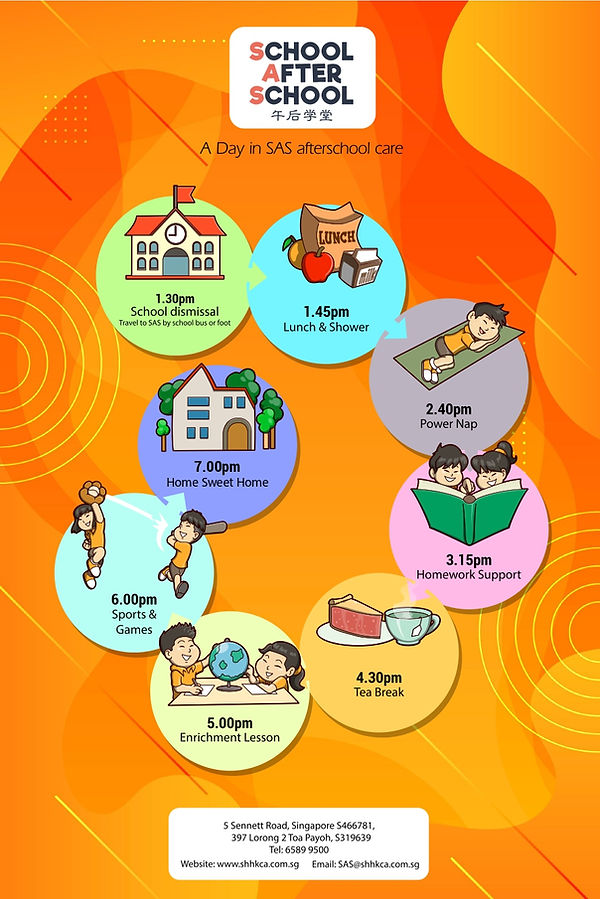 Homework Support and Language Enrichment
At 3.15pm, it's time for my homework support. The dedicated teachers at Singapore Hokkien Huay Kuan SchoolAfterSchool are always there to guide me through any challenging assignments. They provide homework coaching and there are many daily indoor and outdoor enrichment activities.
They encourage me to reach my full potential, using both English and Chinese so I can converse in both languages easily. Together, we explore new words and phrases in the Chinese language and culture through interactive lessons and engaging activities. I learn about the 10 core values of caring, excellence, respect, harmony, equality, teamwork, advancement, reflection, thankfulness, and open-mindedness, that help me succeed in life.
At first, I found Chinese challenging, but the games, songs and role play have helped me appreciate Chinese phrases and idioms better, and there are deep meanings to each and every Chinese character that I love discovering, like a treasure hunt!
Exciting Dragon Boat Festival Performance
Recently, we had the most incredible Dragon Boat Festival celebration. Students from Singapore Hokkien Huay Kuan SchoolAfterSchool, including myself, joined forces with the preschoolers from Singapore Hokkien Huay Kuan preschool, and the students from the Singapore Hokkien Huay Kuan Arts & Cultural Troupe.
We had practised hard for several months during our 5pm enrichment lesson, and the much-awaited celebration was part of our school holiday programme to immerse us in Chinese culture.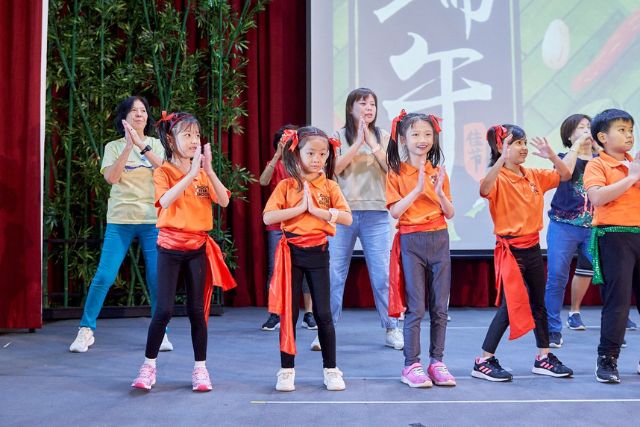 Together, we performed Chinese plays and sang beautiful songs in Chinese and Hokkien, showcasing our cultural talents and vocabulary that our teachers taught us. I was proud to perform not just for both of you who came to support me, but also for 55 of our respected seniors from Buona Vista Community Club and Kembangan-Chai Chee Seniors Activity Centre who also joined us in a Hokkien Zumba workout!
Wasn't it amazing to be part of 500 participants over three generations who exercised in a mass Zumba session? Did you also like the play that I performed in to remember the story of Qu Yuan? He was a patriot who was so well-loved by his countrymen that they cooked and threw rice dumplings into the river where he drowned to prevent fish from eating his body.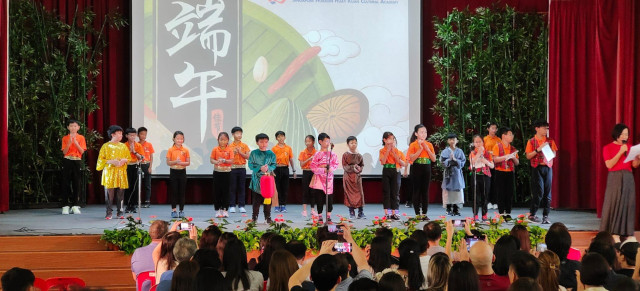 My favourite highlight of the event was the land dragon boat race! Remember how we ran across the big field with our dragon boat towards the finish line? Daddy almost toppled over the dragon boat at the end because we were running so fast, and it was such an exhilarating race!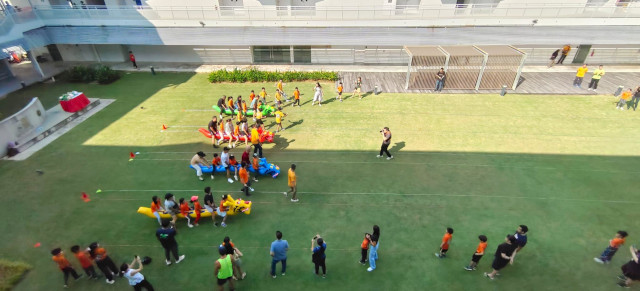 Outdoor Play and Gardening Adventures
Mummy and Daddy, thank you for working very hard to take care of our family. Don't worry about me when you are busy working because at Singapore Hokkien Huay Kuan SchoolAfterSchool, the teachers look after me and I also have fun with my friends, especially when we play at the big field and play area at 6pm.
I look forward to the different sports, games, and creative play that I can try out with my friends. My teacher says outdoor play doesn't just help us exercise and stay active; it also gives us opportunities to develop social skills, teamwork, and build strong friendships.
TNAP Awards 2023 Spot & Win Icon: 👑
And let's not forget the gardening area! Planting and tending to plants have taught me important values like patience, responsibility, and a love for the environment.
Just like showering love to a plant will help it grow, I also learn how to shower myself and my friends with love, care, patience, and kindness, so we will grow up to be healthy and happy adults together.
This is why at 7pm, when you pick me up, you see me feeling accomplished and excited to share my day's adventures with you on the way home.
About Singapore Hokkien Huay Kuan SchoolAfterSchool
Are you looking for a safe place where your child's afternoons will be filled with joy, growth, and a deep connection to Chinese values and culture? At Singapore Hokkien Huay Kuan SchoolAfterSchool, our programmes help your child discover his strength and learn problem-solving and life-skills to realise his full potential.
From homework support to language enrichment, outdoor play to gardening adventures, we are a bilingual speaking student care that aims to provide a nurturing environment where every child can thrive. Our After School Care programme covers 5 focus areas, namely Character Development, Intellectual, Physical and Social Skills Development, and Aesthetic and Creative Cultivation.
We provide homework supervision, Chinese Speech and Drama Training, Chinese Recitation, daily nutritious meals, and tea break, with fully air-conditioned facilities and well-equipped open concept play area.
Learn more at shhkca.com.sg/after-school-care.
Brought to you by Singapore Hokkien Huay Kuan SchoolAfterSchool, awarded the Best Bilingual Speaking Student Care by The New Age Parents.
By Julia Chan.
---
The New Age Parents – TNAP Awards 2023
Congratulations to Singapore Hokkien Huay Kuan SchoolAfterSchool for being the winner of TNAP Awards 2023 (Education) – Best Bilingual Student Care Centre.
Find out who are the other winners of the TNAP Awards 2023 (Education) here!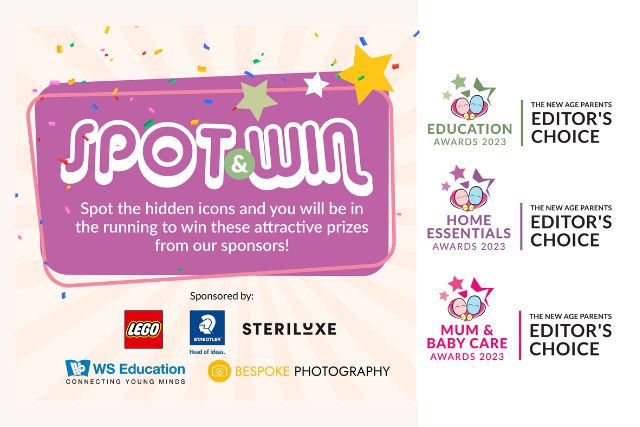 Ready to snag some enticing prizes? Wait no more! Get in on the action with our The New Age Parents Awards 2023 Spot & Win Contest for a shot at winning. Head over to the TNAP Awards 2023 Spot & Win Contest (Coming soon!) to join in. Best of luck!
#TNAPAwards2023 #TNAPAwards #thenewageparents #TNAPEditorsChoice #sgeducationawards #sgeducation #sgfamiy #sgkids #TNAPgiveaway
* * * * *
Like what you see here? Get parenting tips and stories straight to your inbox! Join our mailing list here.
Want to be heard 👂 and seen 👀 by over 100,000 parents in Singapore? We can help! Leave your contact here and we'll be in touch.