Did you know that among the four domain skills of literacy – listening, speaking, reading and writing, reading is the most difficult skill to acquire? While learning a language comes quite naturally, learning to read is not that simple. It is a skill that has to be learned and how well a child can read is also closely related to his or her cognitive and physiological development.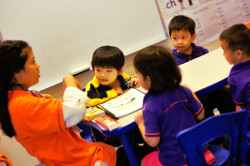 So how do we know our kids are ready to read? Here are a few things you can look out for:
Read his or her own name
Recognize some or all of the letters in the alphabet
Correspond some or all letters in the alphabet with their correct sound
Hold a book right side up with the spine on the left, front cover showing
Recognize that the progression of text is left to right, top to bottom
One of the key areas of benefit of reading to kids early is that it exposes children to meaning-making. The reading process strengthens the listening and speaking domains of learning and is further reinforced when a child starts to write. LEAP Schoolhouse English Reading Programmes not only prepares your child to be ready readers, but also promotes and enhances reading skills in emerging and fluent readers as well.
English Reading Programmes by LEAP Schoolhouse
The two reading programme for 3-6 year olds is divided into 3 stages. At each of the different levels, children will be exposed to a learning experience that will help to guide them towards independent reading. The three stages are:
Pre-reading stage (Ants on the apple)
Emergent Stage (Literacy Through Stories Level 1)
Reading Stage (Literacy Through Stories Level 2)
Having the belief that children innately have different cognitive abilities within them, the program embraces Howard Gardner's Multiple Intelligence Approach, as a means to develop listening, speaking, reading and writing skills in children.
Ants on The Apple (3 – 4 years old) is a phonics programme by LEAP SchoolHouse which aims to introduce your child to the phonemic sounds with the letters of the alphabet. Every letter introduced will be accompanied by immersion into a list of words that begin with the letter of the week as well as some pre-writing skills.
Literacy through Stories is designed to address the Multiple Intelligences while introducing them to appropriate children's literature in a fun and interesting manner. There are 2 levels in the program.
Level 1 (4 – 5 years old)
Through the Emergent stage, children will learn how to put their speech into print. The objective of the program is to translate the child's oral skills to print concepts. Using narrative stories, high-frequency words will be introduced to your child through communicative and simple writing exercises. To ensure that children learn concretely, experiential learning moments are incorporated into the lessons as well.
Level 2 (5 – 6 years old)
Through the Reading stage, your child will learn to express, advocate and talk about their ideas and emotive moments. The objective at this stage is to move children to the stage of relating reading to meaning-making as well as to using writing as a form of response.
Laughter. Engagement. Active Participation.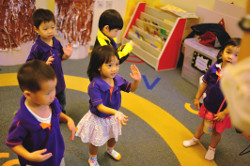 Although the beginning of the reading journey does start with rote learning and remembering, Esther Lim, CEO and founder of LEAP SchoolHouse believes it is through the fun that children learn the best.
She adds, "The key is to extend that through interesting means and anchor the learning in a fun way. I play a lot of word games with my children whilst I am driving around and I encourage spelling and recognition of words and letters through a challenge." For example, I would ask my children, "Who can spot the word 'School' first" or "Shout 'SNAP' when you see the letter 'P'."
Through fostering a discipline in children to move from learning to read to reading to learn, LEAP reading program aspires to bring to life the young readers, future poets, storytellers and writers in children as quality children's literature are introduced to them. Esther sums it up nicely, "It is all about finding the right key to release the language learning potential of young learners."
By Esther Lim, CEO and Founder of LEAP Schoolhouse.
* * * * *
Like what you see here? Get parenting tips and stories straight to your inbox! Join our mailing list here.
Running a service or business targeted for parents? Reach out to a wider audience in our Best Enrichment Classes compilation. Leave your contact details here and we will get in touch with you.