In Singapore, parents are spoilt for choice when it comes to choosing a preschool for their beloved little toddler. There are schools for every location and budget, covering a range of pedagogy methods and meeting a host of specialized needs. Here are a few that caught our eye.
CHENGZHU MANDARIN CENTRE
Photos courtesy of ChengZhu Mandarin Centre
Established by Julia Gabriel Education, Chengzhu stands out from the crowd with its holistic Chinese cultural and language-rich environment, dedicated to helping children love and master their Mandarin language skills through meaningful and fun experiences.
What's Unique
The centre features floor-to-ceiling windows with views overlooking the greenery of Rochester Park, and letting in plenty of natural sunlight into its spacious interior.
Besides its nine studios and an indoor playground to boot, Chengzhu's main attraction is the StoryHouse (pictured below), a unique children's library with cheerful colours and cosy corners, boasting an impressive collection of over 1,500 books relating to all aspects of Chinese culture, which children can enjoy at the reading loft or borrow home.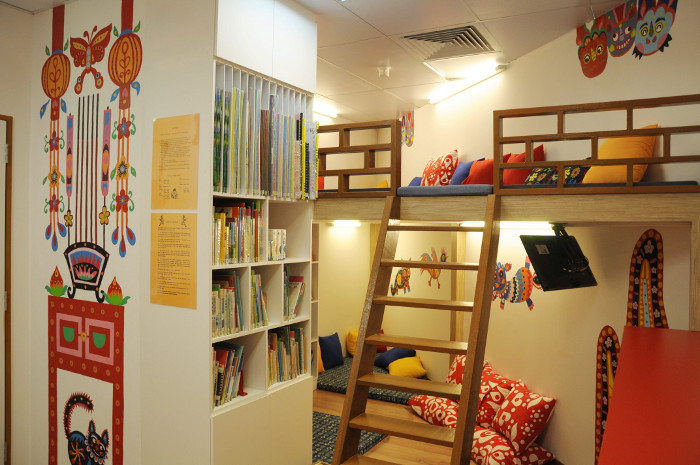 Photos courtesy of ChengZhu Mandarin Centre
"We create a whole Chinese environment, one where the children are immersed in both the language and the culture. Through a number of cultural activities such as Chinese Folk music, traditional storytelling, dance, cookery, painting and calligraphy the children are given an insight into Chinese Culture while enabling them to absorb Mandarin in a fun and exciting arts-rich environment."

– Huang Ying, Principal of Mandarin Programmes of Julia Gabriel Education
Address: 35 Rochester Drive, #03-01 Rochester Mall, Singapore 138639
Tel: 6737 5348
Email: enquiries@chengzhu.edu.sg
Website: chengzhu.edu.sg
---
MINDCHAMPS PRESCHOOL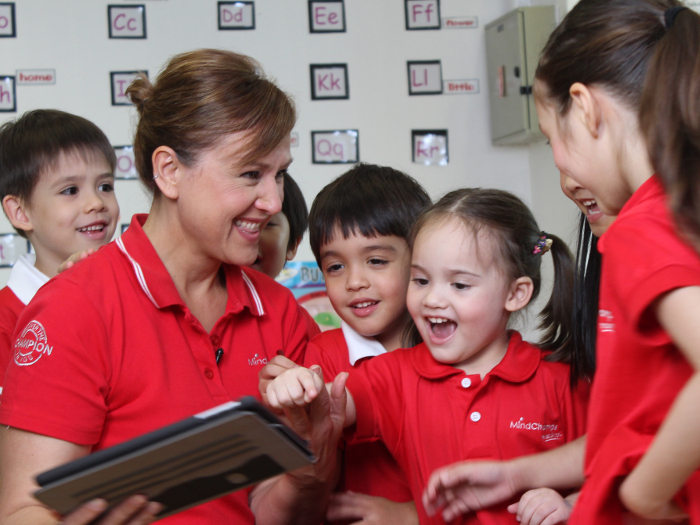 Photos courtesy of MindChamps
At MindChamps, learning environments are intentionally crafted to be as interactive as possible, built on a solid foundation of research garnered from the fields of early childhood education, neuroscience, child psychology and theatre. Art and music go hand in hand to develop children holistically, and cultural appreciation is encouraged, even at this young age.
What's Unique
MindChamps is the only preschool globally to nurture children in the principles of Champion Mindset, thanks to a partnership with world-renowned neuroscientist, Emeritus Professor Allan Snyder. According to Prof Synder, who is also a Fellow of the Royal Society (FRS), creativity is the driving force for much of his work and is essentially an act of rebellion.
"You have to be downright subversive to change the way you think about something. It's one thing to be creative and another to have the courage to broadcast this opinion to the community. That takes a champion mindset."

– Professor Emeritus Allan Snyder, Dean of MindChamps
Address: 33 centres islandwide, including Bedok, Punggol, Toa Payoh, Bukit Merah, Marina Square, Bukit Timah, Buona Vista and Jurong West
Tel: 8233 4400
Email: sg.enqpreschool@mindchamps.org
Website: mindchampspreschool.org
---
MINDCHAMPS CHINESE PRESCHOOL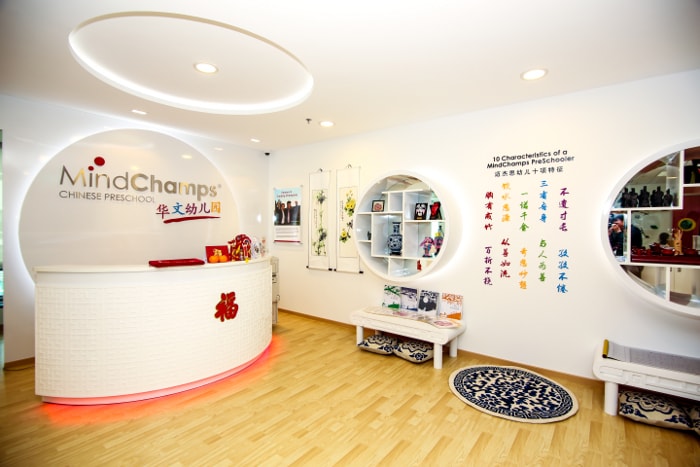 Photos courtesy of MindChamps
Established to meet the needs of parents passionate about providing their children with a solid foundation in the Chinese language, the preschool infuses Chinese language into the curriculum, offering a fun and engaging learning environment specifically designed to inculcate in the children an understanding and love for the Chinese language and its culture.
Through this, they seek to ensure that these preschoolers are able to develop their proficiency in both English and Mandarin so as to prepare them for primary school.
What's Unique
The Chinese Culture Appreciation is an enrichment program that is available during term breaks at MindChamps Chinese Preschool. During the program, K1 and K2 preschoolers will gain an insight into China's rich history and culture during lessons and enjoy hands-on activities such as clay modelling, Chinese painting and calligraphy.
Address: 3 Tampines Central 1, Abacus Plaza, #03-01, Singapore 529540
Tel: 9769 9025
Email: joycesun@mindchamps.org
Website: mindchampspreschool.org/chinesepreschool
---
DREAMKIDS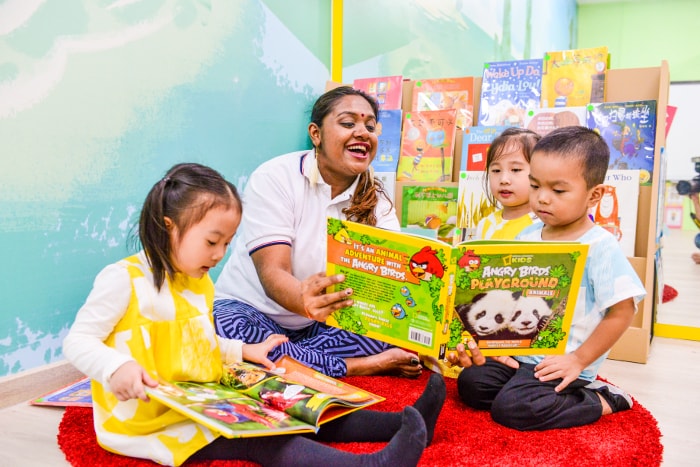 Photos courtesy of Dreamkids
We've all heard of the game or the movie Angry Birds, but did you know there's actually an early childhood education program built on that theme?
The Angry Birds Playground is the result of a collaboration between Dreamkids and Rovio Entertainment Ltd, introducing children to fun learning styles innovative thinking, and promoting critical technological and communication skills necessary for the 21st century.
As a strong proponent of the Finnish ways of teaching, Dreamkids has crafted a Fun Learning curriculum that is designed to capture the curiosity, enthusiasm and openness we feel as 5-year-olds.
It combines the fun of FUN Learning with Finnish and Singapore's educational expertise to provide solutions and tools that support the engagement, creativity and innovative thinking of young learners of three to six years. Fun learning is all about making sure that our learners get hooked to learning.
What's Unique
Teaming up with world-renowned organisations such as NASA, National Geographic, CERN and University of Helsinki, the Angry Birds Playground program brings a whole new world of learning experiences for their children, with a highly digital approach.
Think interactive whiteboards, digital story booklets, mobile mathematics games and Angry Bird Toons, for a start. Children can also enrol in specialized life skills programs such as Financial Happiness, Coding, Art, Music & Movement and Tinkering.
➡️ Related Read: Best Coding Class in Singapore
Photos courtesy of Dreamkids
Values are taught outside of the textbook through examples and modelling. For instance, children at Dreamkids exchange high fives with their parents and teachers instead of handshakes, and at the end of each session, they hug their teachers and parents as a way of showing their love and gratitude.
See also: Dream Kids Preschool Review
"Kids are starting to lose their dreams today. It's not that they inherently don't have dreams. They do but they have lost sight of them. If they are constantly interacting with teachers with no dreams, or if we as parents don't have any dreams of our own, they will lose sight of theirs too."

– Kong Yew Kiin, Co-Founder and Business Development Director of Dreamkids
Address: East Gate, Singapore 428766
Tel: 6348 8078
Email: info@dreamkids.com.sg
Website: dreamkids.com.sg
---
HOUSE OF LEARNING
Photo courtesy of House of Learning
A global television success for over 17 years, Hi-5 has created a breakthrough children's television show, which brings in early childhood experts as well as pop songwriters to keep the show entertaining and educational. Now, that same energy and excitement onstage come into the classroom!
What's Unique
House of Learning (HOL) draws on the strengths of its award-winning program to encourage a delight in learning and creates a rich and stimulating learning environment for children incorporating Hi-5 videos, songs and stories.
The Hi-5 inquiry, play-based curriculum also seeks to develop higher-order thinking skills through self-regulation exercises and to equip children with the social skills to manage the demands of daily interactions in the real world.
"Using the strengths of the television series and encompassing Howard Gardner's and Jean Piaget's theories of child development, the HOL will focus on specific Hi-5 movement songs, dances, fingerplays, games and rhymes to teach developmentally appropriate topics and subjects for each age group."

– Jennifer Rowe, Hi-5 House of Learning Early Years Educator and Consultant
Address: 10 Hoe Chiang Road, #01-01/03 Keppel Towers, Singapore 089315
Tel: 6319 4321
Email: enquiries.sg@hi-5school.com
Website: hi-5school.com/sg
---
BRITISH COUNCIL PRE-SCHOOL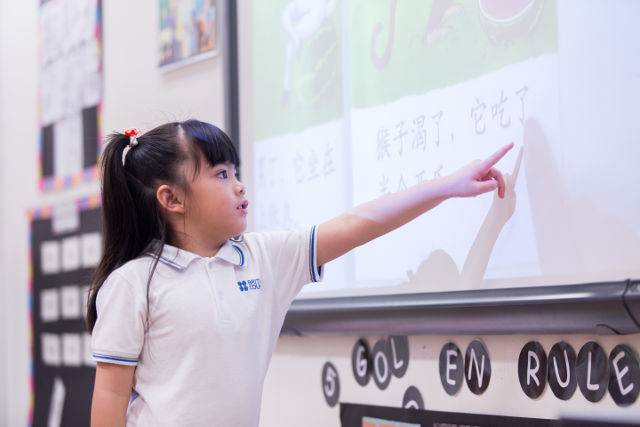 Photos courtesy of British Council Pre-school
What do you get when you combine an immersive bilingual pre-school programme with best pre-school practices from the United Kingdom and Singapore? You get a uniquely bilingual, well-balanced and hands-on curriculum for young children.
Adopting learning techniques influenced by the Montessori, High-Scope and Inquiry-based approaches, British Council Pre-school offers a structured, daily bilingual three-hour programme for children in Nursery 2 to Kindergarten 2.
What's Unique
But what makes British Council Pre-school stand out is not just their bilingual programme, but their efforts to go green and teach children the importance of respecting and sustaining our environment.
Going green at British Council Pre-school is an integral part of daily life. Children learn how to sort and recycle, to turn off the lights, to save water when washing their hands. Teachers keep printing to a minimum, and recycled materials like bottle caps are utilised in arts & crafts activities.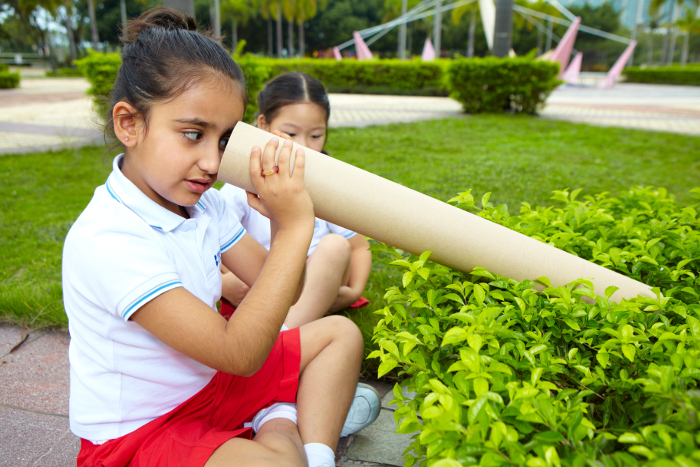 Photos courtesy of British Council Pre-school
It's not just the kids, but parents are involved too! Parents are encouraged to donate recyclables for arts and crafts projects and invited to create props and costumes out of recycled materials with their children for the annual concert.
To nurture a green thumb in every child, Nursery and Kindergarten students have a shared responsibility to tend to the school's garden corner. Lessons are also extended beyond the classroom. The school brings students to visit the NEWater plant and Gardens by the Bay to learn more about recycling water and the important role plants play in our ecosystem.
Did we mention? British Council Pre-school is also located in the very first CarbonNeutral® development in all of Asia Pacific – Tampines Concourse – meaning the building has a net-zero level of greenhouse gas emissions!
With all their efforts to promote sustainable operations and leave a positive impact on the environment, it's no surprise that the school was awarded the BCA Green Mark Certified Award in 2016.
Address: 11 Tampines Concourse, #01-02/03/04, Singapore 528729
Tel: 6807 1574
Email: contact@britishcouncil.org.sg
Website: britishcouncil.sg/pre-school
By Dorothea Chow, updated by Michelle Ang.
This article was first published in The New Age Parents e-magazine.
Read our Enrichment and Preschool Guide to learn about other enrichment programmes for your toddler or preschooler.
* * * * *
Like what you see here? Get parenting tips and stories straight to your inbox! Join our mailing list here.
Running a service or business targeted for parents? Reach out to a wider audience in our Best Enrichment Classes compilation. Leave your contact details here and we will get in touch with you.