The preschool or Early Childhood Education (ECE) landscape in Singapore has seen many positive developments in the last decade, with the most transparent and far-reaching changes occurring within the last 7 years, after the Ministry of Education (MOE) released plans in 2008 to improve the overall quality of preschool education. Fiona Walker, Principal of Schools & CEO of Julia Gabriel Education, highlights ten changes that has happened over the past ten years.
1. Changing Demographics
Today's preschool parents are better educated than previous generations and they desire the same for their own children. They recognise the importance of starting the learning process at the earliest age with many registering their babies for places in preschools even before they are born! As increasing numbers of children are born into dual-income families, the demand for preschool places has also increased.
2. Parental Involvement
The role of parents in early years of education has become increasingly important, with parents now viewed as partners who complement the role of educators in their child's development, rather than the two being mutually exclusive. This has led to better channels of communication and an increase in the availability of specific adult-child programmes.
3. Importance of Play
"Convincing parents of the benefits of learning through play has been a challenge – but worth it!", says Rino Shahril, Senior PlayClub Educator at Julia Gabriel Centre. Attitudes have changed as more research highlights the benefits of free, structured and dramatic play, facilitated by a qualified and experienced educator, within a preschool curriculum.
The Lee Kuan Yew Fund for Bilingualism launched in November 2011 prompted a rise in the number of preschools offering bilingual programmes. The Fund supported the teaching and learning of English Language (EL) and Mother Tongue Language (MTL) in schools, with a particular focus at preschool level. The aim of this proposal was to ensure a wider choice for parents on the medium of instruction for their children. Consequently, there has been a rise, in the number of Mandarin immersion programmes at preschool level within the last three years.
➡️ Related Read: How Can I Get My Child To Love Chinese
5. Holistic Development
Preschool pedagogy that promotes holistic education has become increasingly widespread throughout the early childhood sector, with a growing acceptance that a child's emotional and social development is as important as their academic growth. Additionally, it is now widely recognised that confident entry into primary school is achieved by creating firm foundations of learning, independence and self-esteem from the earliest age possible.
6. Drive to Increase Attendance
Attending preschool is not compulsory although the majority do so before they enter Primary 1. Children who do not attend preschool before primary school are hugely disadvantaged, particularly those from low-income families, as they find themselves behind at all levels of learning. In early 2009, the MOE reported a reduction in the percentage of children entering P1 without preschool education from 4% to 2.5% since 2006 following a focused drive among grassroots organisations.
7. More Preschools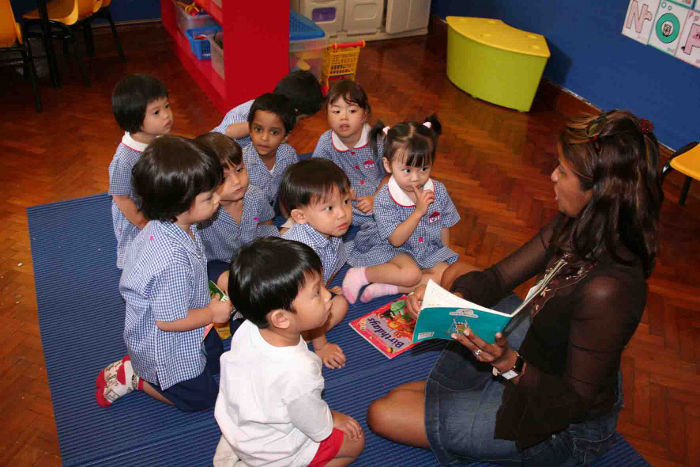 As the demand for preschool education has grown, so too has the number of preschool providers. Streetdirectory.com currently lists 126 private kindergartens, 194 private preschools and 313 childcare centres, though many of the programmes they offer cross over. Also, there are currently 10 PAP Community Foundation preschools across Singapore, housed in HDBs or primary schools.
8. Lien Foundation Report
Though not a change in itself, the 2012 Lien Foundation Report 'Vital Voices for Vital Years' thoroughly highlighted the existing preschool education landscape in Singapore, offering viable solutions for improvement through funding, research and benchmarking at international standards.
9. Raising Standards and Quality Assurance
In November 2010, the MOE launched The Singapore Preschool Accreditation Framework (SPARK), with the aim of 'encouraging preschool providers to strive for excellence in the development of young children in kindergartens and childcare centres'. In order to be SPARK certified preschools must meet minimum quality standards in areas including Curriculum, Pedagogy and Health, Hygiene and Safety. Accreditation for SPARK is voluntary, but the certification serves as a strong incentive for early childhood education providers to raise and maintain quality standards in all areas.
10. Teachers and Training
One of the most positive changes that have taken place over the past 10 years is the attitude towards preschool educators as valuable professionals who play a vital role in the future development of young children. Investing, retaining and providing continuous training opportunities for preschool teachers is paramount to ensuring quality preschools.
In 2009, the MOE raised the minimum qualifications required for preschool teachers, encouraging those already in the profession to upgrade their qualifications, offering bursaries where needed. Since then, professional development for preschool teachers has been regarded by the Ministry as a serious priority with the implementation of a Professional Development Masterplan in January 2014.
By Fiona Walker.
Fiona Walker joined Julia Gabriel Centre in 1991 as a teacher and is now the Principal of Schools / CEO of Julia Gabriel Education. She holds a Masters in Early Childhood Education and is a qualified Montessori teacher with more than 20 years of experience in providing quality education for young children. She is committed to the ongoing development of teachers and curriculum in Julia Gabriel Education.
For more information, visit www.juliagabriel.com.
This article was first published in The New Age Parents e-magazine.
* * * * *
Like what you see here? Get parenting tips and stories straight to your inbox! Join our mailing list here.
Want to be heard 👂 and seen 👀 by over 100,000 parents in Singapore? We can help! Leave your contact here and we'll be in touch.