Origins Jamu Postnatal Massage Review (contributed by a parent)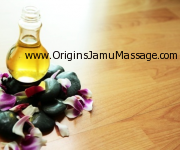 For someone who has tried various post-natal massages by different masseurs (Malay urut, Chinese lady from slimming centre and Indian lady doing Javanese massage), this was definitely one of the better and more refreshing experience.
I particularly liked the hot stone therapy – placing hot stone on the spine area and tummy – during the massage, which makes me feel really relaxed and comfortable.
The masseur was also very skillful and I could literally feel her hands 'rolling' on my back. Oh, and not to mention her skills in massaging my breasts, unblocking all the milk ducts and making me feel more confident of my breastfeeding endeavour.
The other thing that sets this apart from the rest is the binder that was used after the massage. It is specially made of cotton batik and is very comfortable, an important criteria since I have to put it on for at least 8 hours after the massage.
All in all, I believe that post-natal massage is something all new mothers should experience after going through all the muscle-aching and pushing from pregnancy and delivery.
And I would definitely recommend Origins Jamu Massage to all my friends and to all would-be and new mothers – go pamper yourself, you deserve it.
Reviewed by Sin – mother of a 2-month old baby boy