The National Library Board's annual after-dark event, Night at the Library, returns with a comedic edition this year
The Night at the Library is an annual event that highlights the library as a lifestyle destination and social learning space. Get ready for loads of laughter as Night at the Library returns this year with humour, jokes and punchlines aplenty. After scaring the wits out of many last year with our horror theme, this popular event is back with comedy as its new attraction. Through dark humour, absurd stories, and even witty poems, the National Library Board hopes to have you laughing out loud long after the sun has set. This event will run from 23 to 28 November 2020, and will feature stand-up comedies, comic illustrations, and light-hearted live chats with Singlit authors.
Comedy Night at the Library hopes to bring much-needed cheer to everyone as the world, continues to grapple with the COVID-19 pandemic and its challenges. According to our 2016 & 2018 National Reading Habit Survey, the humour genre has always been in demand across ages for all readers. The digital event will take participants through 'good reads', and a variety of resources accessible via the event Facebook page and National Library Singapore Instagram.
You can look forward to stand-up comedies by Jacky Ng, Sam See, Darren Foong and more. Award-winning writer Felix Cheong, known for his works in poetry, short stories, flash fiction and children's picture books, will also introduce his latest books, Oddballs, Screwballs and Other Eccentrics, accompanied by music composed by contemporary violinist Rachel W.yen. Soprano. Whereas, In the year of the Virus is an innovative poetry comic inspired by the COVID-19 pandemic. The story revolves around several characters affected – and infected, by the viral outbreak, examining our humanity as our lives are upended.
Additionally, soprano-author Christina Thé's Diary of A Former Covidiot will also share her witty take on observations of hilarious COVID behaviours. Finally, in these travel-starved times, Imran Hashim's romance-comedy novel, Annabelle Thong, provides comic relief by taking readers on a romantic trip through Paris, exploring its life and dating culture – all based off real stories and encounters.
Our patrons can also access over 100 selected humour titles via the NLB mobile app. Please see below for more details on the full line-up of programmes. With all programmes being held online, you will definitely enjoy a good laugh within the comfort of your home. For more information, visit here.
---
#28 Questions with comedy personalities
Date: 11 November 2020, Wednesday
Time: 9:00
Watch here:

Find out more about our comedians with their witty takes on Singapore humour, what tickles them about Singapore life and much more!
Aiman Haikal
Comedy actor, freelance dancer and part of Night Owl Cinematics team
Fun and vibrant, Aiman delivers high-energy performances both on screen and in real life.
Date: 18 November 2020, Wednesday
Time: 9:00
Watch here:

Samantha Tan
Comedy actor, illustrator and part of Night Owl Cinematics team
Date: 25 November 2020, Wednesday
Time: 9:00
Watch here:

Dasa Dharamahsena
Comedy actor, stand-up comedian and part of Night Owl Cinematics team
A multilingual comedian, the fun-loving Das brings life and energy to all his projects.
*******************************
BoomTime
(The Comic)
Date: 23 to 27 November 2020
View it on National Library's Instagram
BoomTime (The Comic) deposits a slice of imagined life in the time of COVID-19 into the time capsule, where we can look back at these trying times with glee.
Illustrated by Associate Librarian Chiang Yu Xiang, an Associate librarian at the Public Libraries. Drawing is his one true love.
*******************************
Stand-up comedy
Date: 24 November 2020, Tuesday
Time: 19:00
Watch here:

2 Stories & A Lie
with Jacky Ng and Sam See
Two comedians will each share three stories about life during the pandemic, two of them true, one of them not – and have to guess which story is a lie.
Jacky Ng is Singapore's youngest professional comedian. With a unique sense of style and humor, his wacky stories and observations have made him one of the most popular figures in the local stand up scene. He has performed in comedy shows around Asia and was also the youngest comedian to perform at the Singapore Comedy Fringe Festival 2016. Jacky has also supported international acts such as Stewart Goldsmith, Hannibal Buress and Stephen Carlin at their regional shows. Apart from stand-up comedy, Jacky is also an experienced event emcee and actor.
Sam See is part of Asia's new wave of stand-up comedians, entertaining audiences from around the globe for over half a decade with his unique blend of jokes, stories and improvised humour. From Singapore, he has headlined shows internationally, in Melbourne, Hong Kong, the United Kingdom, Taiwan, the Czech Republic, Tokyo, Luxembourg, Malaysia, Germany, the Philippines, Italy and Oman. He has also worked with comedians Dara Ó Briain (IRE/UK), Bert Kreischer (US), Gina Yashere (US/UK), Peter Berner (AUS) & Kevin Bridges (SCO). Sam was recently featured on Comedy Central Asia's Stand-Up Asia, showcasing the top twelve Asian comedians alongside sketch comedy duo The Benzi Project. He performs regularly at The Merry Lion Comedy Club during pre-COVID days.
Date: 26 November 2020, Thursday
Time: 19:00
Watch here:

Book Cuddles
with Y-Lynn Ong and Darren Foong
Pick up book recommendations by Y-Lynn Ong and Darren Foong in moments of restlessness.
Y-Lynn Ong is a 2019 Lee Kong Chian Research Fellow. She graduated with an MA in Postcolonial and Global Literatures from Queen Mary University of London (QMUL) and will be returning there in the fall as a PhD candidate. She is the recipient of the QMUL Research Studentship award, and also won the Principal's Prize and Marjorie Thompson Prize during her MA. Her research interests include language politics and global Englishes, gender studies, and postcolonial studies. When not at the library, she can be found thinking equally hard about RuPaul's Drag Race, on stage madly improvising Shakespearean comedies, or keeping the peace on SingPoWriMo.
Darren Foong is an improviser, comedian and instructor. He has performed at the Night Festival, the Singapore Comedy Fringe and LOLFest Malaysia, as well as in delighted audiences in Israel, Shanghai, Hong Kong, Manila, Bangalore, Singapore and Malaysia. Darren has also performed at the Art Science Museum, the Esplanade and the National Library Board. Darren is a regular performer on the Singapore live comedy circuit, as well as writing and contributing to TV, radio and podcasts. He also hosts the sold-out monthly presentation comedy show PowerPoint Karaoke. Darren has conducted Improv workshops for high-performing corporate teams, lively youths, varied crowds, the general public and the People's Association, in varied places as art studios, corporate boardrooms, the ballroom of a giant cruise ship, half a painting studio, the streets of Tel Aviv at midnight and coworking spaces.
Date: 28 November 2020, Saturday
Time: 19:00
Watch here:

Pulp Therapy
with Mel Lee and Stephanie Dogfoot
Join Mel Lee and Stephanie Dogfoot as they commiserate over their dating woes and recommend one another books that could change the course of their dating lives.
Mel Lee has a degree in cultural anthropology and theatre studies with a successful career in body-based performance as a dancer, writer and creator.
Stephanie Dogfoot is a poet and comedian. As the writer of Roadkill for Beginners, a poetry collection published by Math Paper Press, she is both a Singapore (2010) and UK Slam (2012) champion, and has represented both countries in international poetry slams. Her work has been featured at the Melbourne Spoken Word Festival, the George Town Literary Festival, Ubud Writers and Readers Festival, Glastonbury Festival and many others. She has toured Germany, Australia, Southeast Asia and most recently, North America with her poetry. She currently curates and hosts a monthly poetry night called Spoke & Bird which features local and international poets. As a stand up comedian, she has been performing and hosting regularly since 2015, and was first runner up in Singapore's first Roast Tournament in 2019. She runs a comedy and storytelling night called Siao Char Bors which aims to highlight female comedians. She has opened for local and international comics such as Kumar and John Green and has performed in Australia, Thailand, Malaysia and at the Edinburgh Fringe.
*******************************
Live with SingLit Authors
Moderated by Olivia Ho, Arts Correspondent with The Straits Times.
Date: 23 November 2020, Monday
Time: 19:00 – 20:00
Stay tuned here
Felix Cheong: Funny Screwball Encounters
Award winning writer Felix Cheong relates his personal experiences and explores the hilarious, dark and sometimes absurd encounters of the average person. Expect laughter and music, composed by Rachel W.yen, based on poems from Felix's latest work, Oddballs, Screwballs & Other Eccentrics.
Felix Cheong is the author of books spanning different genres, including poetry, short stories, flash fiction and children's picture books. His latest books of poetry, Oddballs, Screwballs and Other Eccentrics, and In the Year of the Virus were published in September 2020.
Date: 25 November 2020, Wednesday
Time: 19:00 – 20:00
Stay tuned here
Christina Thé: Legit COVID Humour
Soprano and author of Diary of A Former Covidiot Christina Thé shares her observations of (funny) COVID behaviours from her witty and humorous book. Inspired by real-life incidents with larger-than-life characters, get ready to relate, resonate and empathise with Christina's stories.
Christina and her family have called Singapore home for over two decades. Born in Indonesia, Christina has lived in several countries including Australia and the UK. Today, Christina is a familiar face in Singapore's opera scene and writes humorous realistic fiction while being a modern single mother.
Date: 27 November 2020, Friday
Time: 19:00 – 20:00
Stay tuned here
Imran Hashim: Travel & Dating Culture in Paris vs Singapore
While travel is off the cards for most of us, join author of Annabelle Thong Imran Hashim as he takes you on a romantic trip to Paris, exploring its life and dating culture. Through real stories and encounters, Imran sheds light on traveling around Paris, the cultural differences (or shocks) encountered and discusses the differences (or lack thereof) in Paris' dating scene vs Singapore's.
Imran Hashim fell in love with France a little late in life but made up for it by studying French with a vengeance at university, and then going on to the Sorbonne and Sciences Po Paris for his postgraduate studies. His time in Paris was a period of self-discovery, chief amongst which was an undying love for pear tarts and French swear words.
---
It is the year-end November & December holidays. We have compiled a list of November-December School Holidays 2020 Activities for Kids. Click on the image below to find out more.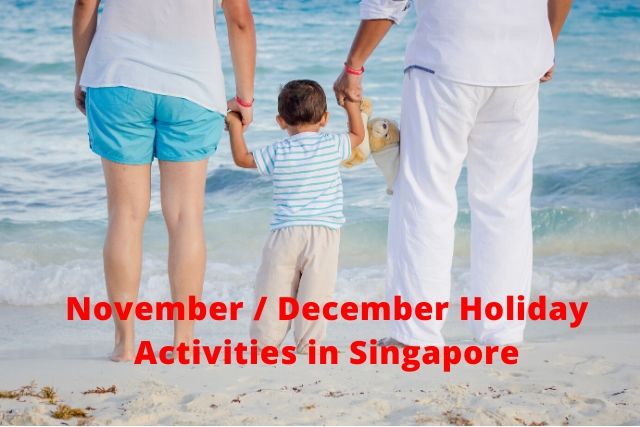 For other upcoming events, visit Events in Singapore.
* * * * *
Stay in touch! 📣 Subscribe to our Telegram here for our latest updates.
Want to be heard 👂 and seen 👀 by over 100,000 parents in Singapore? We can help! Leave your contact here and we'll be in touch.