Montessori, Reggio Emilia, Waldorf, Multiple Intelligences and HighScope. How many of these names are you familiar with? Rachel Lim and Michelle Ang round up the types of early childhood approaches out there.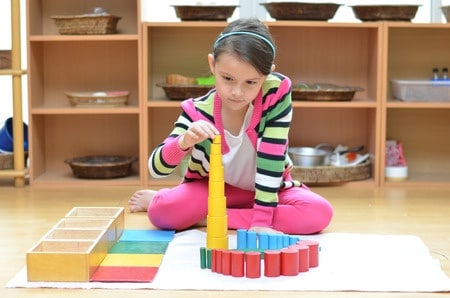 The Montessori Approach
The Montessori approach takes its name from Dr. Maria Montessori, an Italian physician and educator (1870-1952). Dr. Montessori first became interested in education while caring for mentally challenged children in a psychiatric clinic in Rome. Her creative and original practices, including a combination of sensory-rich environments and hands-on experiential techniques, elicited positive learning behaviours from children left behind by society then.
Key features:
This is the cornerstone on which all other Montessori principles rest.
The prepared classroom environment
Each classroom is equipped with materials that first teach through the senses and later lead to reading, writing, advanced mathematics, problem-solving, geography, science and cultural studies.
The logical, sequential nature of the environment provides orderly structures that guide discovery. The Montessori preschool classroom is a 'living room' for children. Children choose their activities from among the self-correcting materials displayed on open shelves.
Montessori believes that children educate themselves. Children are born to learn, and they are remarkable learning systems. Children learn because they are thinking beings. However, what they learn depends greatly on their teachers, experiences, and environments.
Children in Montessori schools are mixed within an age band. The young child in each band is surrounded by role models a little more developed than himself. Similarly, the older child finds herself in a position of responsibility, and by showing younger children what he knows, affirms to himself, more surely than any test, the extent of his learning. Cooperation replaces competition as the driving force within these mini-societies.
This is Montessori education's special term for the process whereby characteristics including initiative, self-discipline, concentration, independence, a love of purposeful activity, and compassion become manifest in the child. When children are allowed freedom in an environment suited to their needs, they blossom.
After a period of intense concentration, working with materials that fully engage their interest, children appear to be refreshed and contented. Through the continued concentrated activity of their own choice, children grow in inner discipline and peace. This 'normalisation' is the single most important result of Montessori education.
Ms Portia Jansen, a Lead Teacher with ten years of experience in the Montessori Method shares that understanding and appreciating the Montessori Method is vitally important for parents before placing their children in this setting.
"Inquire from other parents who have children in a Montessori setting and be patient as the 'academic progress' takes a while to show in this setting as the setting caters to independence before any other aspect takes place."
She encourages parents to visit the school of choice and ask as many questions as possible to clarify any doubts.
Preschools adopting the Montessori Method:
Early Years Montessori, wearlyyears.edu.sg
Brighton Montessori, brightonmontessori.com.sg
Montessori for Children, montessori.edu.sg
Read our Enrichment and Preschool Guide to learn about other early childhood approaches for your preschooler.
* * * * *
If you find this article useful, do click Like and Share at the bottom of the post, thank you.
Running a service or business targeted for parents? Reach out to a wider audience in our Enrichment and Preschool Guide. Leave your contact details here and we will get in touch with you.