Country:

Singapore

Zip Code:

Listed:

November 6, 2013 12:56 am

Expires:

135 days, 2 hours
Wharton Preschool @ Ang Mo Kio
We are a premium Childcare centre offering broad spectrum education through fun and play. Conveniently located at Ang Mo Kio Central facing greenery, our 7000 sqft brand new center is fully equipped to cater to the needs of children from 18 months to 6 years old.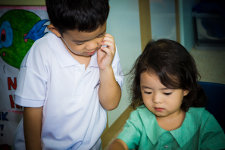 The Wharton Aspiration
The Bilingual Headstart
We offer a total immersive bilingual preschool program for 2 months to 6 years. English and Mandarin speaking teachers are assigned to each class. Children get the opportunity to interact with them in their respective languages throughout the day.
Preparing the Child for Life
"Sow an act, and you reap a habit; sow a habit, and you reap a character; sow a character, and you reap a destiny."
George Dana Boardman
We create the environment to nurture important attributes such as resilience, confidence, compassion, social integration and discipline with a view that children will benefit for life.
Through art and craft, speech and drama, and various outdoor and indoor activities, children are given abundant opportunities to develop their creativity and expressive ability. Our programs are also designed to enable children to develop social skills and integrate better in team setting.
Preparing the Child for School
Children are gradually introduced to pedagogical approach of the MOE (Singapore) to facilitate the child's smooth transition to our demanding school system. Apart from primary subjects such as Language, Mathematics and Science, we are also impart useful skills such as computer knowledge and abacus.
The Wharton Methodology
"Tell me and I forget, Teach me and I remember. Involve me and I learn." Benjamin Franklin
The Montessori Method
We adopt various Montessori method which emphasizes mainly experiential learning in a systematic and tested manner. It covers broad spectrum of topics such practical life, sensorial, linguistic, mathematical development.
The child is given his own space to explore a wide range of educational activities designed to develop his knowledge and competency in skills and abilities that benefit him throughout his lifetime. He learns at his own pace with guidance from teachers as facilitators only where necessary. He is mainly responsible his progress, which is not graded but celebrated.
Being fully involved in his learning journey, he learns resilience through challenges, confidence through successes, discipline and focus.
The Group Participative Method
Young children are primarily egocentric. They see the world in the context of "me". Through this exercise, they learn to work with their peers hence introducing the context of "we" as well as "me in relation the larger environment".
As a group, the children take center-stage in choosing the topic of their interest while the teacher act as facilitator. They choose what they wish to learn within a wide spectrum of educational themes such as nature, culture, creative art and drama.
In working as a group, Children learn social integration and become conditioned in its dynamics. They learn important communication skills and are given ample opportunities to develop their creative and expressive talents.
The Literature based Method
To facilitate each child's transition into our demanding local education system, we introduce on a gradual basis, subjects, pedagogical style and routine of MOE system in a assimilated environment. Each child will graduate from Wharton Preschool with Linguistic, Mathematics and Science competency.
Website: whartonpreschool.com
Email: info@whartonpreschool.com
Leave a Comment: