Think of a preschool now. What comes to mind?
You would probably conjure images of children crowding around a teacher reciting the alphabet, or colouring and tracing letters at their tables.
However, in a Montessori classroom, you would notice the difference in the space setting and design. This is because a Montessori environment is designed to foster cooperative and independent learning.
The History of Montessori
In 1907, one of Italy's first female physicians opened a centre for children in a poor city district. The youngsters started off disinterested in getting an education but were soon drawn towards learning in an environment created to foster their natural desire to learn. That lady was Maria Montessori.
More than 100 years later, the Montessori Method is still the trusted approach of early childhood education that builds on children's natural instincts to empower them to take control of their own learning and develop skills needed for them to fulfil their fullest potential.
Offering Value-Added Signature Programmes
The learning resources support a child's innate desire to explore, discuss and develop skills for life. The pillars of the Montessori philosophy are based on the premise that all children want to learn and should develop at their own pace.
In Singapore, the Modern Montessori International (MMI) Group is a leader in Montessori preschool education, with more than 25 branches located within the island.
Besides the unique Montessori Curriculum which touches on Practical Life Exercises, Sensorial Education, Montessori Language, Montessori Mathematics and Cultural Subjects, MMI also has value-added signature programmes like MMI News Hour, MMI Passport to the World, MMI Traveller's Palm, MMI Speak to be Heard and MMI Thumps Up Morning to expose their children to more hands-on and learning opportunities.
TNAP had a chance to visit an MMI centre one Friday morning. At 8.30am, we saw no bleary-eyed tots. Children were dressed in their own clothes instead of uniforms, as it was Fantastic Friday, where games were part of their day.
MMI Thumbs Up Morning
The children, aged 2 to 6 years old, were brimming with excitement during their Thumbs Up Morning Opening Session. Each day, older children are picked to be Leader of the Week and have the chance to lead younger ones through positive traits and desirable behaviours, such as "Today we wait for our turn!" and "In class, we use our listening ears."
This helps older children develop leadership skills, while the younger ones are encouraged to learn from role models.
Each morning, the teacher focuses on one positive attribute and shares relevant stories with the class to reinforce on that attribute. On the morning that we went, children listened to a story about 'Honesty' and also contributed examples of what they believed 'Honesty' to be.
After that, we explored the various learning areas and found the children to be actively engaged in their own learning. While children were grouped into different levels, those in the same level could be working on different activities, depending on their abilities and willingness to progress.
Practical Life Exercises
In Practical Life, children are exposed to a wholesome range of activities to develop control and coordination of movement. They may be engaged in learning how to tie their shoelaces for instance, and even simpler activities that many of us take for granted but are equally important, such as opening bottles and packing items into boxes.
The younger ones also learn to handle tiny items such as beans and transfer them from one container to another, with spoons and using a 'pincer grip', which prepares them for finer motor skills.
Sensorial Education
Sensorial materials introduce the concepts of colour, weight, shape, texture, size, sound and smell in an enjoyable way. Children are given a chance to handle different types of items, to develop a well-rounded understanding of adjectives used to describe these objects. This lays a firm foundation for understanding their environment better.
They learn about classification; as they arrange objects such as rods according to their weight, size, and length. An interesting observation to note is children here are seldom immediately corrected by the teacher.
This is because the Montessori approach believes in giving children the opportunity for their own self-correction and sets into motion a thinking process on the order of items and the relationship between similar objects, for instance, shortest to longest.
Montessori Language
In language learning, teachers did not simply point to pictures or objects and articulate the words. Rather, children are taught phonics which will form the basics of proper articulation.
Children in class also learn new songs, listen to stories and work with a variety of Montessori language materials to learn to read and write. Older children learn about prefixes and suffixes, something that many children only encounter in primary school.
Montessori Mathematics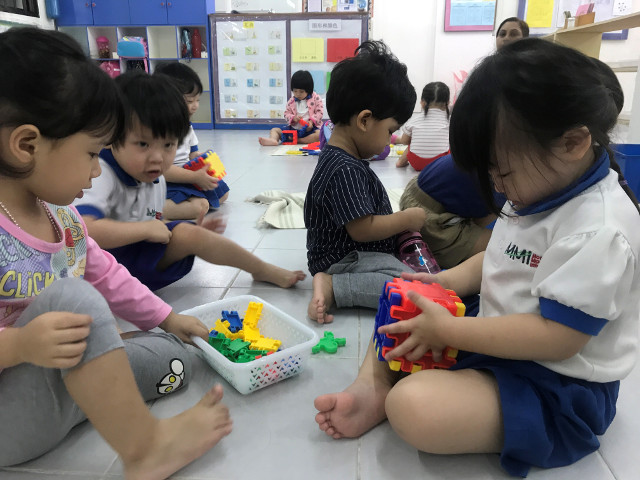 Montessori hands-on materials provide good exposure to the world of Numbers and Arithmetic. Children are led to understand numbers not by the usual way of counting dots and remembering the order of numbers but handle materials like rods and place them into a Spindle Box to develop a better understanding of the number from 1-10, and the concept of zero.
Through the use of manipulatives, children are better prepared for more abstract concepts such as Fractions and Geometry. In fact, children who have gone through MMI leave the school with a solid understanding of the four operations and have a good number sense of up to 1,000!
Cultural Subjects
Children learn about nature and global awareness through the use of globes, land forms, puzzles and the study of plants and animals. Every few weeks, the class focuses on a different country and learn about their language, clothing, food, and way of life.
Other value-added programmes by MMI include the News Hour Programme, where children learn about real-life events and learn to respond to the dynamic nature of world events.
Another programme specific to MMI is the Speak to be Heard! Programme, to boost a child's confidence in articulating and expressing their thoughts in a safe and supportive environment.
MMI Traveller's Palm is a unique program that lets the children make friends with other MMI students in the world. They learn to write and send letters to their friends in another part of the globe and in return, gets a letter written back to them!
This program allows the child to learn to write and read, whilst making friend from overseas, interesting introduction to pen pals, for these young children.
Passport to the World, is a unique subject used to enhance Cultural Subjects through a deeper understanding of a country's culture, food, language, costumes, lifestyle and economics.
The happy smiles on the children's faces and their involvement and enthusiasm in learning reflect the success of MMI's 'Whole Child' approach – to let Montessori activities help them achieve their fullest potential and experience the joy in learning.
If you're looking for a holistic, hands-on and practical nursery or preschool experience for your boy or girl, get them aboard the Montessori journey with MMI today!
To schedule a preschool visit, head to their website for more details modern-montessori.com.
This post is brought to you by Modern Montessori International.
Written by Geraldine Ang.
* * * * *
Like what you see here? Get parenting tips and stories straight to your inbox! Join our mailing list here.
Want to be heard 👂 and seen 👀 by over 100,000 parents in Singapore? We can help! Leave your contact here and we'll be in touch.