Play isn't a waste of time; it creates a window of opportunities for learning beyond the walls of the classroom. If we ask children what they enjoy doing, play would be their definite answer.
Here are ideas about how you can kick start meaningful play for your children.
1. Once Upon A Time…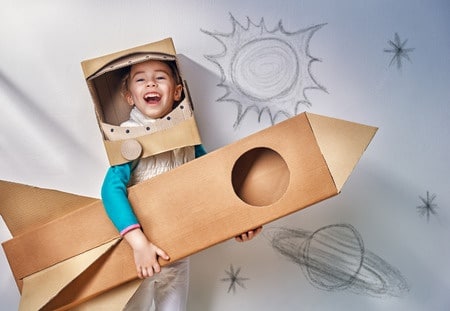 Technology offers a variety of developmentally appropriate interactive media experiences. Digital stories are a great alternative to storybooks and also encourage the love of reading. Create digital stories with your child by capturing everyday life moments with captions and narrations. This creates chances for you to monitor your child's learning progress and development.
Try these apps: StoryKit, Book Writer One, Adobe Voice and Book Creator Free
⇒ Related Read: 5 Possible Reasons Why Your Child Dislikes Reading
2. Let Nature Be Their Playmate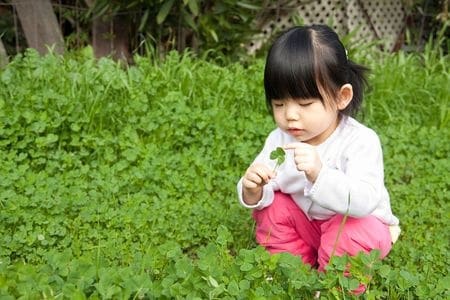 Do not underestimate the value of outdoor experiences. Outdoor play allows children to interact with the natural environment and provides opportunities for holistic development. Nature walks allow them to use all their senses – encourage them to walk barefoot on the grass, observe the insects on the ground or smell the leaves and flowers. Our natural world offers beautiful sights, sounds, and textures, making it an ideal resource for the development of aesthetics for children.
Singapore offers many possibilities of fun for children in the outdoors. Drop by the Children's Garden at Gardens by the Bay for a fun-filled family day with interactive play elements against a lush natural setting. The Garden is a big playground set up to enhance your child's physical and cognitive development through sensory play features.
Here are parks to bring your kids in Singapore.
3. Stock Up On Blocks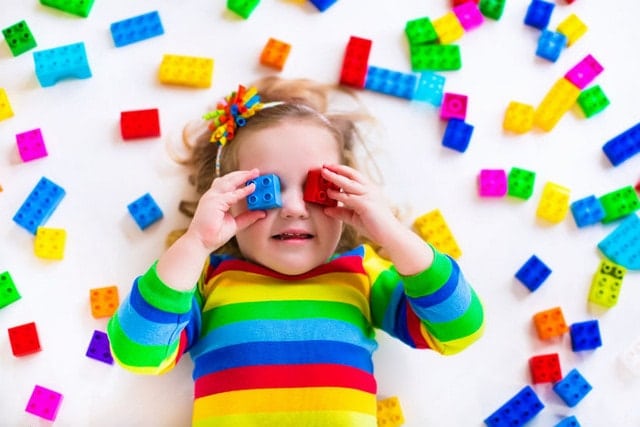 Block play can create multiple learning opportunities for children that are purposeful and fun. There are so much flexibility and creativity involved in block play. You can recreate building structures that you and your child saw, show them famous monuments and architecture around the world, or simply let their imagination take flight. You can even use materials that are open-ended, accessible and low-cost.
Use recyclables: Think plastic containers, cloth scraps, cardboard boxes and tubes. Your child can add on all kinds of 'construction materials' to their existing block structures
Paper and writing materials: Provide your child with writing materials (e.g. crayons, markers) and paper; to add signs or more intricate designs to their structures.
⇒ Related Read: Different Stages Of Play
4. More Than Just Pretend
Recyclables aren't just great for block play. They are also great to use during dramatic play.
Dramatic play is where children accept and take on roles then act them out. They can pretend to be something or someone else entirely without the fear of being judged. They dramatize situations through actions and movements to go hand in hand with the roles they have chosen to play.
The real value of dramatic play is that it increases children's understanding of the world they live in. In the process of dramatic play, they are encouraged to use their imagination, communicate, share their ideas and solve problems. This helps them develop personal skills that will nurture them to become successful learners in life.
Here's why you should encourage your child to engage in dramatic play.
1) Promotes language
Dramatic play increases the opportunities for interactions between children. When this happens, children exchange words with each other and in doing so; they pick up the way their peers speak and the vocabulary used. For children who are soft-spoken, this acts as a platform for them to come out of their comfort zone. When the type of play is fun and engaging, children will want to be involved and will therefore adapt in order to be included.
2) Develops social and emotional skills
Through these interactions, children will also get to work on their social and emotional skills. There are bound to be disagreements during this type of play. When that happens, it is up to children to decide how to handle them.
3) Explore creativity
During dramatic play, children are given the opportunity to be whatever or whoever they want. They decide where the setting of the scene is, what is in it, the time of it and everything else about it. It is up to their own imagination to create their type of play. Children are allowed to explore boundaries and possibilities whether it is realistic or not.
4) It is unstructured
There is completely no structure whatsoever when it comes to dramatic play. It is not something people must show you before you do it, nor is it something where an adult or someone else is in charge of. It allows children the freedom to decide what to do.
5) Children take charge of their own learning
Since children decide just about everything, they are in charge of their own learning. They create multiple learning opportunities for themselves by directing their own play.
6) Builds competence and self-esteem
All this adds up to children building their self-confidence. When they are in charge of their own learning with no one to tell them what to do, they feel empowered leaving them will feelings of happiness and joy.
By Gan Hui Ning, Nicolette Abigail Yeo Wei Ling & Priscilla Tan Yan Ying. Additional writing by Bianca Tan.
This was first published in The New Age Parents e-magazine
* * * * *
Like what you see here? Get parenting tips and stories straight to your inbox! Join our mailing list here.
Want to be heard 👂 and seen 👀 by over 100,000 parents in Singapore? We can help! Leave your contact here and we'll be in touch.