Are you searching for an affordable yet high-quality preschool that will provide your child with a strong foundation for their educational journey? Look no further than Little Footprints Preschool!
With their community-based approach, bilingual environment and experiential learning methods, they go above and beyond to ensure that your child receives a well-rounded and enriching preschool experience.
Check out what's great about this preschool below!
Experience Little Footprints Preschool: Affordable, high-quality education with a community-based approach, bilingual environment, and experiential learning
Holistic Approach to Learning: Building Strong Foundations for Success
Little Footprints Preschool adopts a holistic approach to learning that extends beyond the confines of the classroom. By fostering collaboration with families, communities, agencies, and professionals, this preschool creates impactful and meaningful experiences for its students. The community-based approach allows for a diverse and inclusive learning environment where children can thrive.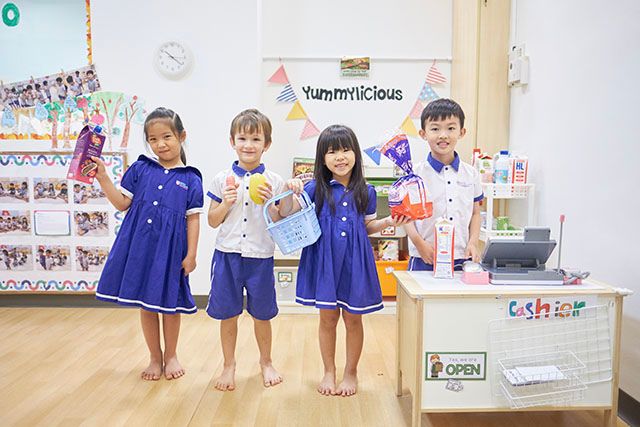 Their pedagogical approach, known as the I.D.E.A approach, focuses on Integrated, theme-based learning to facilitate progressive development through experiential methods and active learning to prepare children for a successful transition to primary school.
The learning approach encourages children to make connections across different subjects and concepts. By exploring themes that encompass language, mathematics, science, and the arts, children gain a holistic understanding of the world and learn to apply their knowledge in practical ways.
Engaging in hands-on activities, experiments, projects, and field trips, your child will actively participate in their learning journey, developing critical thinking skills and problem-solving abilities.
Unlocking Bilingual Excellence: Embracing the Power of Language
At Little Footprints Preschool, the importance of bilingualism in today's globalized world is recognized and celebrated. With lessons conducted in both English and Mandarin, children have the opportunity to immerse themselves in both languages, fostering their language skills and cultural appreciation.
Experienced educators who are fluent in both languages create a language-rich environment that encourages children to explore and communicate effectively. This bilingual exposure not only enhances their linguistic abilities but also promotes cognitive development and adaptability.
Hands-On Learning Adventures: Igniting Curiosity and Passion
Children learn best through active exploration and hands-on experiences. Little Footprints Preschool firmly believes in the power of experiential learning. Through purposeful activities, children become active constructors of knowledge, fostering their curiosity and passion for learning.
The carefully-crafted curriculum provides ample opportunities for hands-on exploration, enabling children to discover, experiment, and make meaning of their learning independently.
From science experiments and artistic creations to outdoor adventures and role-playing, Little Footprints Preschool offers a wide range of hands-on learning experiences that engage children's senses and stimulate their critical thinking, problem-solving, and decision-making abilities.
Conveniently Located Centers and Affordable Fees
As a busy parent, accessibility is everything. With 43 centers strategically located across the heartlands of Singapore, Little Footprints Preschool ensures that families can easily access high-quality childcare and early learning programs.
The best part? Little Footprints Preschool recognizes the need for affordable fees without compromising on the quality of education. They offer a range of programs to suit different needs and budgets.
Full-day fees for their infant care* program range from $1,290 to $1,700, while half-day fees range from $920 to $1,450. In their child care program, full-day fees range from $720 to $1,200, and half-day fees range from $540 to $834 (fees are stated before GST and subsidies for Singaporeans).
* Available at Admiralty, Ang Mo Kio, Boon Keng, Choa Chu Kang, Depot, Kent Ridge, Sengkang 205, Sengkang 275, Thomson and Ubi
2024 Enrollment and Open House
Looking to enroll your child in a preschool that offers quality learning experiences and prepares them for the schooling years ahead? Enroll your child for 2024 now and save up to $2,600*!
To learn more about the preschool, visit Little Footprints Preschool for a school tour during their upcoming open house on 22 and 29 July, both Saturdays, from 9 am to 1 pm.

This is the perfect opportunity to explore the school's nurturing environment, meet the dedicated team, and learn more about their holistic approach to education.
Take advantage of the opportunity to provide your child with quality learning experiences and a strong foundation for the schooling years ahead.
* Terms and Conditions Apply.
This post is brought to you by Little Footprints Preschool.
By Joanne Heng.
* * * * *
Like what you see here? Get parenting tips and stories straight to your inbox! Join our mailing list here.
Want to be heard 👂 and seen 👀 by over 100,000 parents in Singapore? We can help! Leave your contact here and we'll be in touch.