LIGHT TO NIGHT FESTIVAL RETURNS WITH A BUMPER EDITION THAT TRACES THE ECHO OF STORIES WITH NEW SENSORIAL ART EXPERIENCES
Date: 18 January to 24 February 2019
Time: 5pm – midnight
Venue: National Gallery Singapore, The Arts House, Asian Civilisations Museum, the Esplanade Park, Victoria Theatre and Victoria Concert Hall
Admission: Free
The Civic District, where modern Singapore started, invites visitors to embark on experiential journeys to gain deeper insights into who we are and the world around us come January 2019. Spearheaded by National Gallery Singapore together with its precinct partners, Light to Night Festival returns for its third year with a bumper edition across an extended six weeks from 18 January to 24 February 2019. With close to 50 programmes, the Festival promises to immerse audiences in an adventure filled with thought-provoking art and historical encounters from day to night.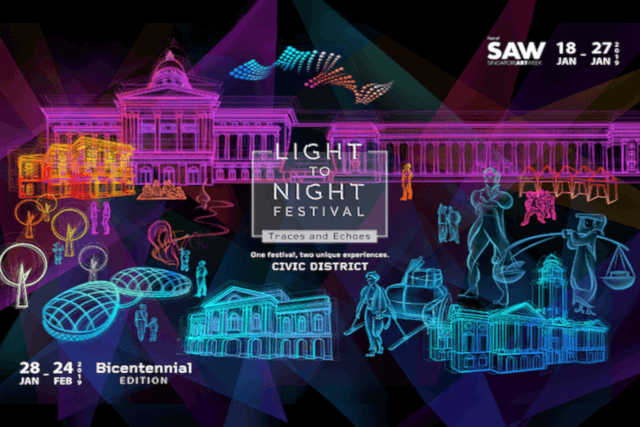 Responding to the theme Traces and Echoes, visitors are invited to go beyond the role of a visual spectator to one who interprets art and history with their five senses. This Festival experience spans two unique editions. The first, as a marquee event of Singapore Art Week (18 to 27 January), presents works of art inspired by personal stories and memories. The second kickstarts the Singapore Bicentennial commemoration (28 January to 24 February) by inviting site-specific responses and reflections from artists, writers, performers who reimagine our past and offer fresh perspectives on significant historical moments in the last 700 years.
Ms. Suenne Megan Tan, Festival Director and Director of Audience Development & Engagement at National Gallery Singapore said, "Light to Night Festival is part of our ongoing efforts in developing visitors' engagement with art. Inspired by Civic District and its rich stories, we work with artists to introduce new ways of art encounters, including placing different senses in play with each other and encouraging active public participation. This enables visitors to reconnect with the self and environment, question what's beneath the visible, and in the long term, deepen one's level of appreciation towards art beyond the visual. In 2019, the public can join us to uncover different layers of our city, through art, architecture, light, sound, literary, scent and movement, going beyond one-dimensional experiences commonly seen on social media. As visitors walk a path of their choosing during the Festival, they make their own reading of the city and create their very own multi-layered trace and echo."
Kickstarting with art encounters that activate all five senses during Singapore Art Week
For the first two weekends of the Festival, visitors can expect their five senses to be delighted by the installations and programmes within and around National Gallery Singapore, The Arts House, Victoria Theatre and Victoria Concert Hall, Asian Civilisations Museum (ACM) and Esplanade Park.
The biggest façade light show in Singapore, Art Skins on Monuments, will return with a new commission, The Odyssey. It is based on an original storyline co-developed with Brandon Tay and Safuan Johari, together with multimedia illustrations and digital content by 14 other artists. Viewers will follow the artistic voyage of an Explorer who traverses across seven façades of cultural institutions and sojourns the worlds of duality in search of his identity. At the same time, his experience inspires the audience to gain a deeper understanding of self. Visitors can also be immersed in this journey by activating an interactive wall using sound and movement at the Gallery's Padang Atrium.
Sensorial Trail, a commissioned series of intimate art encounters with smell, sound and touch, will challenge new forms of sensory relationships at National Gallery Singapore. Internationally-renowned scent researcher and artist Sissel Tolaas seeks to highlight the power of smell in revealing one's unique identity, alike fingerprints, through a new scentscape eau d'you Who Am I, reminiscent of the youth of Singapore. This investigation of a collective scent belonging to a population segment is unlocked through the heat emitted when one touches the wall surfaces. Singapore composer-musician Andy Chia invites visitors to discover connections between the sounds heard and the corresponding images triggered with his two-part installation Voices of Time. Participants will encounter a variety of natural and digitally-composed soundscapes that seem similar to each other, thus blurring reality and fiction. At the same time, visitor-created music compositions will also come to life as wall visuals.




Finally, French artist Tal Isaac Hadad will showcase two works where the body and voice are brought into mutual resonance to produce an astounding form of synesthesia – a signature of his practice. Recital for Masseur will see a group of singers and masseurs perform ephemeral acapella improvisations that arise from the kneading of body and its subsequent harmonious chorus in response. ASMR is also used to create a minimalist soundscape inspired by contemporary social media and digital culture, titled Listening Bodies.
Esplanade Park will welcome site-specific audio and environmental installation Under the Five Trees. Conceptualised by performance-maker Kaylene Tan and screenwriter Ben Slater, this project brings together an interdisciplinary team of 14 literary and sound artists, musicians, performers and architect-landscape designers, including renowned writers Boey Kim Cheng and Amanda Lee Koe. They have drawn on the precinct's rich stories to weave five creations that combine sound, music, poetry, narrative and landscape design. Visitors can experience the work on-site with mobile phones and headphones.
On the lawn of Asian Civilisations Museum (ACM), Singapore designer Sebastian Chun creates outdoor art installation Sticks, inspired by the transformation of the city skyline along the Singapore River. His fascination with the bakau pile construction technique and memories of popular childhood game 'Pick Up Sticks' are translated in his art to revive a way of life from the past, while creating space for personal and often-untold stories to unfold.
The Arts House Lawn will feature commissioned outdoor installations titled Open Books by creative collective Tell Your Children, and illustrator MESSYMSXI that interprets works of fantasy into life-sized installations. Entering the Victoria Concert Hall, audiences will be in for a treat with Pitch Black, a multi-sensorial music experience that takes place in the dark. Young musicians from Singapore National Youth Orchestra will use parts of their body as percussion, and explore sound and silence with movement, LED lights and mime – all without a conductor directing the performance.
Other Festival highlights include a reimagined immersive "garden" digitally composed with printed images of five botanical gardens in Southeast Asia titled The Regency Made Me Blind by Gary Carsley and Jeremy Chu en-route to the Gallery's Padang Deck; Resonance by students from the Nanyang Academy of Fine Arts at ACM which bridges the past, present, and future through a two-part installation; Common Life by artist Ho Chee Lick and poet Anne Lee Tzu Pheng at The Arts House that brings visitors on a visual and poetic journey with the pairing of original sketches of life in Singapore neighbourhoods with poems created in response. Visitors can also tantalise their taste buds while bonding over art, food and music over at Art x Social on Empress Lawn, Comedy Fridays with Kumar and Hirzi, and Music Saturdays with The Sam Willows and Charlie Lim at National Gallery Singapore.
Ms Chua Ai Liang, Senior Director of Engagement and Participation of National Arts Council, said, "Arts lovers should be pleased that Light to Night returns as a marquee event of Singapore Art Week. We are happy to collaborate with our major cultural institutions so that everyone can enjoy a unique arts experience together. We hope more people will join us for the various arts and cultural activities that take place within the Civic District precinct throughout the year."




Commemorating Singapore's Bicentennial through historical and personal stories of the Civic District
In the subsequent four weeks beginning 28 January 2019, the Light to Night Festival will provide a brand-new experience for visitors by incorporating a historical narrative for the very first time. The façades will transform into a multimedia showcase depicting 7 Stories in 700 Years, which gathers anecdotes found across the iconic buildings and sites in the Civic District. These reimagined historical tales offer a fresh perspective on key figures and moments of Singapore, including trade activities at Singapore River, law and justice, performing arts, and our journey towards cultural convergence.
National Gallery Singapore will also commemorate Singapore Bicentennial with a dynamic media installation The Memory Conduit by multidisciplinary studio Zarch Architects that captures the country's collective social experience, and a multimedia photo wall Our Memories of the Civic District Singapore with personal and archival photographs contributed by the community at its Padang Atrium. There will also be a site-inspired interactive theatre production, Shadows IN the Walls, by Singapore collective GroundZ-0 where participants will travel back in time and meet key characters from the precinct's history.
"The Civic District is a very special place. It has witnessed key defining moments in Singapore's history, and is also a social space where many of us have fond memories. With our bumper edition of Light to Night next year, visitors are encouraged to make repeat visits across the six weeks to enjoy the different offerings. No two experiences will be the same," shared Ms. Tan.
Mr. Gene Tan, Executive Director of Singapore Bicentennial Office, added, "We hope the Singapore Bicentennial will bring families and friends together, to discover and experience our long, rich and diverse history throughout the year. We're delighted to launch the bicentennial in January 2019, in conjunction with the Light to Night Festival and other exciting commemorative programmes."
Admission to the Festival is free, commencing from 5pm until midnight. Certain programme timings and admission charges may vary.
For more information about the Festival, please visit www.lighttonight.sg.
If you find this article useful, do click Like and Share at the bottom of the post, thank you.
Like what you see here? Get parenting tips and stories straight to your inbox! Join our mailing list here.