NO BETTER TIME THAN "HERE AND NOW" TO EXPERIENCE THE ILLUMINATING LINE-UP AT LIGHT TO NIGHT 2023
Enjoy an enhanced line-up of on-site offerings including new large-scale interactive art installations, the iconic Art Skins on Monuments, and the return of Art X Social Festival Market
National Gallery Singapore's Light to Night Festival – a marquee event of Singapore Art Week – makes its post-pandemic return to the Civic District from 6 – 26 January 2023. This edition of the festival features a myriad of art-meets-lifestyle activities, Singapore premiere of artworks by artists from around the world, as well as new immersive day-to-night installations. All happening on-site at the Civic District, Light to Night 2023 promises fun and enriching encounters with art for all.
Held right after the turn of the new year, Light to Night 2023 celebrates what it means to be in the present. The theme, "Here and Now", calls for reflection of one's time and environment – an appropriate invitation to mark the new year – and draws attention to art as a platform to document and respond to one's lived experiences. Coupled with the concept of play and innovation, the festival features a multidisciplinary line-up of over 60 programmes and artworks by local and international artists to spark spontaneous and ephemeral encounters with art across the Civic District. It also offers a fresh opportunity for visitors to welcome contemplation on today's contemporary topics and advocation in the new year.
Ms Suenne Megan Tan, Festival's Executive Director and Senior Director, Museum Planning and Audience Engagement, National Gallery Singapore says, "We are very excited for the return of Light to Night as a marquee event of Singapore Art Week. This festival serves as a platform to showcase Singapore's vibrant arts and culture landscape, as well as the magnificent artworks of a diverse group of talented artists and students. Through this year's theme, we invite visitors to encounter art in various ways and fully immerse themselves in present moments, drawing meaningful connections between art and their personal lived experiences."
NEW INSTALLATIONS SPOTLIGHTING NOVEL WAYS OF PRESENTING ART, DIVERSE PERSPECTIVES, AND LESSER HEARD VOICES
The festival continues to provide an invigorating and accessible entry point for all to engage with art. Best experienced in-person, visitors are invited to immerse themselves in the electrifying atmosphere and ephemeral experiences happening throughout the day. National Gallery Singapore will be offering free entry to all visitors on Fridays to Sundays during the festival period and extend its opening hours to 11pm on the same days.
• There Is A Window In My Eye If You Look In You Will See The Sky by Dawn Ng at Gallery's Padang Atrium: With a visual mechanic that recreates the circadian rhythm of dawn to dusk, Dawn Ng's resplendent artwork prompts reflection as visitors are confronted by a large visual representation of the invisible passage of time.
• Hearing Padang and Ephemeral at the Padang: The Padang features two large-scale installations – one interactive and the other immersive – to evoke a sense of playfulness and encourage participation for positive engagements with art. Hearing Padang by Sai is made by two curved structures that create an acoustic experience by allowing sound to travel from one end to another. Taking inspiration from the former Supreme Court in the Civic District, the installation references the main function of a court – to resolve disputes between people through hearings. Ephemeral by Atelier Sisu is an immersive light and sound environment that aims to capture the concept of ephemerality in a visual form: the bubble.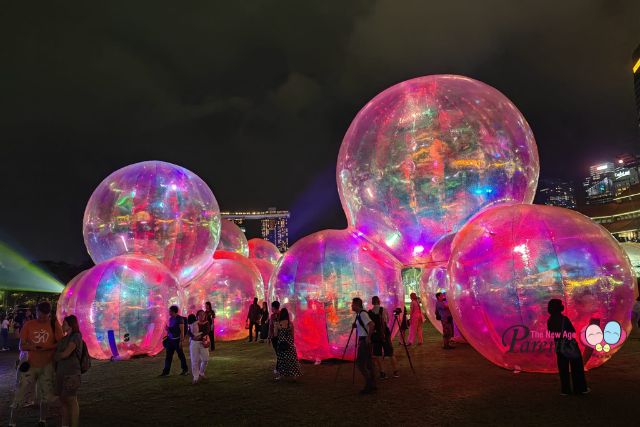 • Glimpse, self-guided accessible multi-disciplinary installation: Presented by Access Path Productions and RJ Thomson, visitors are invited to ponder the theme of "disability visibility" as they explore the self-guided installation co-created with four performers with disability. The installation and performance are structured around concepts of presence and absence, and will spotlight and expand on themes of self-care, disabled visibility, and the aesthetics of care.
• New installations in the Civic District: Visitors can look forward to Dwelling by Vince Ong Choon Hoe (VOCH), an art installation which explores an archetype of a house and what a home truly represents. Located at the front lawn of The Arts House, the work was inspired by the idea of how architects consider one definition of 'dwelling' as a home with a hearth at its core. STARDUST by Muhammad Izdi at Funan's Underground Pedestrian Link will take visitors on a journey through a speculative otherworldly narrative which depicts a reality where natural elements intertwine with surreal ones. At the Asian Civilisations Museum Green, visitors can discover a multi-sensorial art installation, Look to the Heavens by Cake Theatrical Productions, and be surrounded by sights and sounds that will encourage them to embrace the present.
WELL-LOVED HIGHLIGHTS AND NEW ADDITIONS THAT INSPIRE AUDIENCES
• Art Skins on Monuments – beyond the dome of Rotunda Library & Archive: Visitors can immerse themselves in a visual feast of spectacular light projections created by various artists on the façade of cultural institutions around the Civic District, including National Gallery Singapore, Asian Civilisations Museum, The Arts House and Victoria Theatre & Victoria Concert Hall. This year's Art Skins on Monuments will premiere commissions by international and local artists, including Botanica by Studio McGuire from the United Kingdom, which features illuminating light projections beyond the Gallery's Rotunda Library & Archive dome, and on to the library's table tops to bring the magical experience closer to visitors.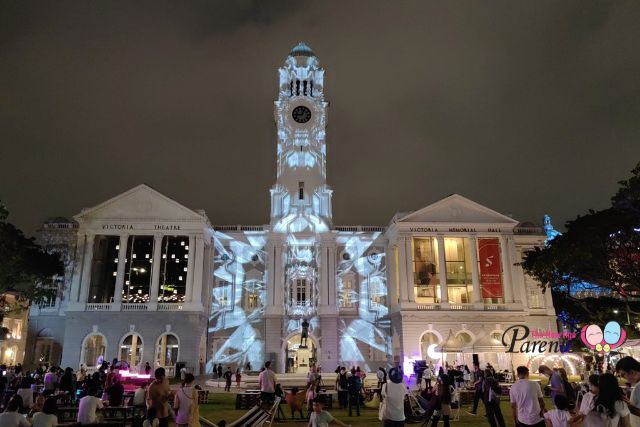 • Art X Social, with over 50 booths: To encourage festival-goers to head down to the festival and bask in the here and now, Art X Social returns with a fresh line-up of over 50 food and beverage stalls, new craft and art brands, exciting live performances and outdoor workshops across St Andrew's Road and Empress Lawn.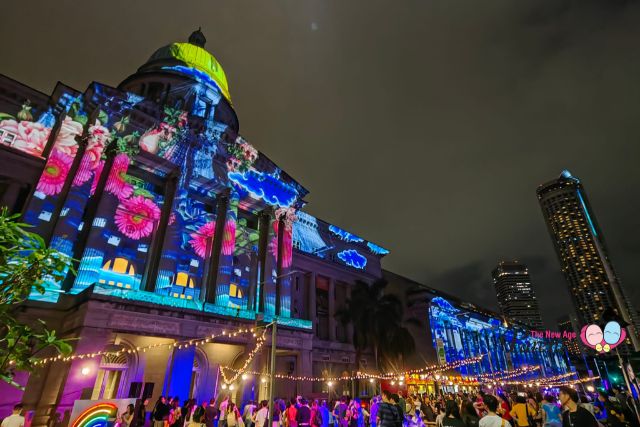 PROGRAMMES TO FOSTER GREATER APPRECIATION OF ART
Light to Night reinvigorates guests' appreciation of art with new approaches to viewing and experiencing the world through fun games, entertaining performances, and insightful dialogues.
• Live Performances: Visitors can soak in the festival vibes through live performances with Gallery Gigs and Gallery Mix. This year's line-up includes performances that explore collaboration across genres, merging the beauty of various interdisciplinary artforms with artists like Aisyah Aziz, Lalit Kumar, Anise x Sonia Kwek and many more.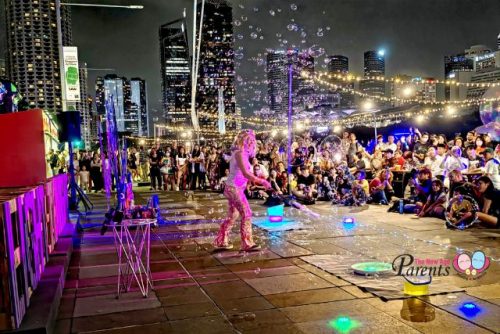 • Kolektif Trivia Night: Kolektif is the Gallery's experimental youth arm which aims to empower young people to bring their creativity and concerns to art museums. Visitors can join the Kolektif Trivia Night and look forward to a range of general knowledge questions from pop culture fun facts to scientific questions from your primary school textbooks, and of course, a healthy dash of art and local culture 101.
• Artsplaining: With the aim to make art more accessible to the masses, visitors are invited to partake in lively and enriching dialogues with Gallery curators and well-known personalities like Tiara Yap and Hafidz Rahman. These thoughtful and casual conversations about artwork in the Gallery will create a safe space for audiences to be curious and engage with art.
• Funny Fridays: A free-for-all live-comedy series featuring local stand-up comedians, such as Patricia Mok and Siraj Aziz, where audiences can laugh their socks off.
• First Responders: Augmented Reality imaginations by Nanyang Polytechnic Students: Visitors can experience the Gallery's collection in the DBS Singapore Gallery in new ways, with over 25 web-based AR filters on Instagram created by students from Nanyang Polytechnic's School of Design and Media.
• Programmes at the Civic District: The Gallery's Civic District collaborators host a wide range of multidisciplinary art programmes during the festival to engage audiences of all interests. Textures 2023 is happening at The Arts House; thrill-seekers can attend a creepy showcase of five ghost stories with a play titled Cherita Hantu…Kembali (Ghost Stories…Returns), by The Arts House and Hafidz Abdul Rahman. Dramatized readings of three popular novels by Singaporean female writers, Inez Tan, Kirstin Chen and Erni Salleh are available in A Novel Idea: SingLit Edition. A variety of musical performances at the Victoria Concert Hall include classical music performances at the atrium with Atrium Playoff – NPVC Talents & Friends, as well as Stroboscope – Light Beats, percussion music by the Singapore National Youth Orchestra Percussion Ensemble. Esplanade Outdoor Theatre's daily outdoor performances celebrates new music and fresh faces. At the Asian Civilisations Museum, visitors can get crafty and join in activities like making their own Glow-in-the-dark Reminder Bracelet and Paint with Nature.
Ms Elaine Ng, Senior Director, Engagement and Participation at National Arts Council says, "The engaging line-up of activities and interactive installations at Light to Night 2023 continues to complement the annual pinnacle event Singapore Art Week. As we witness how art takes over the Civic District and spaces around the island, we also invite Singaporeans to share feedback for the current draft of Our SG Arts Plan (2023 – 2027), in appreciating the role that the arts play in building a distinctive city. We are excited for everyone to start the new year by immersing ourselves in the here and now and enjoy the wide range of arts offerings with a rush of positivity and excitement."
Mr Fong Yong Kian, Chief Executive of Tote Board says, "We are excited to continue supporting Light to Night 2023 as it brings exciting and novel ways to experience art. The Light to Night festival signifies our readiness to engage with one another and celebrate the resilience of our society together. The festival has always championed inclusivity and vibrancy through art, engaging individuals, families, and the community in a feast of multi-sensory experiences. We hope that Light to Night will continue to bind communities together through art."
Light to Night Festival 2023 is spearheaded by National Gallery Singapore, in collaboration with Asian Civilisations Museum, Esplanade – Theatres on the Bay, The Arts House, Singapore Symphony Orchestra, Victoria Theatre & Victoria Concert Hall and CapitaLand. Light to Night Festival 2023 is supported by Development Partner Tote Board, Strategic Partner National Arts Council, Matched by the Cultural Matching Fund, TV Supporter Samsung, and Supporter CapitaLand.
For more information on the festival's full line-up, the microsite is accessible at here. Audiences can also follow its dedicated social media accounts on Facebook and Instagram.
Onsite admission to the festival is free, commencing from 10am until midnight. Certain programme timings and admission charges may vary.
---
It's the weekend and are you looking for things / activities to do? Check out our weekly roundup of Things To Do This Weekend In Singapore.
* * * * *
Stay in touch! Subscribe to our Telegram here for our latest updates.
Want to be heard 👂 and seen 👀 by over 100,000 parents in Singapore? We can help! Leave your contact here and we'll be in touch.