The first of its kind vertigo climbing wall in Singapore, The Cliff is located at Snow City.
Suitable For First Time And Seasoned Climbers
The Cliff comprises of 10 climbing lanes with various difficulty levels suitable for Lead and Speed climbing. It's even wide and big enough for 20 climbers to participate simultaneously! Towering at 290 square metres, The Cliff will be playing host to local and regional climbing competitions such as South-East Asia climbing circuits, national competitions and school competitions.
The New Age Parents were invited to scale The Cliff's rock wall and we took a shot at the beginner's rock wall.
Expect to perspire so wear comfortable cotton t-shirts, pants and sports shoes for this activity. If you have not been working your muscles recently, your arms and legs may feel like jelly after the climb!
Braving New Heights
While we were there, we could not help noticing two other kids having a ball of a time on the intermediate rock walls. Both were scaling the rock wall without any fear at all! and it seemed as if nothing could stop them from scaling to greater heights!
A Rocking Good Experience For Children
A great experience for children to try, rock climbing is a test of their body and mind. Stretching their legs and arms, gripping the grooves, holding their body weight and hoisting themselves up; rock climbing develops flexibility, agility, and even strategic planning abilities, as they decide which rock to best grip or step on.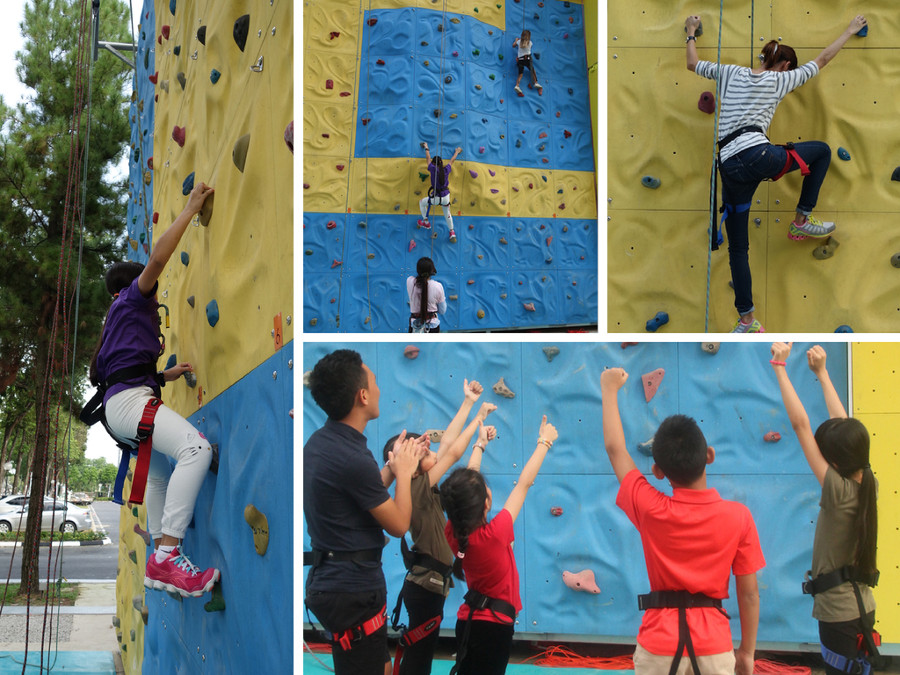 Too easy? You can move on to the intermediate walls!
Besides the physical aspects of the activity, it also teaches children resilience, determination and perseverance. When our little ones set their hearts and minds on achieving a goal, be surprised at what you may find. They may prove more resilient and determined than us adults.
Challenge your child and yourself – Climb The Cliff today!
Suitable for children 3 years old and above.
There will be guided instructors present throughout the climb.
Duration: 3 hours
Individual

Price

Child (3-12 years old)
Student pass holders
Adults
$30
$30
$30
The above prices include trainer, climbing equipment and snow play (harness and belay equipment).
Subject to slots/ trainers availability. Advanced booking is advised
More details can be found at Snow City website
Only Valid at Snow City: Special Card Privileges
There are packages for Snow City. Those with PAssion card, Standard Chartered Bank cardholders and NTUC-U Club are entitled to promotions and discounts at Snow City.
If you have finished your climb, why not hop over to Snow City and The Omni-Theatre?
By Heather Yew