Most girls love to keep their hair long. If you have an active girl who loves to play, chances are she would be running around with her hair all over the place. Tangled hair doesn't just look messy, it can be painful, difficult to comb out, and lead to hair breakage.
What's the fastest and easiest way to get out of this knotted mess?
A Safe And Natural Kids Hair Detangler
While we do our part to keep our daughter's hair healthy and smooth, it can get quite frizzy and knotty due to their day-to-day activities and grooming habits. With Original Sprout Miracle Detangler ($16.90), see how your girl's messy tresses transform instantly into smooth, tangle-free hair!
Heading to the pool? Loosen those tough post-swim hair knots. Tame the most stubborn frizz and get her locks tucked into a neat top bun for her ballet class or recital. If your girl inherited your thick or curly hair, it will probably be more prone to tangles. But don't let that prevent her from keeping it long. Let your girl wear her curls.
With a light, milky texture, Original Sprout Miracle Detangler is made of natural and organic ingredients. It has a mild refreshing scent and when applied, does not leave any residue on your hair or hands. All that is left is lustrous tangle-free tress that even Rapunzel would be envious of!
Related post: How To Manage Your Child's Tangled Hair?
How to use the Miracle Detangler: Press a small knob of the Miracle Detangler on your palm and gently run it through the ends of your daughter's hair with your fingers. Comb her hair right after applying the Miracle Detangler and watch how the comb slides down her hair effortlessly. For best effects, use it after Original Sprout Natural Shampoo ($25) and Original Sprout Deep Conditioner ($16.90).
Looking for a gel to tame your child's hair or your own?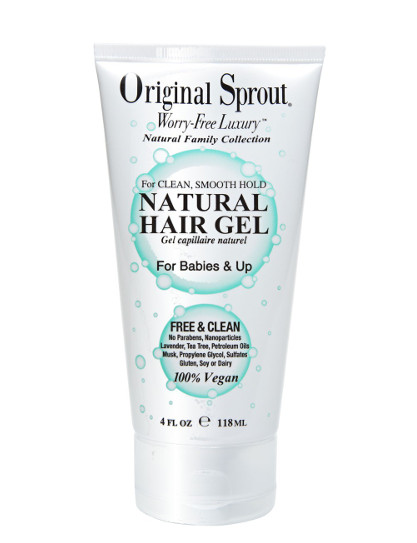 Original Sprout Natural Hair Gel ($16.90) not only holds all hair types and puts your hair in place, its nourishing ingredients also strengthen and moisturize all hair types, including chemically treated or breakage-prone tress!
Made of natural organic ingredients such as extracts from coconut, raspberry and cranberry, it is free from harmful chemicals, mineral oils and colouring dyes, making it suitable and safe for children. The Natural Gel leaves your locks feeling smooth and silky, without any waxy or greasy remains.
How to use the Hair Gel: Squeeze a small portion on your palm and rub your palms together lightly. Directly apply it to your child's hair (or your hair), moulding and teasing your hair in place. For best effects, use it after using Original Sprout Miracle Detangler.
Bored of the usual braids for your girl's hair? Try something new with these cute braided hair styles for girls.
Besides hair products for kids, Original Sprout also offers skin products for babies and children.
Do you know that a baby's skin thickness is one-third thinner as compared to an adult's skin?
In a hot and humid country like Singapore, it's common for a baby's skin to get dry from the weather, even by staying indoors. What are the two important skin regimes to keep your baby's skin supple and healthy? Bathing your baby with just slightly warm water using a gentle cleanser, and moisturizing your baby's skin daily is a must.
Super safe, super soft
Looking for a shampoo or soap for your baby with eczema or sensitive skin? Original Sprout Hair and Babywash ($25 – 12oz / $59 – 33 oz) is not only gentle on the skin, it washes away dryness, and helps to ease common baby skin conditions such as cradle cap, eczema, psoriasis, baby acne, heat rash and diaper rash. Infused with Rosemary and a gentle pH value of 6.0 – 7.0.
After taking a nice warm shower, the next step is to moisturize your baby. Why not give your baby a massage at the same time? Original Sprout Scrumptious Baby Cream ($16.90) has a protective barrier that contains amino acids (from extracts of Cranberry), which aids in generating collagen in the body to keep the skin soft, firm and healthy. The moisturizer is easily absorbed into you babies skin, and does not leave a 'greasy' or 'sticky' after feel. For best effects, use this cream after bathing your baby with Original Sprout Hair & Body Babywash.
Where to buy
You can find the above products at Watsons, Kiddy Palace, Motherworks, 1010 Mother & Child, or at their online store. Original Sprout products are made up of 100% vegan and free from harmful chemical such as Parabens and Sulfates, making it safe for newborns and above.
Original Sprout is having a special promo code just for TNAP readers!
Enter the promo code "OSNAP20" at their online store to receive 20% off any Original Sprout purchase with free shipping.
About Original Sprout
Original Sprout is a California-based family brand and is founded by Inga Tritt, a master stylist. With a large following by Hollywood celebrity mothers, the brand has a strong ethical philosophy and promotes an environmentally-friendly lifestyle by using ingredients that are eco-friendly.
For more info, visit www.originalsprout.com.sg or www.facebook.com/OriginalSproutSG/
If you find this article useful, do click Like and Share at the bottom of the post, thank you.
Want to be heard and seen by over 100,000 parents in Singapore? We can help! Leave your contact here and we'll be in touch.