Managing a newborn isn't an easy feat for a new and young mom, let alone managing one with chronic eczema. My baby boy, Samuel, was diagnosed with chronic eczema at two months old. My husband and I brought him to see a pediatrician and a dermatologist.
Subsequently, we tried many products off the local pharmacies' shelves such as Mustela, California baby, Avent Magic cream, Hope's relief cream, Egozite and Eucerin but they didn't work for Samuel. His eczema condition seemed to need something more sustaining. Through the flaring episodes, I've learnt that we have got to fight the eczema beast positively.
Below is a list of products that have been recommended by his dermatologist and has helped in managing Samuel's eczema condition better. They have advised us to use products that are non-soap and non-fragrance: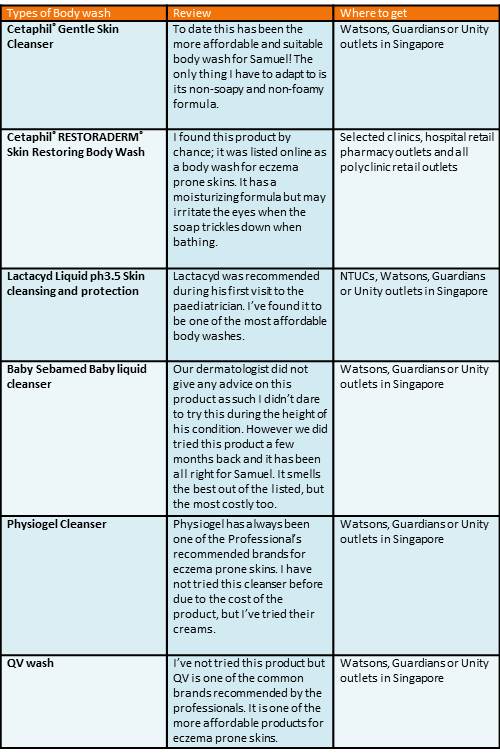 | | | |
| --- | --- | --- |
| Types of Body Wash | Review | Where to Get |
| Cetaphil® Gentle Skin Cleanser | To date, this has been the more affordable and suitable body wash for Samuel! The only thing I have to adapt to is its non-soapy and non-foamy formula. | Watsons, Guardian or Unity outlets in Singapore |
| Cetaphil® RESTORADERM® Skin Restoring Body Wash | I found this product by chance; it was listed online as a body wash for eczema prone skins. It has a moisturizing formula but may irritate the eyes when the soap trickles down when bathing. | Selected clinics, hospital retail pharmacy outlets and all polyclinic retail outlets. |
| Lactacyd Liquid ph3.5 Skin Cleansing and Protection | Lactacyd was recommended during his first visit to the paediatrician. I have found it to be one of the most affordable body washes. | NTUC, Watsons, Guardian or Unity outlets in Singapore |
| Baby Sebamed Baby Liquid Cleanser | Our dermatologist did not give any advice on this product as such I did not dare to try this during the height of his condition. However, we tried this product a few months back and it has been alright for Samuel. It smells the best out of the listed but is the most costly too. | Watsons, Guardian or Unity outlets in Singapore |
| Physiogel Cleanser | Physiogel has always been one of the Professional's recommended brands for eczema prone skins. I have not tried this cleanser before due to the cost of the product but I have tried their creams. | Watsons, Guardian or Unity outlets in Singapore |
| QV Wash | I have not tried this product but QV is one of the brands recommended by the professionals. It is one of the more affordable product for eczema prone skins. | Watsons, Guardian or Unity outlets in Singapore |
---
The professionals have also advised that we can never moisturize too much! They also recommended creams to lotions, as they are thicker and more absorbent.
Below is a list of recommended creams we've tried before and you can get them at most Watsons, Guardians or Unity outlets. However, you can only get the Cetaphil Intensive from selected clinics and hospital retail pharmacy outlets.
Cetaphil Intensive Moisturizing cream
Cetaphil Moisturizing Cream
QV cream
QV intensive cream
Physiogel Cream
*Physiogel AI
*You will need to get a prescription for Physiogel AI.
To date, the Cetaphil Intensive Moisturizing cream together with the QV intensive cream has worked most effectively for Samuel. I've heard reviews that it can also be effective with QV cream and QV intensive.
I hope that by sharing the list of products that have helped Samuel, will help ease your headaches, and save some money as you go about to find the most suitable product for your baby. I certainly wished I had this list back when I was looking for the right treatment for Samuel.
Take heart that you are not alone in this journey, hang in there!
By Yvonne Chee
This article was first published in The New Age Parents online magazine.
If you find this article useful, do click Like and Share at the bottom of the post, thank you.
Like what you see here? Get parenting tips and stories straight to your inbox! Join our mailing list here.