Taking a shower seems to be a pretty straightforward affair – when parents think about showering their children, the issue is usually more of how to get the child to stop playing and take the shower or how to get the child to stop playing in the shower. However, for babies and children with sensitive skin, showering can suddenly become an activity that is fraught with uncertainty; for instance, should my child take more or fewer showers in a day? Can he or she use soap?
Here are our 5 top tips on bathing your child with sensitive skin.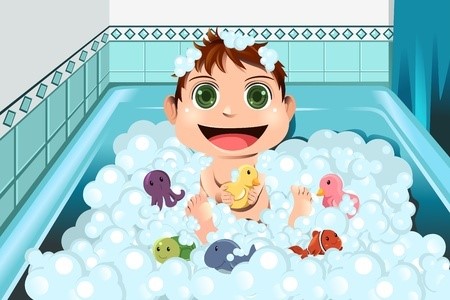 Tip #1 – Do Not Bathe with Hot Water
It's been surveyed that most people like to use hot water to shower in Singapore, even when the weather is hot! However, hot water strips moisture from the skin and is not recommended for those with dry skin or with eczema. Hot water feels good because it temporarily numbs the nerves so if you have an itch, it seems to go away during a hot water shower. Babies have thinner skin than adults and their moisture loss from the skin is higher – avoid a hot bath.
Tip #2 – Don't Shower for More than 10 minutes
I'm guilty of this too; a shower is akin to a sanctuary for some – alone, therapeutic and no work has to be done when you're in the shower! However, showering too long takes away moisture from the skin especially for a child with eczema whose skin barrier is already defective. Water is akin to a thunderstorm washing off the cement from the bricks (The skin layer is often described as a brick wall by dermatologists to illustrate that the skin is made of layers, cells and 'cement' holding them together).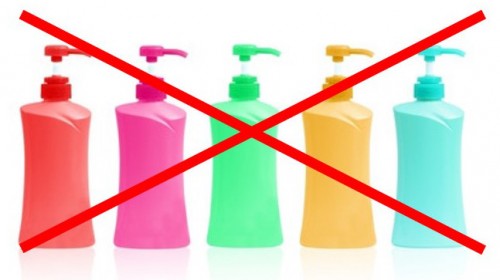 Tip #3 – Don't Use Soap
Soap is drying for the skin because it is alkaline, as opposed to our skin's natural pH which is slightly acidic. Soap often causes skin irritation for those with sensitive skin – instead use bath oil or non-soap cleanser.
Tip #4 – Moisturise within 3 minutes after a shower
It is a dermatologist's "rule" to moisturise within 3 minutes after a shower. The point is to seal the moisture on the skin and not let too much moisture evaporate. For children with eczema or who are at higher risk due to parents or siblings having eczema, moisturising has been studied to have:
1. Preventive effect for eczema, i.e. by moisturising, the risks of eczema decrease
2. Lessen the need for prescription cream.
Tip #5 – Pat Dry
Rubbing the skin dry after a shower will remove too much moisture. What we really want is to keep the moisture on the skin and add a layer of emollient over to seal the moisture. Instead of rubbing, try patting your child's skin dry and leaving a little moisture on the skin. Similarly, do not exfoliate the child's skin – it's not necessary!
If you like to add more moisture to the skin, you can try a colloidal oatmeal bath oil or use bath oil instead of cleanser. For children with sensitive skin, avoid bubble bath which frequently contains irritants. And for those with eczema, weekly diluted bleach bath, vinegar bath or chlorhexidine-based bath has been recommended by dermatologists. Despite showering being not as straightforward for those with dry, sensitive skin, it is best to shower at least once a day in Singapore to clean off sweat residue and debris – these can irritate the skin too if left on the skin for too long.
This article is contributed by Mei (aka MarcieMom of EczemaBlues.com). Mei has co-authored Living with Eczema: Mom Asks, Doc Answers with Professor Hugo Van Bever and illustrated a children's book A to Z Animals are not Scratching!
* * * * *
Like what you see here? Get parenting tips and stories straight to your inbox! Join our mailing list here.
Want to be heard 👂 and seen 👀 by over 100,000 parents in Singapore? We can help! Leave your contact here and we'll be in touch.