How do fathers find time for family in the midst of their hectic schedules? We speak to CEO of Tollyjoy, Mr Tan Wee Keng, on his struggles and how he finds time for family in the midst of his hectic schedules.
Tan Wee Keng, CEO of Tollyjoy Baby Products
When Tan Wee Keng was schooling, he would spend his holidays at his father's warehouse and office, packing goods, punching numbers and even deliver goods. Mr Tan's parents, Mr Tan Khung Ngee and Madam Tan Hong Keow started Tollyjoy Baby Products in 1971.
With around 200 employees, the company products target mothers and babies in Asia. Initially reluctant to take over the family business, he decided to step up when his father health took a turn for the worst.
In 2001, he took over the family business and under his leadership, the brand progressed from strength to strength withstanding through the challenge of the economic downturn and the dotcom crisis in the early 2000s. Married to Irene Yeo, who is the Sales and Marketing Manager of Tollyjoy, they have three children aged three to 14.
A typical work day for me is…
No different from other parents, except that we have more flexibility in our working hours as we (my wife and me) run our own business. We are fortunate enough to have a domestic helper to help us with our daily tasks at home, which frees up our time. Having competent and loyal workers who have been with the company for 10 years and above has helped us in my work arrangement as well. I know some of these workers since I was a little boy. Having good staff allows me or my wife to do our parenting duties, such as picking up our children from school in the afternoons or managing unexpected emergencies, like when they fall sick.
I normally spend time with my children…
Whenever and wherever. Sometimes you don't have to do anything at all when you are with them. You just have to be there; to hang around. You don't have to talk, you just sit there and be next to the person – that in itself is quality time. You don't have to say, "Okay let's do something today. Let's go build sandcastles." It doesn't have to be that to qualify as quality and it doesn't have to be restricted to any particular day alone.
Everyday when I go back home, we will try to have dinner together, that is the least we can do. As the saying goes, "A family that eats together stays together". It's still quite possible with the younger ones, but the older child now there is CCA, it's a little tough. Nonetheless, if there is an opportunity, we will sit down and eat together.
For the younger ones, I will spend time to be engaged with them in their activities. I spend time to teach them vocabulary, count, tell stories and make them laugh. It's relatively easier for me to be engaged with them. For the elder one, the topics engaged will be different because if they asked me about their homework, I would just draw a blank. At his age now, the topic would be about relationships.
Bonds are built on a daily basis. It's the little bits that count and adds up – this was something I learned from my wife. I used to have a thinking that all I have to do is to get my kids a really nice present, or to do something fantastic on this day and all will be forgiven, the 364 days with no present will be forgiven.
My greatest struggle when I first became a dad and my current challenge
I think struggles are ongoing. My very first struggle probably has to be changing diaper for my son. I still can recall the first day when my firstborn was brought back from the hospital, I was left alone with him for a while. He was crying and there was this horrible stench in the room. With zero experience and exposure; there were prenatal classes for men back then and were no pull-up pants, I just had to slowly pull out the diapers and there was this huge pile of you-know-what.
I remember thinking, "When can I pass this over so I can go out with my friends." I was still in a state of blur. I couldn't believe I was a father. I cannot describe the moment then, it was very exasperating. But I overcame it.
Right now, my constant worry would be – How do you want to bring this little boy or girl up? How will they grow up to be a part of our society? Who will they be? What kinds of roles will they play; how will they contribute? I do have some ideas of my own, and I will try to influence them. But beyond that, they are pretty much on their own. Regardless if they choose to follow my advice or follow their instincts, one thing is for sure – we don't live our lives alone. No man is an island, we live amongst others. We have to be aware that we do affect a lot of people. I think that is something I would like to instill in my children when they grow up.
My happiest moment as a dad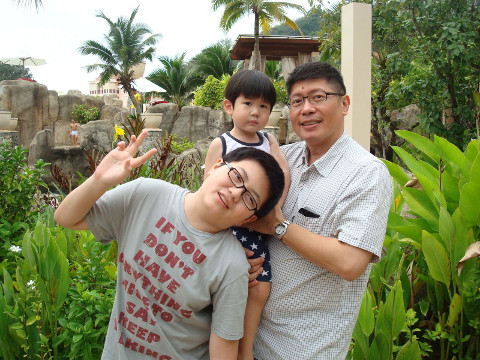 I don't have a particular happiest moment, but if you ask me when am I happiest? It would be the times when I am able to see all my family members come together, interacting with one another, having fun, just soaking it in that moment. Especially when I am not with around them. When I watch them from a corner and see them enjoying themselves – that will bring a little smile to my face. I don't really smile and I seldom show expressions, but I am happy in inside. Any man or father will be happy, knowing that their family is happy.
The biggest challenge I feel Singaporean fathers face today in bringing up a child
The biggest challenge is still the same – how will my children grow up and what kind of person will they be? That's from my perspective. During my father's time, he approached us from his perspective. That is one of the things I told myself to avoid, and to approach my children from their perspective. Likewise with my children, I'm very mindful whatever that I think is right, may not be right for them or for their generation to come.
Another concern I have is the Singapore that we live in now. There is a lot of negativity. I may not agree with everything that goes on in society, but I sincerely feel we cannot live life being so negative. Just as much as I told myself I cannot be so negative and allow it to affect me, in turn affecting the company when I took over, neither can we allow the negativity in society now affect how our children view the world they live in.
This article was first published in The New Age Parents e-magazine
If you find this article useful, do click Like and Share at the bottom of the post, thank you.
Like what you see here? Get parenting tips and stories straight to your inbox! Join our mailing list here