Join us for the grand opening of our 2 brand new centres with Inno Montessori's Open House! Limited slots are now open for booking, pop in between 25th April to 6th May 2022 and enjoy almost $2,800 in savings, off an entire school year! Grab a door gift and refreshments as you choose between touring both or any of our 2 new centres at Kembangan and East Gate respectively.
The pre-schoolers early years is a crucial period that lays the foundation for a child's development. Children aged 18 months to 6 years will experience an authentic Montessori environment that is led by professionally trained directresses and a team of dedicated and experienced teachers. Due to the high demand for the continuity of Montessori education after preschool years, our centres cater to children of Casa (3 to 6yrs), Lower Elementary / Primary (6 to 9yrs), as well as Upper Elementary / Primary (9 to 12yrs). This continuity ensures a consistent Montessori environment for children even after leaving preschool, bridging them safely into primary school years for bigger and more challenging stages of their development. Familiar to many, Inno's standards of maintaining a true and authentic, full-fletched Montessori curriculum ensure the new centres will be sufficient in providing your child with a wholesome curriculum in all academic areas and more importantly, areas of personal growth and development. We strive and take pride in creating independent, self-motivated and happy learners through our programs offered.
Why consider us?
We are focused on developing equality and respect for others and the environment.
We prepare real-life, child-sized furniture and materials specifically catered to a child's developmental needs.
Our children learn through hands-on experiences.
We emphasize developing self-motivation, self-independence and self-discipline in each and every child.
A mixed-age and diverse community exposes children to teachers and peers from various cultures and countries.
We work collaboratively with parents towards positive outcomes, through regular assessments and discussions.
Parents receive updates on their child through our easily accessible and user-friendly parents' app.
The school adopts a bilingual immersion curriculum in developing a child's language repertoire.
Our environment reflects a calm, child-centered safe space for children. Emphasizing personal responsibility as children are encouraged to take care of their own belongings and personal needs, such as eating independently, cleaning up after and returning materials and toys to their rightful place. The environment also provides our 3 to 6 year old children with the full range of Montessori materials in the areas of Practical Life, Sensorial, Language, Mathematics and Culture. While 6 to 12 year old children have a range of Language Arts, History, Mathematics, Geography, Advance Practical life, Botany, Zoology, Matter and Astronomy, Health, Art and Music. Too academic? Children at Inno find balance in an environment that allows positive diversions like picking up the Ukelele, trying some piano, or exploring 'Wei Qi'; an ancient Chinese Chess with a specialized instructor!
Distinguished by our individually paced curriculum, children learn to question, think critically, and become contributing members of a respectful community. Instilling a positive sense of self will ensure security and independence in the years to come, even through adversity.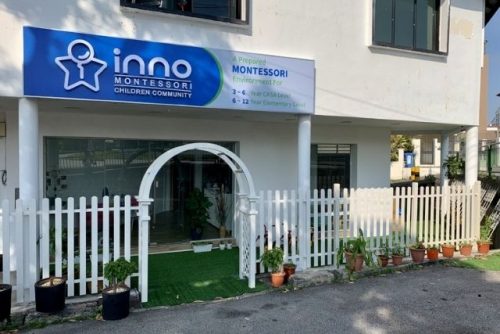 Take a peek and enquire with us about our 'Prepared Environment' at our centres and how a setting such as ours can provide a comfortable learning environment for your child!
Open House Exclusive Offer! (From 25th April to 6th May)
1st – 10th Enrolment 20% OFF Monthly fees for 12 months!
10th – 11th Enrolment 10% OFF Monthly fees for 12 months!
Transport services available, enquire with us!
Find out more through our website innomontessori.com
Facebook @innomontessori
IG @innomontessoripreschool
Book a school tour via @Kembangan | @East Gate!
* * * * *
Like what you see here? Get parenting tips and stories straight to your inbox! Join our mailing list here.
Want to be heard 👂 and seen 👀 by over 100,000 parents in Singapore? We can help! Leave your contact here and we'll be in touch.