Is your child struggling with Maths in school? Thankfully, there are many options out there for parents to turn to for help. Here are maths classes available for kids in Singapore.

1. Kumon
Life skills are increasingly important as children outgrow parents' capabilities. Kumon's aim is to make any child smarter through self-study beyond school grade level, with a belief in inculcating the long term skills by allowing children space and time to develop self-study skills and ability as individuals.
Kumon is an individualised, empowering learning method tailored to your child's ability, not age. Unlike other enrichment or learning programmes, it allows them to study independently at a level "just right" for him or her.
This way, your child is able to progress optimally in small steps at the pace perfect for him / her and study advanced topics and concepts beyond his/her school grade.
Besides helping kids to achieve more academically, the Kumon Method is known for imparting key life skills such as determination, independence and a passion for learning that will enable your child to overcome obstacles in school and beyond.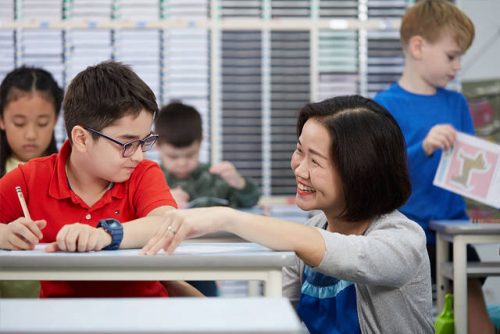 Kumon is the world's leading after-school enrichment programme, offering Mathematics, English and Chinese language subjects to students from pre-school to secondary school. Today, they are located in 51 countries and regions, with more than 4 million students enrolled in over 24,700 Kumon Centres.
Register for a complimentary Parents Orientation to find out more about The Kumon Method and how your child can reap the benefits of starting early.
Visit kumon.sg for more information.
➡️ Related Read: Kumon review

2. Seriously Addictive Mathematics (S.A.M)
Established in 2010, Seriously Addictive Mathematics is the world's largest Singapore Math enrichment program for children aged four to 12. The award-winning S.A.M program is based on the global top-ranking Singapore Math curriculum with a focus on developing problem solving and thinking skills.
The S.A.M Thinking Math program is differentiated by its emphasis on developing mastery through interest and understanding in math, over memorisation and drilling to chase grades. Its focus on curriculum and coaching enables children to develop a positive attitude and build a strong foundation in math to take on future challenges.
The curriculum is complemented with S.A.M's two-pillared approach of Classroom Engagement and Worksheet Reinforcement, with an individual learning plan tailored to each child at their own skill level and pace, because no two children learn alike.
Fun, hands-on activities are used to introduce new topics in an engaging and meaningful way. S.A.M worksheets' tasks are comprehensive and varied to develop understanding and mastery, with the explicit teaching of problem-solving heuristics and process.
Visit seriouslyaddictivemaths.com.sg for more information.
➡️ Related Read: Making Math Seriously Addictive and Fun

3. Monkey Math
Monkey Math is a blend of the east and west. Their programme is based on Vedic math – an ancient system of teaching math from the East, which has been cleverly combined with the creativity of the West to form an innovative way to teach kids the subject.
They adopt the concept of the 16 "Sutras" from Vedic mathematics that culminates in the student developing a "MathBrain", teaching each child in the class to:
Gather information accurately
Be familiar with numbers and numerical symbols
Think about the best approach to solve a problem
Apply the relevant formula
Do all the above in a timely and accurate manner
Programmes at Math Monkey start at age 3 and continue through to 12 years old, with the children typically divided into the following groups. The ages stated are only a guide, as the children will be placed in the most appropriate group based on an assessment of their current math aptitude and skill.

4. eiMaths
A Singapore-based mathematics programme tailored on creative thinking and problem-solving. They aim to stimulate students' curiosity, expand their thinking skills and abilities through the below approach:
Concepts are taught at a simplified level first and re-visited at a more complex level later on.
This involves a continuous and active process of engaging our students, evaluating their individual abilities, and fitting our programs through tailoring material / learning practices to suit them and help them gain knowledge on mathematical concepts.
All our programs are built to be inquiry / discovery based, allowing students to ask questions, discover facts, concepts and relationships through exploring and engaging with manipulatives.
Together with our workbooks, the K1 – P3 students will have the opportunity to acquire the skill through self-discovery, fun-filled activities and games.
* * * * *
Want to be heard 👂 and seen 👀 by over 100,000 parents in Singapore? We can help! Leave your contact here and we'll be in touch.
Running a service or business targeted for parents? Reach out to a wider audience in our Best Enrichment Classes compilation. Leave your contact details here and we will get in touch with you.