The year end holidays are upon us and parents may opt for a fresh coat of paint to usher in the new year.
Choosing the right wall colours for children's rooms is important, since we want to create a vibrant room for them to play and learn in the day, and yet be soothing enough to sleep easily in at night. With the following tips, we can let our creativity run wild and at the same time, create a suitable environment for the kids.
⇒ Related Read: 5 Ideas For Revamping Your Child's Bedroom
1. Select a suitable type of paint for your child
Choosing a paint that is washable is ideal as kids sometimes draw on the walls and transform them into colourful canvasses of imagination. Parents may want something easy to clean and maintain after their mini art projects. Paint such as Dulux Wash & Wear with KidProof Technology™ is formulated with an innovative film coating, which resists and repels stains for easier cleaning. The scrub-resistant property of the paint also means that wall colours are likely to remain brighter and cleaner for a longer period of time.
In addition, do make sure that the paints used do not contain toxic chemicals such as mercury and lead. Choose low-odour paints that are water-based and certified low in Volatile Organic Compounds (VOC). VOCs, if inhaled over a long period of time, may result in respiratory or allergic reactions in children. The best bet would be to opt for brands that are Singapore Green Label-certified.
2. Choose solid colours or two-toned hues to coordinate easily with toys, accessories and future additions
AkzoNobel's Colour of the Year 2015, Copper Orange, is a warm and inviting colour. It is paired here with a creamy off-white, in a two-toned technique. Photo from AkzoNobel ColourFutures™ 2015.
When a child is very young, i.e. if you are painting a nursery, try painting walls with a solid colour or in two tones, as these are more likely to last through future updates in furniture and other accessories such as beds, bookshelves and toys as your child grows older.
⇒ Related Read: Designing Your Baby's Nursery: 5 Hazards To Look Out
Pastel to mid-hue colours such as green, pink and blue are suitable colours for both play and sleep, thus are optimal choices as the base colour of your child's room.
Soft whites and warm, subtle shades can promote a soothing environment, while warm and inviting pinks can help create a comforting and peaceful atmosphere. As illustrated, Copper Orange, identified as Colour of the Year 2015 by AkzoNobel, inspires coziness and sharing, and is both suitable for both boys and girls.
On the other hand, blues and greens are associated with nature, and hence have a calming effect to help children relax after a day full of activities and excitement. Soft chalky pastels, such as mint green, are suitable for both boys and girls and give a refreshing vibe to the room while being soothing on the eyes, helping them to sleep more soundly.
3. Add a pop of colour for excitement and creativity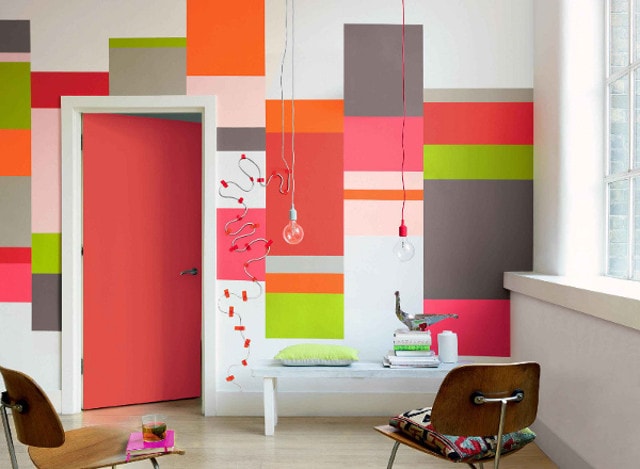 Accents of bright colours really make a room come to life. Photo from AkzoNobel ColourFutures™ 2015.
Accents of bright colours really make a room come to life.
Some older children, after influence at school, may prefer multi-coloured rooms over single-coloured rooms. While walls filled completely with strong colours such as red and yellow can be too stimulating for kids, judicious use of bold colours in carefully-placed accents can be added onto the soft base colour to reflect your child's personality and add a sense of cheeriness and optimism.
⇒ Related Read: Top 5 Colours To Use For Your Children's Room
An easy way to add different colours onto a wall is by adding patterns or by using stencils. Inspired by social trends in recent years, bright contrasting colours are increasingly paired off with warm colour palettes. With a neutral hue as the base colour, paint horizontal or vertical stripes in contrasting shades like berry-toned reds and lime green to add a touch of creativity to the room.
Stencilling is also a quick and effective way to transform the room with patterns and these offer a consistent look. Using these two methods, you can add bright colours that help stimulate creativity and imagination, while not overwhelming the overall atmosphere.
This article was contributed by Jeremy Rowe, Managing Director, AkzoNobel Decorative Paints, South East & South Asia.
* * * * *
Like what you see here? Get parenting tips and stories straight to your inbox! Join our mailing list here.
Want to be heard 👂 and seen 👀 by over 100,000 parents in Singapore? We can help! Leave your contact here and we'll be in touch.