Brightly lit and spacious, what greets you first as you enter the store at Funan Mall is the big sturdy double deck beds furnished with pink and blue bedroom curtains. I was greeted by the store's friendly staff as I stepped into the store.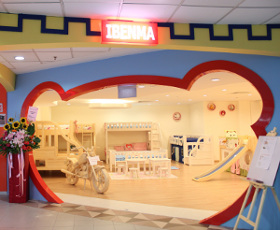 Started in 2010, iBenma specializes in kid's furniture made from 100% Finland pinewood. Although their styles and designs are mostly uniform, leaning towards the natural and classic look, what it lacks in style and design variety, it makes up for in quality, durability and safety.
Upon a closer look at each of the kid's furniture, you will notice each piece of furniture is designed to be completely child-friendly and safe.
First, there are no sharp edges and corners in iBenma children's furniture. Next, we noticed that there was a shine on each of the furniture. When asked what was used to give it this shine, the staff explained to me the furniture is coated with a layer of water-based lacquer which is non-toxic and environmentally friendly.
Have you ever bought a new bed for your child only to come home one day to find out that the bed frame has broken? Well, you will probably not experience the above situation with iBenma beds. The bed frames and bedplates on iBenma loft and bunk beds are made to withstand heavy weight and are reinforced to ensure maximum safety for young children.
Definitely a plus point for parents with active kids who simply can't refrain from jumping on their beds! You also no longer have to worry about your child getting hurt or your new bed breaking within a month or two. There is also a 5 year warranty if you purchase their furniture.
Have limited room space for your active boy? Or need more storage space for little Ashley's room?
Adopting a modular concept in their designs, iBenma furniture allows consumers to select from several combinations of what they want. For example, like the double deck bed but want it without the deck staircase? No problem, simply opt for the anti-slide ladder instead.
You can also save space by combining two furniture functions into one. For example, you can add cabinets or shelves below the bunk bed for storing your child's toys and clothes. Most of the bunk bed staircases also double up as storage space.
Some of the children's study table and chairs are also adjustable, so you can make the necessary height adjustments study as your child grow over the years.
Besides furniture, iBenma also bring in 100% best latex mattress and pillows from Belgium. Many have the misconception that latex is hot, and not as cooling as the rest of the materials. However, pure latex is actually very cooling. Soft and cushy to feel, the pure latex mattress is also sturdy and durable.
Plus point: The mattress is anti-bacterial and anti-dust, suitable for kids and adults with sensitive noses. To complement the mattresses, iBenma also offers customized bed sheet covers and pillow cases, made from ultra-soft organic bamboo.
With iBenma, there so many ways to customize your child's room furniture! Their flexibility in their designs gives you and your child the freedom to fully utilize the bedroom space.
Looking for children's furniture for 3 years old and above? iBenma would be the place to go! You can view their entire furniture collection on their website.
* * * * *
Looking for furniture for your child? Visit our Children's Furniture compilation for places you can buy them.
Want to be heard 👂 and seen 👀 by over 100,000 parents in Singapore? We can help! Leave your contact here and we'll be in touch.