While we spend most of our time at home in the bedroom and bathroom, these spaces are often last on our minds when we style up our homes.
While the bedroom is a place for us to unwind after a long day, urbanisation is bringing us closer together and increasingly converting this into a shared and multi-functional space – the bathroom may be the only truly private area we have left.
Did you know? According to IKEA's first global Life at Home Report, which consists of 8,000 respondents from eight cities around the world:
Only 16% of people keep their bedrooms strictly a private space, the rest opting to open their bedroom for family and even friends – leading to reduced privacy and lower frequency of romance (World-Wide Sleep Index)
More than 50% of people in cities start their morning self-reflecting whilst in the shower or bath, which they feel is important for their personal well-being (Life at Home Report)
The bedroom has also become a place for reading/studying, romance or relaxation – even the bathroom is beginning to double up as a space for work (Life at Home Report)
Here are 6 great tips from IKEA, to help your create functional yet comfortable bedrooms and bathrooms, and how you can make most of these personal spaces.
The Bedroom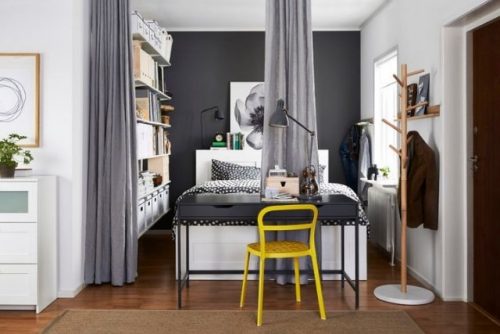 It's Not A Bedroom. It's A Comfort Zone.
Most of us spend between six to eight hours a day sleeping – that's a third of our days spent in the bedrooms! A good day starts with a good night's sleep, so create an oasis for yourself and recharge in a space that is free of clutter and full of softness.
Tip 1: Live large in small spaces with smart solutions to make room for more cuddles.
Stow away extra pillows and quilts under the BRIMNES bed frame with storage, or hide books for bedtime stories in the BRIMNES headboard with storage compartment.
Tip 2: A bedroom can be more than a place to sleep; it can also be a place to be together.
Colourful bed linen and plushy pillows help create a cosy space for kids to feel safe and warm with you. Or carve your own private space with curtains to create two rooms in one, and make space for some me-time – comfort is completely individual; it's okay to be selfish for a change.
Tip 3: Personalise your bedroom and let the furniture set the stage.
Bring more calm and relaxation with natural furnishings in muted tones, or add satiny sheets and colourful handpicked accessories for a glamorous boudoir that has a lot of heart and more of you.
Regulating Your Bedroom 'Qi'
According to Kevin Foong, Founder of Kevin Foong Consulting Group, a global organisation devoted to the teaching of Feng Shui, Bazi, Man Xiang and other Chinese Metaphysics studies, here are some pointers for good bedroom Feng Shui for couples.
Good Bedroom Feng Shui
For married couples or those in a relationship, men should sleep on the left side of the bed, and ladies should sleep on the right side of the bed
A solid bed headboard as good support
Sleep on a supportive, sturdy mattress
Position your bed as far from your door as possible
If it is not possible to change the position of your bed and it is near the door, position a cabinet in front of your bed
Have a good supporting wall behind your bed
Balanced energy on both sides of your bed. I.e. If there is a light/lamp on the right side, try to balance it with the same lamp on the right.
Keep your bed far away from electronic devices such as your computer or TV. If there is a laptop or computer in your room, try to put it further from the bed and turn if off before sleeping.
No water or fish tanks should be in your bedroom
Paintings (even water/mountain paintings) are fine to hang in your bedroom
Create balance space around your bed
Keep your bedroom clutter free
Good colours recommended for bedrooms: Light blue, light pink, light green, light purple and light grey
The Bathroom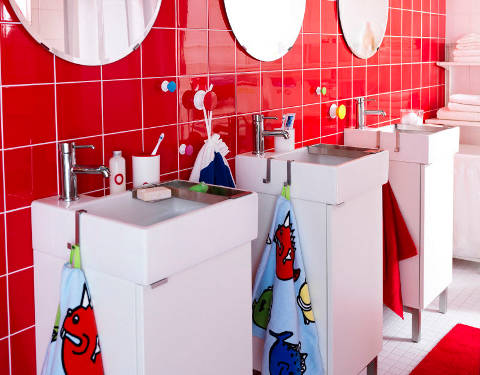 Sometimes The Bathroom Is Just For You. Sometimes, It's For Everyone Too.
It is the most private room in the home, and the most public at the same time – the bathroom takes care of lots of needs, activities and people in JUST a few square metres.
How can we create a rejuvenating bathroom?
Tip 1: Make room for everyone to feel rejuvenated in even the tiniest of spaces by getting smart with storage.
Add functionality without the requiring extra room with compact bathroom furniture like the LILLANGEN wash-basin cabinet, so each member of the family can keep things personal, yet have space to get ready together too.
Tip 2: Even though bathrooms are small, the walls are tall.
Take advantage of vertical space by mounting GODMORGON cabinets and easily disguise a bathroom for kids as a relaxing retreat for adults – simply hide away the rubber ducks and bath time toys behind closed doors!
Tip 3: Curtains and textiles can be a big deal in the bathroom too.
Enjoy both privacy and sunlight by placing a curtain on the lower half of your bathroom window, so you can gaze out into the streets whilst pondering about your day ahead. Better yet, have open shelves line the windows and add some mini potted plants to create an indoor mini-garden for a refreshing start to the day.
* * * * *
Have you been searching high and low and can't seem to find the right furniture for your child? Fret not! Read our recommendations on where to get children's furniture in Singapore!
Want to be heard 👂 and seen 👀 by over 100,000 parents in Singapore? We can help! Leave your contact here and we'll be in touch.