Singapore's First Immersive Exhibition on Online Child Grooming Launches This February
Enter the mind of a child predator through real victim stories and interactive art installations
The Flag, You're It Team with campaign collaterals.
(L to R) Stephanie Wong, Vanessa Tan, Esther Soh, Vinice Yeo
Experience how child predators target and manipulate youths on digital platforms at the free public exhibition, 45 Minutes in The PreyGround. Visitors will navigate around the mind of a predator through interactive 3D installations, and step into the shoes of a target through real victim stories.
This experiential exhibition will run from 8 February to 29 February 2020 at the National Library Board, Level 8. Visitors will journey through the typical process of online child grooming – from a seemingly innocent friendship, that develops into an emotional connection, and later a manipulative relationship. This is brought to life in the first two rooms, while the last two depicts how real victims escaped their perpetrators' clutches.
Exhibition Highlights
The Cave invites visitors to step into a seemingly harmless and innocent friendship, whilst masking the hidden agenda to gain access to their lives. A simple step opens the doors to your likes and dislikes, your lifestyle and essentially, everything.
Letters To Your Heart unfolds the deceptive tactics employed by groomers to establish emotional trust with their prey.
Now You See Him, Now You See Her engages the sense of touch and sight to prompt visitors to think twice about intimate connections. The 3-D installation also debunks the typical age and gender stereotypes used to describe online child groomers.
Turning Point is an illustrative series of predatory encounters that challenged victims to question a treasured connection. Visitors will tread along a complex trail of despair and hope as they learn how victims opened up to a loved one for support.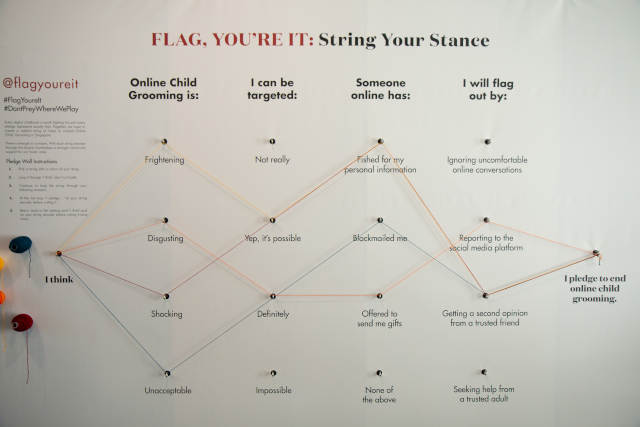 Perspectives is a visual language that explores the community's opinions on online child grooming. This is a visitor-created data map that portrays their feelings and thoughts.
"This exhibition is amazing. I wished there were resources like these when I was younger to help me rationalise my experience with grooming," said 19-year-old Fatin, a victim of online child grooming.
"It's unfortunate that over 500 students had to cancel their learning journeys due to the outbreak of the Coronavirus. However, the public response has been really positive, and we are incredibly excited to bring more youths through this important experience," said team leader Vanessa Tan.
The four young ladies championing this youth movement will also be distributing content toolkits to all secondary schools, in an effort to complement the Ministry of Education's Cyber Wellness programmes.
Taking a bottom-up approach, Singapore's first holistic campaign on the prevention of online child grooming, Flag, You're It, aims to empower youths to flag out predatory advances.
"A digital society is one where people not only have access to technology but are also able to use technology safely and confidently. This youth-led project, supported by the Our Singapore Fund for Digital Readiness, demonstrates how we can come together to strengthen our digital society. We hope that more will be inspired to initiate such ground-up projects on digital readiness, for the broader community," said Ms Koh Li-Na, Assistant Chief Executive for Digital Readiness Cluster, Info-communications Media Development Authority (IMDA).
For more information on Flag, You're It, check out:
*Source: National Society for the Prevention of Cruelty to Children (NSPCC), 2018
About The Campaign
At Flag, You're It, we protect youths. 45% of Singaporean youths are approached by online strangers for personal information. This is why we strive to protect every youth today, to prevent sexual exploitation from happening tomorrow, and to brand online child grooming as a thing of the past. Our goal is to build a holistic ecosystem with four stakeholders – Social, Education, Regulatory & Technology.
This multi-level approach amplifies the reach of existing efforts and new initiatives. More information can be found at www.flagyoureit.com/press-room.
If you find this article useful, do click Like and Share at the bottom of the post, thank you.
Stay in touch! Subscribe to our Telegram here for our latest updates.