1. Zoo Babies by Paula Hannigan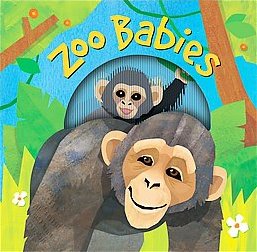 Synopsis:
Zoo Babies is a board book designed for young children. It consists of simple texts that introduce young readers to baby zoo animals and the typical things that they will do in a day like Chimpanzees swinging on vines, elephants spray water to cool off etc. To add on, the adorable and beautiful illustrations will no doubt attract children's attention. That is not all! What's even interesting is that this book is combine with the action-packed AniMotion windows that creates motion images, creating a dimensional feel when you and your child read together, almost feel like you are watching these animals in the zoo.
The book about baby animals are simple irresistible to kids, just what you need to engage your little one!
Age: Recommended for infants and up
2. When The Dragons Came by Naomi Kefford and Lynne Moore
Synopsis:
When the Dragons came is a book about a family-load of boisterous, bumbling dragons came into peaceful Poppledown Town and create unrest everywhere, affecting everyone's lives. No doubt, the whole town is thrown into chaos. The local market is turned upside down, the library is louder than ever and the local playgroup has never experienced such disruptive pupils! Will Poppledown Town EVER be the same again?
A great book teaching children about respecting others. with funny rhyming text and colourful illustrations, When the Dragons came is a treat for all little dragon fans!
Yes! Watch out for the dragons in Poppledown Town!
Age: Recommended for ages 3 and up
3. Let's Get Cleany-Clean by Dan Clarks
Synopsis:
Let's get cleany-clean is one of the book series of Yo Gabba Gabba, based on the TV series Yo Gabba Gabba! This book talks and teaches young children about hygiene, germs and care. When Muno coughs into his hands and forgets to clean them afterwards, Plex the robot teaches him about icky, wiggly germs. And how do we stop icky germs from spreading? By being cleany-clean! Besides washing hands, what else can we do to stop germs from spreading?
Parents and educators can also use this book to teach kids about hygiene in a fun and friendly way.
Age: Recommended for ages 3 and up
4. Christian the Hugging Lion by Justin Richardson and Peter Parnell
Synopsis:
Christian the Hugging Lion is a beautifully illustrated story about two men named Ace and John, who purchase a baby lion cub from Harrods, the most famous store in London that sells anything, from chocolate tea, coconut from Brazil, yacht to the most unusual pets. Together the three create a truly special family.
For a year, Christian lives happily with his 'family' playing with toys and watching birds from the window of their tiny London apartment. He was happy to go for walks in the park with his owners and play in the churchyard. However, as time goes by, Christian was no longer a tiny lion cub. He grew and grew and now, he is too big for the sofa and the small apartment that Ace and John live in.
Ace and John knew that Christian needed a better life; he needed to be in the wild with animals like himself. They made arrangements to transport Christian to Africa. One year later Ace and John returned to Kenya to see if they could find Christian. Will they find Christian? Will Christian remember them?
No doubt it is a heart-warming and TRUE STORY of Christian, the most hug-able lion cub!
Age: Recommended for ages 5 and up
5. The Hoozles: My Magical Teddy by Jessie Little
Synopsis:
The Hoozles: My magical teddy is a story book about Willow and her brother Freddie who have gone to stay in Summertown with their Aunt Suzy whilst their parents are away for the summer.
Aunt Suzy owns a toy shop in town, and she makes her own special Hoozle soft toys. Willow and Freddie each have a Hoozle of their own that their Aunt made for them – Willow has Toby the teddy bear and Freddie has Wobbly the Lion. Willow loves Toby dearly, but it isn't until she is staying with her aunt that she discovers that Toby can come to life and talk to her and she can talk to him! And so, it begins a summer full of magical adventures for Willow and the Hoozles. But now Freddie's Hoozle has lost his magic pocket heart, and it's up to Willow to find it as they embark on their first Hoozle adventure…
Fully illustrated throughout, and with puzzles, maps and stickers, the Hoozles books will be the newest collectable treat for young children. Check out the whole series now!
Age: Recommended for ages 7 and up
6. Superhero Phonics Readers – Space Hamster Level 2 – Mandy Ross
Synopsis:
Superhero Phonics Readers – Space Hamster Level 2 is a book that talks about Space Hamster who always come to the rescue when there is trouble. But one day, a big monster flies towards Earth, determined to gobble everything up. Space Hamster will have to use all his powers to keep the Earth safe!
This is a great reading book for beginner readers who have been learning synthetic phonics in school. No doubt, it will help your child learn to read at home without contradicting schoolwork. These exciting superhero adventures are ideal for building confidence in learning to read. Special 'Superhero Secrets' puzzle pages help build comprehension skills. The book includes stickers and a reward chart to keep learning fun.
Age: Recommended for ages 5 and up
If you find this article useful, do click Like and Share at the bottom of the post, thank you.
Like what you see here? Get parenting tips and stories straight to your inbox! Join our mailing list here