Classical Ballet
"Tummies in, chins up… show off your long arms." Classical Ballet teacher Shi Hui reminds her girls of their posture throughout the class.
Quiet, poised and graceful, the 5 to 6 year-old girls in her class practice their ballet positions and techniques. Moving from the barre to the center of the studio from time to time, Shi Hui demonstrates and guides them through; walking around, she corrects their posture from time to time. "Suck in your tummy, and watch where you shift your weight," she gently reminds the class.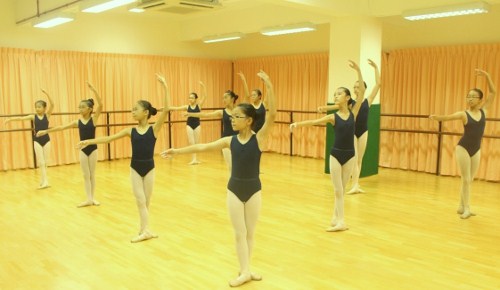 Although ballet is one of the most physically demanding dance styles, it strengthens the core muscles, helps one to gain flexibility, and walk and stand with grace and poise.
All these skills and qualities will come in handy in the future, when your child grows up to explore other activities. After practising on their positions, the girls proceed to practice on their short dance routine and demi-character movements.
What's interesting is how Shi Hui breaks the dance routine into various 'scenes', making the movements more relatable and perhaps easier for the girls to remember. For example, the routine starts off with the girls "taking their raincoats from the rack, putting it on, and running to the nearby park…"
After the class, Shi Hui returns the girls their Crestar Student Attendance Book, where they are each given a sticker to indicate their attendance.
Bebe Ballet
In the next studio, children as young as 3 year old are lining up with their mums and dads, getting ready to dance in their little pink tutus. This is the Crestar Dance Bebe Ballet class and Teacher Jane Ooi starts with a short warm-up routine consisting of several sets of stretches. She engages the little ones by using a story to guide them through their warm-up.
With the little girls seated on the floor with the legs wide open, she says "Now, we are going to pick stars. Remember how you pick your stars with your fingers?" She walks around to check and correct each child's finger position. Here, she is indirectly teaching them the basic finger hold for ballet.
Classes for very young children are meant to be fun and engaging. As such, the focus of the lessons will be mostly on musicality and exposing children to the very basic ballet steps and exercises. In addition to the physical benefits, ballet also instills a sense of pride and accomplishment which can help to increase self-esteem.
As your child beings to improve, they may gain a new sense of self-confidence. After finish picking their stars, the girls 'cycle' around the room by bringing their knees as close to their bellies when they kick up.
Next, they learn and practice their jumps, by using the swinging motion of their arms to propel them up. Through these motions, the girls learn another fundamental movement of ballet – jumping on pointed toes and landing as softly as a feather.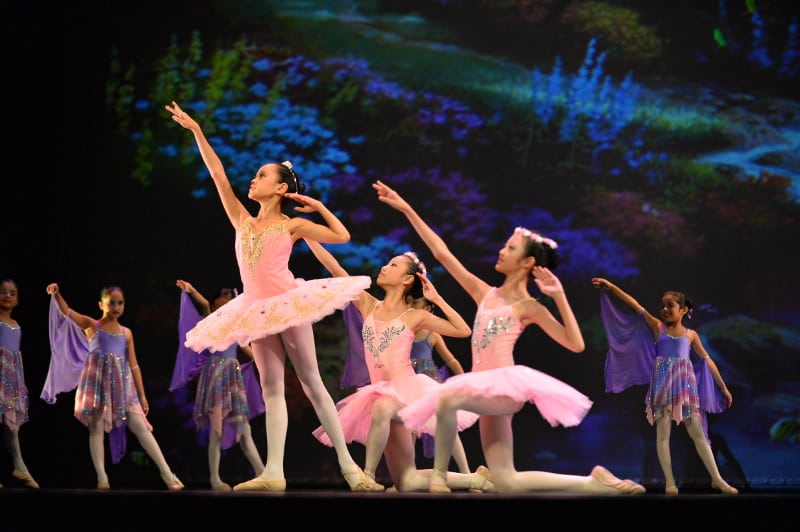 Established 35 years ago, Crestar Dance School is one of the largest private dance school of its kind in Singapore. Apart from Classical Ballet, Street Jazz, Modern Jazz, Hip Hop, Chinese Dance, Modern theatre, Belly dance and Rhythmic gymnastics are also taught at the various branches. Crestar's dance teachers are all professionally certified, either under the Royal Academy of Dance (RAD – United Kingdom), the Commonwealth Society of Teachers of Dancing (CSTD – Australia), Beijing Dance Academy (BDA – China) and Imperial Society of Teachers of Dancing (ISTD – United Kingdom).
Besides having an international examination-oriented curriculum, children are also given opportunities to perform every year in the annual Crestar School of Dance Concert.
For more information on Crestar Dance classes, log on to crestar.com.sg or call 6344 4588. For more information on Crestar other programs, read Review Of Crestar Learning Centre.
Crestar Learning Centre
Blk 87 #04-301, Marine Parade Central, Singapore 440087
Tel: 6344 4588
This post is brought to you by Crestar School of Dance.
* * * * *
Like what you see here? Get parenting tips and stories straight to your inbox! Join our mailing list here.
Running a service or business targeted for parents? Reach out to a wider audience in our Best Enrichment Classes compilation. Leave your contact details here and we will get in touch with you.