Keep Fit Panda! 和熊猫一起做运动
PlayNest – 6 to 18 months
Run! Jump! Climb!
Let's exercise with the panda! Babies develop physical, social and communication skills through play, as they participate in a host of stimulating activities including art and craft and educational games.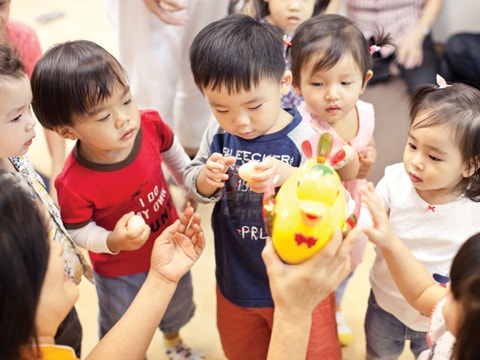 Singapore Sights! 游览新加坡
PlayClub – 1½ to 3 Years
Does your toddler love bus and boat rides?
We will travel on different modes of transport together as we embark on a series of exciting adventures across the island.
Through stories, art and craft, speech and drama, puppets, music and more, our lively teachers stimulate the imagination of young learners, igniting their passion for language.
The Three Piglets 三只小猪
Chinese Cultural Arts – Nursery 1 and 2
In this classic tale about three little pigs and a big grey wolf, children learn the concepts of courage, determination and resourcefulness, as well as about problem solving and teamwork.
Children experience the thrill of words in action and build confident speaking skills in this holiday programme.
Disappearing Tadpoles! 小蝌蚪去哪儿了?
Language Learners – Kindergarten 1 and 2
Can you help us find the five little tadpoles and solve the mystery of why they left?
Preschoolers will build their Mandarin vocabulary and extend their communication skills to become more confident speakers, readers and writers in this holiday programme.
Museum Quest 博物馆探秘
Language Skills – Primary 1 to 3
Join us for an adventure through time and space to unlock the mysteries of the museum.
This exciting programme is specifically designed to inspire every child's interest in learning Mandarin. Host of hands-on activities spark imagination and creativity as they build vocabulary, practise pronunciation and learn complex sentence patterns.
Sign up today!
Tel: 6737 5348
Email: enquiries@chengzhu.edu.sg
Website: www.chengzhu.edu.sg