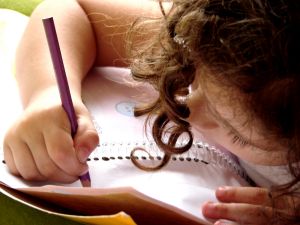 Question: How old should I start to teach my kid to write and spell?
Answer: There is really no set age to say when is a good age to teach writing to a child. It is more about the readiness of the child to assimilate this as a skill that we should be looking out for before we embark on the skill acquisition process. At pre-school level, we define children as starting 'to write' when they are able to understand the direction of writing ( i.e. left to right), know that written words have spaces in between and is able to use or produce letter-like shapes, symbols to convey meaning.
Prior to that, expose them to pre-writing skills like patterning or fingerpaint. Such activities builds up the fine motor skills. My personal favourite is writing on sand with a short stick, holding my child's hand to allow them to mimic the motion of writing. For older children, when they start to pick up their crayons/pencils and start doodling on the board or paper with the right pencil grip, that is a good time to think of actually sharing with them the wonders of what writing is all about.
Spelling works best when there is a context to understanding the meaning of the word spelt. Children as early as 3 years old can spell simple 3-letter words orally. Exposure to the tools of spelling, that is the alphabet through songs and reading to them early gives them the building blocks to understanding that letters make words.
LEAP Schoolhouse has an 'Ask and Learn' section every Thursday. If you have any questions regarding language or literacy development, feel free to drop your questions in the comment box below, or post them on LEAP SchoolHouse Facebook page.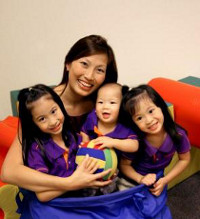 In this Ask The Expert section, we asked Esther Lim, CEO and Founder of LEAP SchoolHouse, about language and literacy development in children. Born and educated in Singapore, she holds a Master Degree in Education (NTU/NIE), Bachelor Degree in Arts (NTU), Diploma in Marketing – Top student for the year 2000 (Chartered Institute of Marketing). Esther has more than 10 years of teaching experience and has taught widely in both Secondary and Primary schools. She was also involved in curriculum planning and development work for the primary unit at MOE for several years. Esther has also conducted workshops and talks for educators, locally and overseas. Besides all the above credentials, Esther is also a mother of three children.
If you find this article useful, do click Like and Share at the bottom of the post, thank you.
Like what you see here? Get parenting tips and stories straight to your inbox! Join our mailing list here.