Nestled at Bedok Reservoir, Forest Adventure offers obstacle courses for adults and children.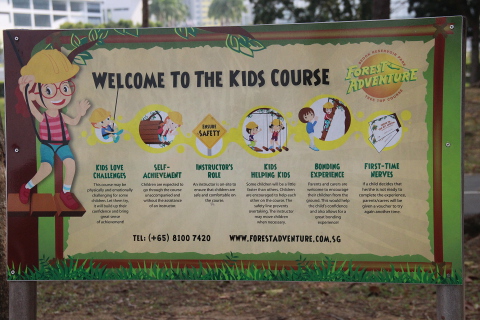 The Kids Course has 16 obstacle courses in total and is specially designed for children aged 5 to 10 (minimum height 1.1m). The average time taken to complete each course is about 1 hour.
Safety first: Getting strapped and going through safety rules
What Children Can Learn
The course may be physically and emotionally challenging for some children as they are expected to complete the course at a height. Parents are invited to accompany their child on the course especially if they are below 6 and a little nervous or first timers.
It's one thing to climb trees, but another to do an obstacle course above the ground among the trees.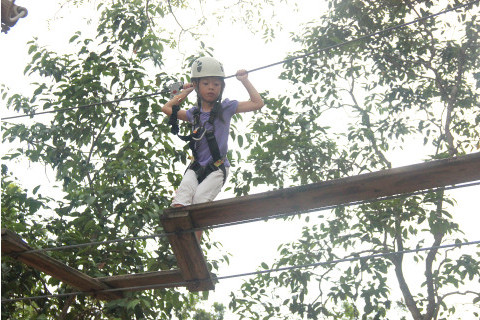 Each course is different and varies in difficulty level, helping children to build confidence, independence and resilience.
How Safe Is It?
Children are attached to an on-going safety line from which they are detached from only when they reach the ground.
How Forest Adventure Improved Their Course via Productivity
We had the privilege to speak with Stephanie Besse, Managing Director of Forest Adventure, who shared with us how different the course was just a year ago.
When the course was first launched, each section had a separate safety line. Hence in between sections, the children had to be unhooked from the current safety line and hooked onto the safety line of the next section by the adventure instructor.
This caused inefficiencies as the instructors had to spend 9 minutes on each child throughout the course and only 15 children could use the course in an hour. Instead of being busy stuck between sections hooking and unhooking, the instructors could have been spending more time encouraging the children and assisting them throughout the course.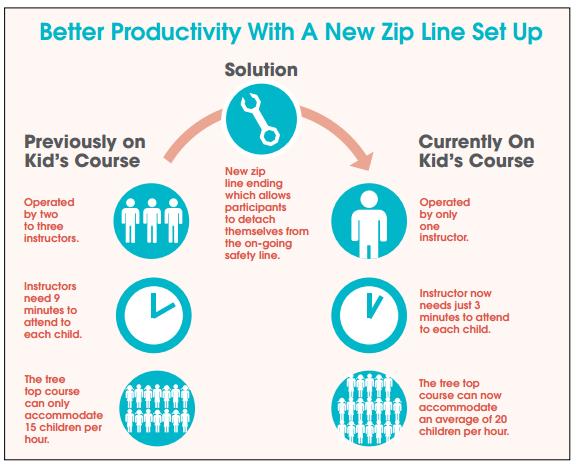 Source: NTUC This Week
A huge advocate for productivity, Stephanie believed that Forest Adventure needed to move away from the mindset that 'more staff = better service'.
She decided to upgrade to a new zip safety line set that ran continuously through the entire course, which would allow kids to move with ease from one section to another without having the hook/unhook between sections. This not only means each child is more safe and secure as he is continuously attached to the safety line, the instructors do not need to be stationed at each checkpoint of the course.
The instructors now have more time to assist the children or observe from the ground to keep a look out if any child needs extra help or motivation.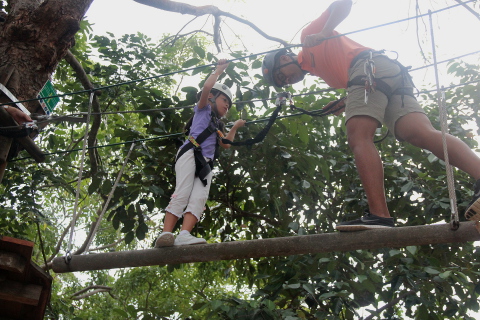 Help help! I'm scared… No fear, our Forest Adventure guide to the rescue!
Stephanie shared that as a small business that needed to manage cash flow and manage investment, the funding from NTUC e2i's Inclusive Growth Programme (IGP) for the new zip line provided financial help to increase Forest Adventure's productivity.
"If it hadn't been for this (IGP) subsidy, we probably would have to think twice about changing the line. We would still be working exactly the same way where we were working before. That decision (to tap on the funding) was very easily made," Stephanie added.
More kids on the tree = more time for fun and adventure!
Making Every Job Better, Every Customer Happier
By increasing their productivity, Forest Adventure saw an increase in their customers and the staff were also able to provide better customer service to both the children and their parents. In turn, their staff received a pay increase of 6% to 7% as well.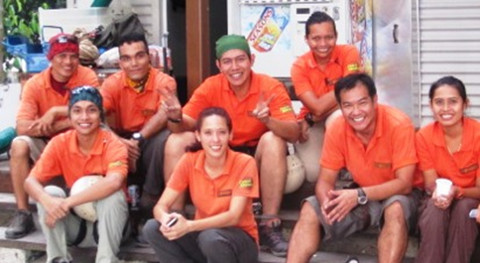 Photo credit: Forest Adventure
What Do Parents Have To Say About Forest Adventure?
Elaine Lau, a mother of two, who was there with her family felt it was a great platform for kids to have fun and at the same time build their confidence, determination and self-esteem. "The safety gadgets are easy to use and well in place which makes it easy for the kids to manoeuvre. Overall, I felt this is a great place for kids to grow… physically and mentally!" Elaine adds.
What do her kids think about the experience? "The Forest Adventure is a fun place! I am looking forward to going again. I enjoyed all the obstacle courses there." – Elaine's 7 year old son Ashton.
Ashton and Ashlyn at Forest Adventure Kids Course
Andy Lee, daddy blogger at Sengkangbabies felt the obstacle course really challenged his youngest daughter, 5 year old Boon Xin, to face her fear on her own. He saw how she stepped out of her comfort zone and watched her confidence grow with every course she completed. He was also pleasantly surprised and happy to see his eldest son Boon Wee, for being his younger sister's pillar of support; encouraging and egging her on to complete the course. Read more about his experience here.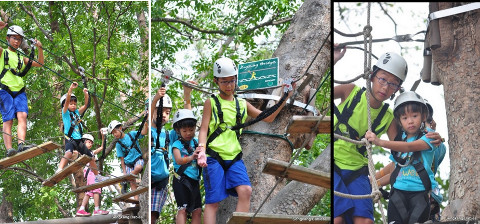 Sibling act: Boon Wee and Boon Xin, photo: Sengkangbabies
We want to give a big round of applause to all the children who participated and scaled great heights!
We survived!
Text and photos by Michelle Ang.
---
How to Get to Forest Adventure Singapore
Address: Bedok Reservoir Park, Singapore 479244
Bus: 5, 18, 21, 22, 28, 46, 59, 65, 67, 69, 168
Nearest MRT: Bedok Reservoir
Opening Hours: 9.30am to 6.30pm (Closed on Monday except public holidays)
Website: forestadventure.com.sg
Admission: Charges apply
You can get discounted tickets online via Klook.
Nearby places to check out:
Bedok Reservoir Park

Tampines Quarry
* * * * *
If you find this article useful, do click Like and Share at the bottom of the post, thank you.
Want to be heard and seen by over 100,000 parents in Singapore? We can help! Leave your contact here and we'll be in touch.