Colour painting is an activity many children enjoy and look forward to. The medium is easy to apply in comparison to crayons and/or colour pencils. Crayons can be tiring for children who are learning to strengthen their fine motor skills. I do recommend adding a custom grip using sponge or foam to a regular paint brush. The reason for this would be the bristles of the brush in relation to the size of the images and paper.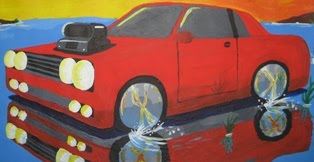 Forming good painting habits is one of the first routine enforced in my workshops. This routine is not limited to how a painting is done, it also includes fetching/returning the equipments (brush washer, brush and palette) and the set-up of the table.
Half-fill a brush washer with water. Container similar to the size of a tea cup with a stable base is best.
Use a

shallow palette

.
Squeeze each colour one at a time when the colour is called for. Squeezing the suitable amount of paint requires practice. Working hand in hand with the child to squeeze a suitable quantity to be use as the example always works.
Sequence of applying paint from palette to paper.

Dab a little water from the brush washer

. I do not recommend filling the palette with water for beginners

Dab a little paint from the palette

. Practice taking paint from the edge of the colour and not from the middle

Cleaning the brush well between each colour change is important. It takes practice for the child to take notice of the

brush nip

.
Case Study: Using paint to create a composition
Emily, aged 7, is always eager to paint. When she first started the programme, the first thing she does when she enter the classroom is to head for the bucket with the brush washer.
Her pieces lean towards the abstract and she gets upset when she is continually asked "What is what?". She does not take to drawing or colouring too well and is always in a rush to finish the piece. She was always restless when we apply dry medium to explain composition/position of shapes.
Vincent Van Gogh's painting of Vase with three sunflowers is a popular project among the children and was well received by Emily. The composition was broken down into six steps, the child can choose to follow the colours of Van Gogh or she can apply colours of their choice.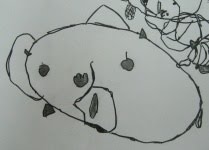 Vase
Table
Core of flowers
Petals of flowers (this is difficult for some for the petals spread around the core)
Stalks
Background
The steps relates to the shape and colour not the significance of the shape itself. Each colour was painted on only when the shape was filled and the brush was cleaned. The position where each shape was painted was easier to comprehend. It is also a good project to introduce negative space of the background.
Contributed by Teacher Ranae's Art Workshop