When Mrs Adeline Tan, 36, received the call from the hospital that November afternoon, she awaited the verdict with bated breath. They had gone to the hospital to take the defining blood test that morning. She had been disappointed on so many occasions over the past few years, and yet, she was full of hope that this would be the turning point.
Finally, she heard those precious two words: "You're pregnant."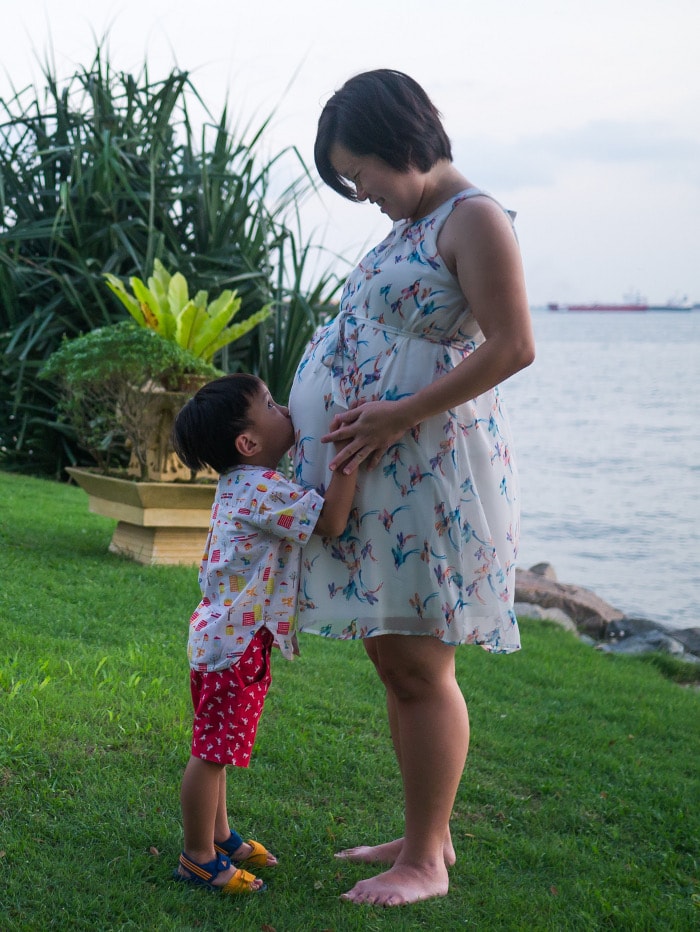 For Mrs Tan and her husband, the news that they were having a baby came as the answer to more than a year of tests and tears, procedures, prayers, and hope deferred. After navigating the various stages of pregnancy with care, their eldest son, was born on 23 July 2012, and is now a happy and healthy preschooler.
In August 2016, the Tans added twins Didi and Meimei to their family with great joy! TNAP writer Dorothea Chow speaks to Adeline on her In-Vitro Fertilization (IVF) journey.
Congratulations, Adeline, on becoming a mum of three last year! We understand that your journey towards becoming a mum had been very challenging as you initially struggled with fertility issues. What made you first decide to give fertility treatments a try?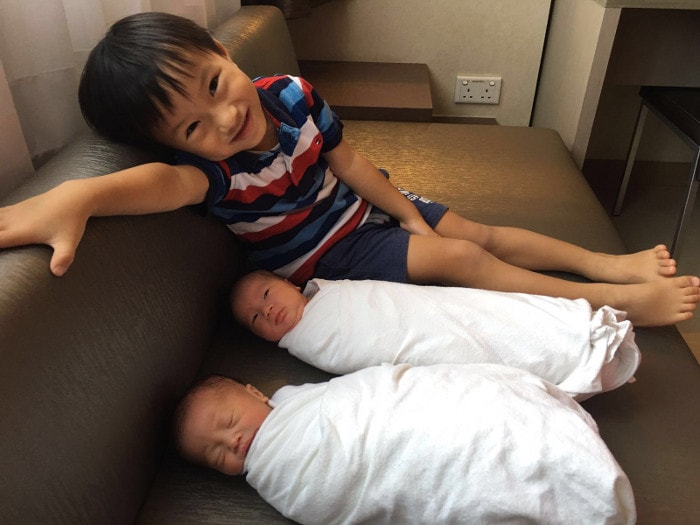 We had been trying to conceive for some time, and our gynaecologist at the time advised us to try Intrauterine Insemination (IUI). Intrauterine insemination, typically combined with superovulation, is the process by which the prepared sperm is placed directly into the uterus. This procedure will enhance conception for the couple.
Actually, I had never even heard of IUI before then! We decided to give it a shot, and were extremely optimistic when we heard that the success rate for women under 35 was higher. I was 29 then.
During the period when you were trying to conceive, what were some of the struggles you experienced?
I think most women with fertility issues will tell you that their pregnancy radar is extremely strong. We can tell when someone is pregnant, even before the person announces it, because we look at every woman and wonder if she is pregnant. There is also intense jealousy, and it doesn't matter whether the pregnant person is your friend.
All you can think about is why her, and not me?
I struggled a lot with this question during the time when we were trying to conceive, every time someone we knew became pregnant. It might sound extremely crazy and self-centered to you, but trust me, unless you have gone through the whole infertility thing, you will not, and cannot, understand what it's like.
After our first IUI attempt, we had to wait two weeks to know the results. During that time, I was so hopeful that I would be pregnant that I refrained from buying clothes and shoes, thinking that I wouldn't be able to fit into my normal work clothes soon. So when my period came that month, I was devastated. It was so hard to go to work and act normal when all I wanted to do was to curl up in bed and cry.
Many well-meaning friends who knew about our issues, tried to help by telling me all sorts of things, but some of them made me feel worse by the comments they made. However I knew they meant well.
See also: How you can manage infertility questions
My husband was truly my rock through it all, and I think I would have gone mad without him by my side. My parents and god-family offered us a lot of support too, and we were covered in prayer by my mother's church friends, and my close friends who knew about our struggle.
After unsuccessfully trying IUI, you and your husband decided to go for IVF instead. How did you make the decision to go the IVF route?
After four failed IUI attempts, we were extremely discouraged and decided to consider IVF. Besides reading forums and blogs online, we also spoke to a friend who conceived via IVF, to find out more about the process and her experience, and decided to get a second opinion on our options from her gynae, Dr SF Loh, who was then working at KK Women's and Children's Hospital.
In-Vitro Fertilisation (IVF) involves putting the eggs and sperms together. By natural selection, the egg will usually allow only one sperm to enter and this usually leads to the fertilisation process in the laboratory. After fertilisation, the embryos are allowed to grow for a short period of time before being placed into the uterus. A successful pregnancy can be confirmed about two weeks later.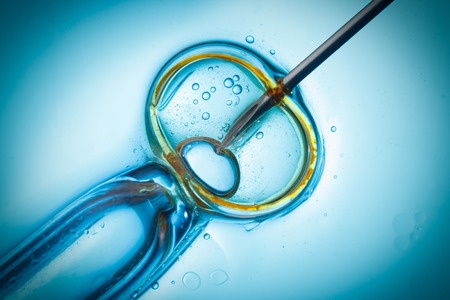 Dr Loh scheduled me for a hsterosalpingogram (HSG) test and a battery of blood tests. Based on the results and our history of failed IUIs, he recommended that we would have a better chance of success with IVF than with IUI. We had to undergo a mandatory counseling session to determine if we were emotionally ready for the stress of IVF and attended a briefing on the entire IVF process, conducted by a different doctor in the fertility team at KKH.
What was the IVF process like for you?
I was put on the pill for 28 days, and had to do two different types of injections (Lucrin and Menopur) daily as well, but I think this varies with each individual's needs. There was quite a bit of cramping throughout the process, and I tried to rest as much as possible. People told me not to think about it, and not to be stressed, but it was impossible not to.
After the entire series of injections, we were relieved to learn from the scan that I had 26 follicles, and had to get a jab at the hospital the night before they could be harvested.
I suffered from ovarian hyperstimulation syndrome (OHSS), and was in a lot of discomfort, including being unable to pee properly. I thought things would get better after they extracted the eggs, but the pain after that was so much worse, and I became so nauseated that I sat by the toilet bowl and retched.
I have a terrible fear of vomiting, and would usually try my best to suppress the puke, but this was so bad that I couldn't even swallow the anti-nausea pill, and had to rush to the toilet. I was also disappointed to learn that only 16 eggs were extracted, as some of the follicles were empty. My husband and I were also worried that my OHSS would affect the embryo transfer.
At the hospital the next day, Dr Loh then told us that the eggs that underwent the normal IVF procedure had all failed.
Apparently, the sperm didn't enter the eggs and the only one that made it, produced such a lousy embryo that it was discarded. This was probably also the reason why the many rounds of IUI had failed.
See also: Facts and myths about fertility
The embryologist also performed a procedure called intra-cytoplasmic sperm (ICSI), in which the sperm is directly injected into the eggs. Thankfully, this yielded six viable embryos. Two of them were grade 4, and were transferred into my womb that day. The other four were grade 3, and were frozen for future use. I was then given some Utrogestan, to keep my womb lining thick, and to give the embryos the best possible chance to implant and grow.
The two-week wait after the embryo transfer seemed like forever, and was made worse when my husband had to travel for work. I stayed with my parents, who were extremely supportive through the entire process, and basically spent my time sleeping a lot. I worried constantly, especially when I didn't feel pregnant at all. I started having some cramps about midway through the waiting period, and each time I went to the toilet, I would pray fervently that I wouldn't see any blood.
Finally, on 25 November 2011, we went for the blood test, and received the happy news that I was indeed expecting!
We are so happy for you! As of last August, you have also become the proud mama of twins, also born via IVF. What would you like to share with other women who are struggling with infertility and perhaps currently going through their own IVF journey?
We thank God daily for giving us this opportunity to be parents, first to our cheerful little boy, and then our two more bundles of joy, who have all brought us so much joy.
We know that we are extremely blessed to have conceived our first-born on our first IVF attempt, and even though we went through a failed Frozen Embryo Transfer (FET) after that, we conceived our twins on our next fresh cycle. We have read many other heartbreaking stories online, as couples who are still struggling with infertility and who have gone through multiple rounds of IVF contact me frequently to share their stories.
Choose your own doctor and gynae wisely, and proceed only if you are comfortable with him or her. Any fertility treatment, including IVF, is a tough process to go through, physically and emotionally. You should always do your own research, and check out a few doctors before you make a decision, if you aren't completely satisfied with the first one you consult.
IVF is extremely tough, and many have asked me how I did it. Like all other IVF-ers, I would say that I just did whatever my doctor said I had to do, since he's the one with the medical degree and experience. Take one jab at a time, and don't worry about how many more jabs there are. I hope that our successes will give other couples hope and the courage to keep trying.
Photos courtesy of Adeline Tan.
* * * * *
Like what you see here? Get parenting tips and stories straight to your inbox! Join our mailing list here.
Want to be heard 👂 and seen 👀 by over 100,000 parents in Singapore? We can help! Leave your contact here and we'll be in touch.