One of the concerns of women is how do I know that I am pregnant, and what symptoms should I be expecting?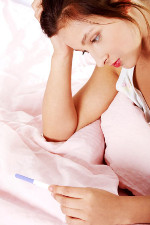 There are two categories of early signs of pregnancy – soft signs and hard signs. The soft signs can also happen for many other reasons, and may or may not mean that you are pregnant.
Below are the common soft signs you may be experiencing in your early stage of pregnancy:
1. Morning Sickness
If you are queasy, especially in the morning, or if certain smell or tastes make you feel nauseous, these can be indications of morning sickness. However, not all women experience this symptom.
2. Bleeding
Consider any spotting since your last menstrual period as a possible early sign of pregnancy. This may be caused by implantation of the fertilized egg into the womb lining. Cramping is also an early pregnancy sign and may be associated with implantation.
3. Appetite changes
Experiencing a loss of appetite or change in appetite, such as food cravings, can be a pregnancy symptom.
4. Fatigue
Pregnancy can cause a shift in energy level, so be aware of any fatigue. It is a very common symptom in pregnancy, especially in the first and third trimesters.
5. Breast Changes
Soreness, tenderness and/or swelling of the breasts may also be an early pregnancy clue. This can happen from as early as six weeks gestation. Your breast may become increasingly painful to the touch. Tenderness and soreness tend to be most common in the first trimester, and gets better as pregnancy progresses.
6. Urinary Frequency
Increased urination is another possible sign of pregnancy. This is attributed to the higher blood volume in your body, effects of pregnancy hormones and kidneys working harder to increase urine output. Beware of urinary tract infection manifesting as frequent urination.
7. Weight Gain
Some women gain weight early in their pregnancy, so if you see a sudden increase in the scale, you could be pregnant.
One common hard sign you may be experiencing in your early stage of pregnancy:
8. Positive Urine Pregnancy Test
However, if you are not using contraception, and you have missed your periods, a positive urine pregnancy test is a hard sign of pregnancy. Call your obstetrician's clinic to book an appointment to find out what to expect in your first prenatal visit.
This article was first published in The New Age Parents online magazine.
By Dr Ben Choey
Specialist in Obstetrics and Gynaecology
A gynaecologic surgeon who has been committed to women's health for more than 10 years, Dr Choey obtained his Master of Medicine (O&G) and became a member of the Royal College of Obstetricians and Gynaecologists (United Kingdom) in 2007. He was also appointed Clinical Tutor in Yong Loo Lin School of Medicine and Duke-NUS Graduate Medical School
Practice Address:
SBCC Women's Clinic (Clementi)
Blk 443 Clementi Ave 3 #01-53 Singapore 120443
Tel: 6774 1654
If you find this article useful, do click Like and Share at the bottom of the post, thank you.
Want more comprehensive info? Read our pregnancy e-guides here.