Dating back to ancient China and Egypt, massage therapy is one of the oldest medical arts in history. In eastern cultures, massage has been used to help babies for thousands of years. In recent years, westerners have been slowly catching up to this idea. However, baby massage is not just a trend among affluent parents.
The New Age Parents spoke to Doris Seau, an educator in prenatal and postnatal care. With more than 10 years of experience under her belt, she specializes in childbirth education, baby massage, baby tui na and pre and postnatal yoga. Born in Malaysia, she came to Singapore to work for 9 years after graduating with a degree in Language Arts. She has travelled to many countries such as Thailand, Japan and China, and is fluent in Thai, Japanese, Chinese, English and Malay.
Difference between Massage and Tui Na
From the Chinese characters of 'massage' and 'tuina', one can tell the difference between the two. 按摩 'An Mo' (mandarin for massage) means to 'press' (按) and 'stroke' (摩). 推拿 'Tui Na' on the other hand means to 'push' (推) and 'hold' (拿). With 2000 years of history, Tui Na is based on the concept of 'Qi' (a mandarin term for flow or energy). Massage dates back to about 5000 years ago, and is the practice of using touch as a healing method.
Doris was in Thailand when she first stumbled upon the benefits of baby massage. She shared, "You know the Thais are very famous for their massages. I went for all these massages myself, and I thought if there was something for my boys as well." She then engaged a Thai nanny, who also knew how to give baby massages. Her two twin boys were only 3 months old.
While the nanny was massaging them, she saw their faces light up and how they enjoyed it immensely. That was the turning point for her – she decided she wanted to learn how to do it herself. She did her homework diligently and enrolled in baby massage courses to equip herself with the necessary skills and knowledge. Since then, she has never looked back.
After staying in Thailand for a few years, she moved to Japan for a few years and later shifted to Beijing. In Beijing, she learned the basics of baby Tui Na and received further training in Qing Dao.
For the first time and very young babies, Doris suggests that 1 – 2 minutes will be enough. She told me, "The procedure is to ask permission from your baby first. Although they may not understand what you are saying, there is a deeper psychology aspect to this. They grow up knowing that people have to ask permission before touching their body. Massage is not just physical. There are the emotional aspects to it as well."
Baby bonding
Besides supporting the physical and overall development of your baby, another benefit of baby massages is the emotional development. Throughout our conversation, Doris emphasized how massage can be a great way for parents to bond with their babies.
"Massaging your baby is one of the most authentic ways to bond and build attachment with your child. The power in massage is for the receiver to feel good and relaxed. For that to happen, the giver (the one massaging) has to be doing it with a relaxed, loving and nurturing heart. As parents, we all love our children and we want the best for them. That is why I strongly believe parents are the best people to massage your babies."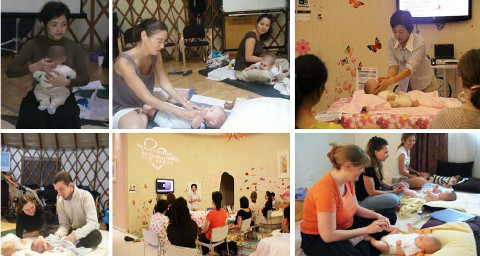 Baby massage fosters a strong infant parent attachment and bonding.
In the process of massaging your baby, parents also learn how to be more patient and caring. "All you need is 10 – 20 minutes. Although babies are not able to speak yet, they express themselves through their bodies. And as you massage for them, you look at their body language and their facial expressions. You can tell when they are enjoying it. Smiling, giggling, and laughing, these are a few signs that tell you your baby is really enjoying it!" Doris added.
Perhaps her relationship with her two boys attests to this fact. When she first learned the ropes of baby massage, she tried it on her boys and saw the benefits for herself.
"I used to do it for them when they were babies. Even now, I still massage for them. Now that they are older (11 years old), it's reciprocal. Sometimes when they see me tired, they volunteer to do it for me. They even know the right spots to massage because I did it for them before."
The power of human touch
Infant massage not only encompasses touch, which is a powerful element in human bonding, it also supports non-verbal, verbal communication. In situations where delayed bonding happens such as premature birth, recovery from caesarean, medical complications, adoption or post natal depression, infant massage has the potential to recreate the elements of bonding. Not only mothers, fathers can also benefit from infant massage. It gives them time to connect and interact with their child on a deeper level than day to day contact provides.
For more information, visit dorisseau.wixsite.com
Like what you see here? Get parenting tips and stories straight to your inbox! Join our mailing list here.
Want to be heard and seen by over 100,000 parents in Singapore? We can help! Leave your contact here and we'll be in touch.