Rena saw how her boy's spirit got weakened day by day after he came back from school. She knew if there was one thing that would perk her little boy's spirit, it was his interest in drawing. And that was how heART Studio was formed.
Why Art?
Rena Chew started the studio with the pure intention of helping her eldest son Elijah, gain some confidence. He loved to draw and she saw that it gave him immense joy and was a great confidence-booster. Her mission was not just to bring art to parents and show them how it can benefit their child, but also help parents understand their children better.
"I realized many children simply follow instructions, without having a voice of their own. We decided to come up with a programme where children were free to share their ideas, yet providing a structure, so that they can do so in an orderly and consistent manner. We have various themes throughout the year to follow, but in a class, teachers provide them with choices to make their own decisions." Rena adds.
Mother Melissa Foo was already keen on enrolling her son Zachary for art lessons. But she did not "want a teacher who would just draw, paint or colour something for him to show me every week." After 20 minutes into Zachary's trial class at heART Studio, she signed him up on the spot for a semester and has not regretted a moment of it.
Ting, a Stay-at-home mum, who also blogs, initially had doubts about art classes. Furthermore, her son Kyle is mildly autistic, which meant he could not sit still for long and had learning difficulties. But after enrolling Kyle at heART Studio, she saw how he started to make great progress in his attention and behaviour. She now believes otherwise.
"I used to think that art classes were a waste of money. Now, my boy has developed an interest in this area and he has improved tremendously, not just in his learning and fine motor skills, he is also able to concentrate better and has grown to be a more confident boy."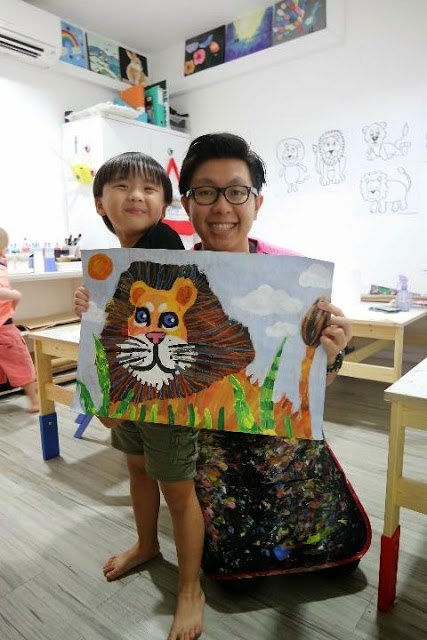 Kyle and Teacher Jay.
Read more about Kyle's art journey at Mummy Ting's blog.
Art is for Everyone
heART Studio opens their door to children with special needs. In her studio, Rena has students with Autism, ADHD and sensory disorder. She tells parents honestly that although her art teachers have no formal training in dealing with children with special needs, what they do have to offer is – their patience, love and understanding. Students with special needs have one-to-one sessions until they are comfortable and ready to join their peers for a combined class. The maximum teacher to child ratio is 1:6.
Programme
Each child is given their own journal, where each week's work will be kept in a sequential manner. It will cover the various kinds of art medium used and new knowledge learnt. The older children are encouraged to write on their own plans and ideas in their journal, to help retain what they have learnt and also to develop their literacy and writing skills.
Each week's lesson is progressive; built upon what was learnt the week before. It is not a one-art-piece-per-week routine. And if your child misses a lesson, the studio will follow up with a make-up lesson so that your child does not get left behind.
Little Botero (3 – 4 years)
Little Dali (4 – 5 years)
Little Picasso (5.5 – 7 years)
Young Van Gogh (7.5 – 12 years)
Duration: 1hr 15mins (Once a week)
Schedule: Wednesday to Sunday
Teaching Art from the Heart
Rena's nurturing nature and passion for art are evident in her team of dedicated full-time teachers, who are graduates from LASALLE College of the Arts or Nanyang Academy of Fine Arts. Melissa shares her fondness for one of the teachers. "Zachary's teacher, Syafiq, is wonderful with children, with a genuine passion for art which rubs off on the children. My son is very happy and comfortable with him, and I could not praise Syafiq enough. The staff here is excellent and highly professional."
"Every child is an artist. The problem is how to remain an artist once we grow up." – Pablo Picasso
Address: 1 Charlton Lane #01-04, Singapore 539631
Tel: 6554 7563
Email: info@heartstudiosg.com
Website: heartstudiosg.com
Facebook: @Heart-Studio-Singapore
This was first published in Parenting with Love: Preparing your child for Primary School
* * * * *
Like what you see here? Get parenting tips and stories straight to your inbox! Join our mailing list here.
Running a service or business targeted for parents? Reach out to a wider audience in our Art Classes for Kids compilation. Leave your contact details here and we will get in touch with you.