Looking for a book to introduce Phonics to your toddler?
Let Rainbow Bear take you and your child on a lively journey through in An Alphabet Zoo: Phonemic Adventure. Meet and make friends with Ellie the Elephant, Kara Koala and Uncle Ultrasaurus. With colourful literacy aids from Julia Gabriel Creations, this book helps children from ages 2 – 5 to articulate speech and be more confident in their reading. The accompanying CD and songbook offer you and your children the perfect opportunity to share the joy of learning together.
TNAP spoke to Julia Gabriel, Founder and Director of Julia Gabriel Education, and author of the book An Alphabet Zoo: Phonemic Adventure.
1. What was the inspiration behind the book?
Children need inspirational role models and respond especially well to animals or characters that are friendly, loving and funny. The book's illustrator, the wonderful Kathy Creamer, had worked with me over 20 years previously to bring our Play Club Bear families to life (now an integral part of our early childhood programmes).
Kathy's stunning illustrations capture perfectly the character of each animal. Each page is full of stimulating activities and drama ideas in addition to learning the most common sound of each letter. The most meaningful learning occurs when it feels both easy and fun and that's what this book aims to achieve.
2. The book comes with a CD of songs as well. How do you recommend parents to use the CD?
The CD has one song for each sound of the alphabet and is best used alongside the book as a complimentary literacy aid. The CD will enhance your child's listening skills and the ability to recognise the different sounds. However, children will also love listening to the CD on its own, so play the CD in the car or any time while at home.
Each alphabet character has a different voice and your child will soon find their favourite. The repetitive tune and rhythm make it easy for young children to pick up, remember and sing along to.
3. How important is it that children enjoy reading in this digital age?
Today we communicate very differently from just one generation ago. Not only that, digital technology changes constantly and rapidly. Today's high tech gadgets or social media apps will be out of date tomorrow! Not all children are keen readers but to build strong language skills and to communicate confidently and expressively, they must be given opportunities to use whole language.
Whether via a traditional book, on a Kindle or other device, an enjoyment of reading opens up a world of possibilities. Reading a variety of text types and genres allows children to explore, discover, imagine and create themselves.
4. What do you hope parents and children gain from this book?
This book lays the foundations for confident early reading and strong communication skills, but most importantly it ensures that the learning process is really enjoyable. Each page is packed full of colour and fun, and can be used in so many different ways. Enjoy time with your child counting certain objects, or ask them to search for one in particular.
Use open-ended questions and ask them what they can see. You can even use each page to make up your own story. The lyrics of each song on the CD are repeated to make it much easier for children to capture the most common sound of each letter and understand how it can be used.
I hope that Rainbow Bear and his alphabet friends inspire you and your child to enjoy a wonderful learning journey together.
TNAP Quick tips on how you can use the book: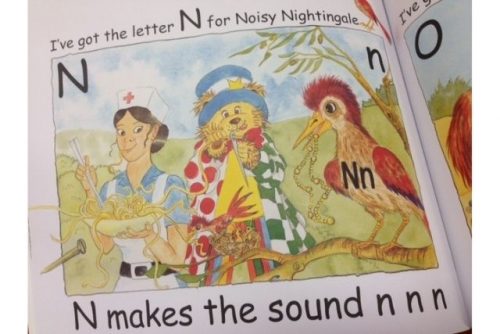 Introduce your children to phonemics (sounds of words and letters)
Articulate the words and letters together with your child
Discuss about the different types of animals featured
Listen to the accompanying CD and songbook and sing along with your child
The book is now retailing at $29.95 and is available at bookstores, educational stores and Julia Gabriel Centre.
* * * * *
Like what you see here? Get parenting tips and stories straight to your inbox! Join our mailing list here.
Want to be heard 👂 and seen 👀 by over 100,000 parents in Singapore? We can help! Leave your contact here and we'll be in touch.