Vitamin C is a crucial nutrient with multiple uses in our body. Beyond boosting immunity systems and keeping infections at bay, Vitamin C forms and repairs red blood cells that keep gums healthy. It is also vital for active children, as Vitamin C strengthens blood vessels to minimise bruising from scrapes and helps to heal wounds by multiplying the absorption of iron from various foods.
While people often take this source of nutrient for granted and rely on regular meals for Vitamin C intake, we should not neglect children who are picky eaters that typically exclude fruits and vegetables in their diet.
Zespri has created their very own variety of creative recipe ideas to incorporate an optimal intake of Vitamin C in diets. From healthy smoothies to everyone's favourite desserts, keep your children feasting on these healthy Zespri treats!
Zespri SunGold Kiwifruit Lollies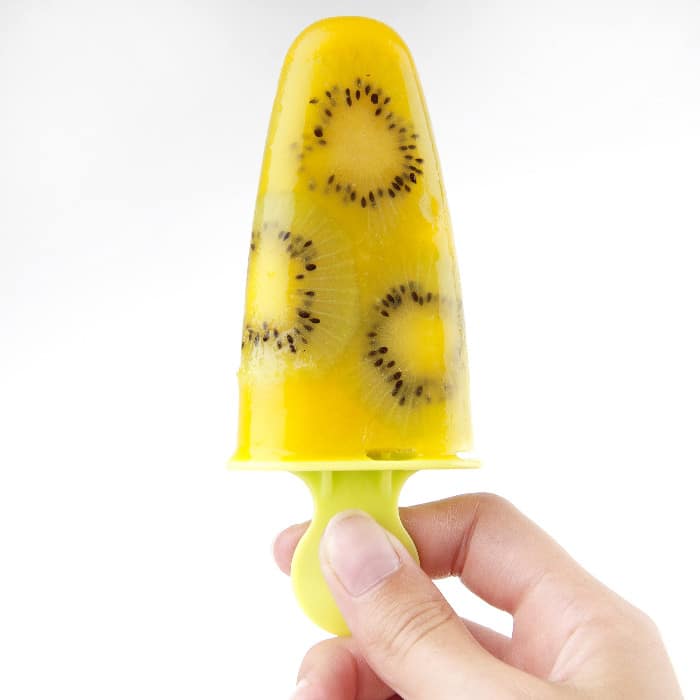 Serves 10
Required time: 20 minutes preparation time & 4 Hours to chill
Preparation: 20 minutes for preparation & 4 hours to chill
Ingredients
1 litre exotic fruit juice as desired
2 tbsps icing sugar
3 Zespri Green or SunGold Kiwifruits, peeled and thinly sliced
Ice lolly moulds
Directions
Store in fridge.
Divide the Zespri Kiwifruits between the ice lolly moulds
Top up with your favourite fruit juice
Put the Zespri kiwifruit ice lollies in the freezer for 4 hours, or until frozen
Zespri SunGold Kiwi fruit & Date Smoothie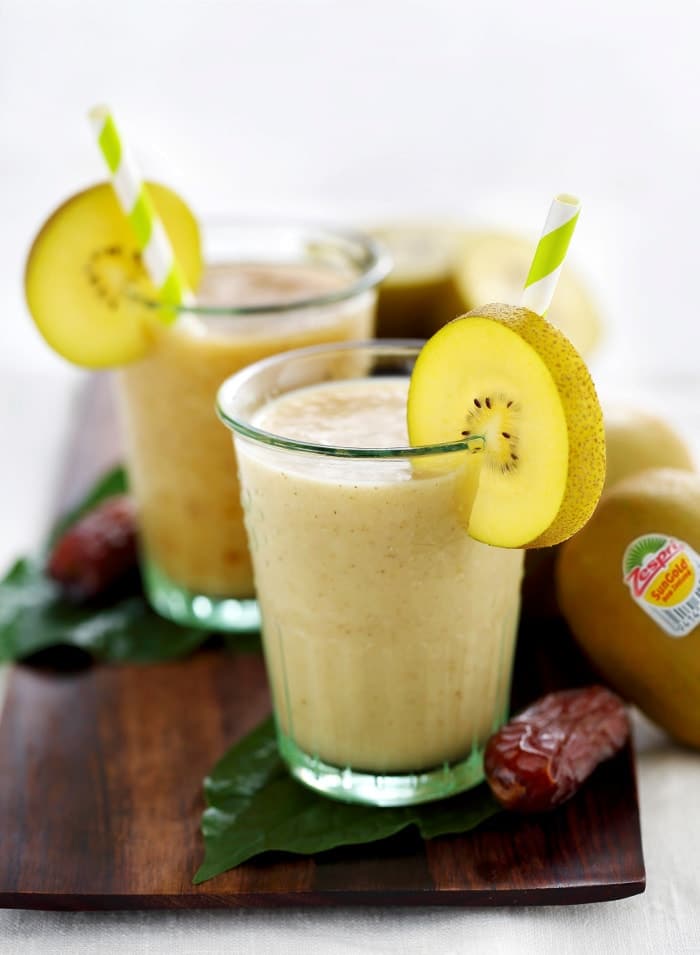 Serves 1-2
Ingredients
3 large, ripe Sungold kiwifruit (peeled, weight around 400 g)
thickly sliced
100g dates (stoned and roughly chopped)
50g honey (about 2 tablespoons)
2 cups of ice
3 tablespoons yoghurt (optional for richer smoothie)
Directions
Place all ingredients in the clean jug of a blender and whizz until smooth.
Pour smoothie into chilled glasses, garnish with a Sungold kiwi slice and serve immediately.
Developed exclusively for Zespri by popular Malaysian chef Rohani Jelani
Zespri SunGold Kiwifruit Rainbow Cup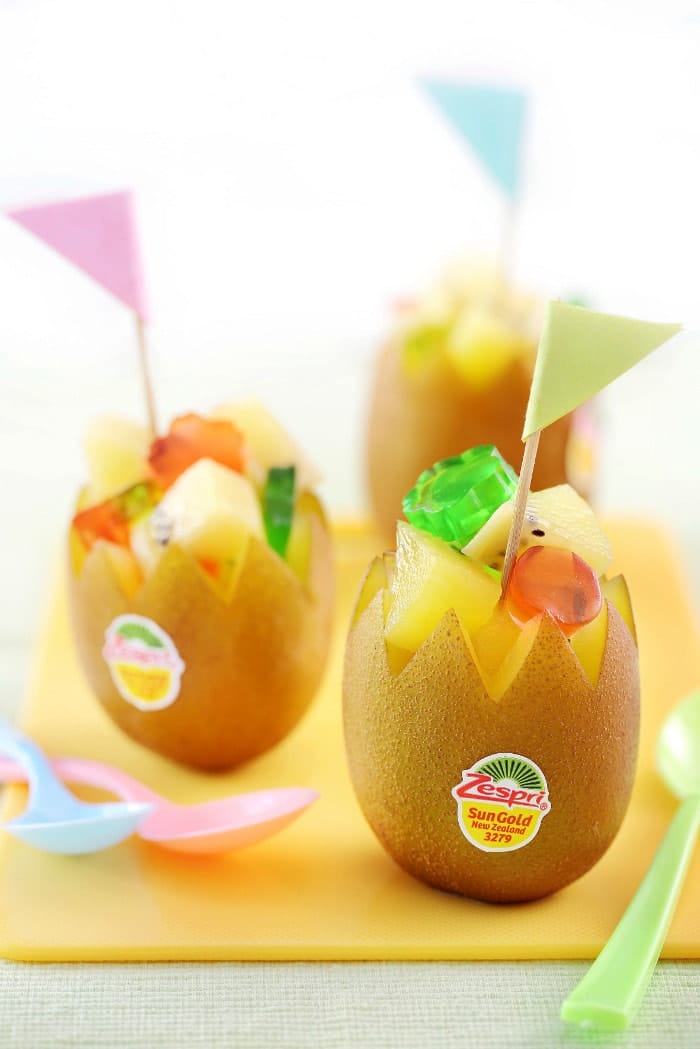 Serves 6
Ingredients
6 large firm, ripe Zespri® SunGold Kiwifruit
1 packet of konyaku jelly crystals
A few drops of food colouring
Directions
Make the jelly according to the instructions on the packet, adding sugar to taste.
Divide jelly into 2 parts and tint each one with a few drops of food colouring. Pour each colour into a small bowl or tray and set aside to cool. Chill well in the fridge and cut into small neat cubes or stamp out with small flower cutters.
Sit a SunGold Kiwifruit on its base (the wider end where the stalk is attached). If necessary, trim base slightly so that kiwifruit does not wobble. Using the tip of a small paring knife, cut the top end of the kiwifruit about 1/3 of the way down (as shown in illustration). Remove this top part of the kiwifruit.
Scoop out the SunGold Kiwifruit flesh with the sharp edge of a teaspoon, leaving a kiwifruit 'cup' with about 0.5 cm thickness. Cut kiwifruit into cubes or triangle shape.
Pile SunGold Kiwifruit and colourful jelly back into the 'cups' and arrange them on a platter or tray. This can be prepared a couple of hours before serving.
Developed exclusively for Zespri by popular Malaysian chef Rohani Jelani
For more recipes, head over to our Baking and Cooking section.
If you find this article useful, do click Like and Share at the bottom of the post, thank you.
If you liked this recipe, show some love by liking and sharing it at the bottom of the post.