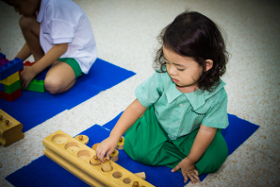 Wharton Preschool adopts a three pronged approach for their curriculum – The Montessori Method, Group Participation and Literacy. By integrating these methods together, the school aims to bring out the best in every child through fun and play.
The Montessori Method
An educational approach developed by Italian Physician Maria Montessori, The Montessori method was created for children from birth to eighteen years old. Known for its emphasis on independence, freedom within limits, and respect for a child's natural psychological development, this renowned method is practiced by Wharton Preschool, which is one of the three core methodologies of the school.
To foster the Montessori Method, each child at Wharton is given his own space to explore an array of educational activities designed to develop his knowledge, skills and abilities. Hui Hoon, Wharton Preschool Administrator explains how the Montessori approach helps children to learn on their own through experimenting, and encourages them to become focused and independent learners, where progress is not graded, but celebrated.
Even Google Founders, Sergey Brin and Larry Page credited their success to their nursery development with Montessori, which helped to shape their character and the way they think. To hear what they have to say about Montessori, go to www.thenewageparents.com/google-founders-talk-montessori/
Group Learning

Further, she also points out how the school create opportunities for children to learn together as they encourage children to learn how to work as a team. "We believe that we need to fit our program into the social context of the Singapore." She adds. This is evident in their Group participation lessons, where children learn important communication and team work and are given ample opportunities to develop their creative and expressive talents.
Curriculum
To facilitate each child's transition to Primary school, the school introduces subjects with close reference to the style and routine of the MOE system in a stimulated environment. Each child will graduate from Wharton Preschool with Linguistic, Mathematics and Science competencies. To ensure this, the school adopts a student-teacher ratio of about 1:10 in their classrooms. "With this student-teacher ratio, the school believes this will help to increase the level of teacher's facilitation." Hui Hoon explains.
The 7000 sqft brand new center, occupying 2 storeys  that overlooks greenery, is complete with indoor and outdoor(phase2) play area, hence allowing ample space for physical activities. Looking for a preschool that supports individual and group learning and located near Ang Mo Kio?
Call 6455 6100 or drop an email to enquiry@Whartonpreschool.com for more information. Enrolment for 2013 is now open.