Bisphenol A (BPA) is a man-made chemical used in polycarbonate plastic, the material used to make most baby bottles and other shatterproof plastic food containers. Bisphenol A (BPA) — which has been linked with cancer, impaired immune function, hyperactivity, and other problems — can leach into a bottle's contents.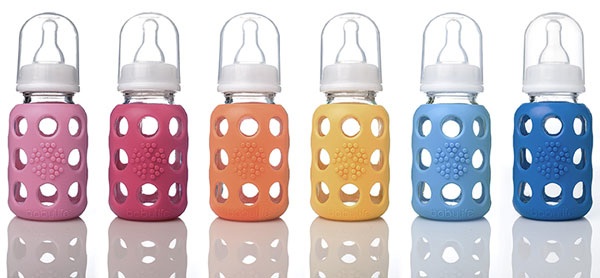 Besides being present in polycarbonate plastics, a material popular for its light weight, versatility and durability, BPA is found in the lining of canned food, compact discs, adhesives, paper coating and dental sealants.
A study released recently in the United States confirmed that exposure to high levels of BPA could cause erectile dysfunction and other sexual problems in men. Newborn and infant exposure to BPA poses an even greater threat during windows of vulnerability. These periods, as short as hours and days, are times when a baby's developing body is exquisitely sensitive to chemical damage. Even minute exposures, during those periods, have the potential of creating lifetime problems.
Parents are more educated and Internet-savvy these days, and the awareness has thus grown since news about the chemical started. In Singapore, BPA-free plastic products are more widely available right now.
Pediatrician Harvey Karp, M.D., a board member of Healthy Child Healthy World, says "there's no need to be frightened, but you should try to reduce your baby's exposure to this chemical." Here's how:
Avoid hard polycarbonate plastic, which contains BPA. Instead, use bottles made of glass, or softer, safer plastics made of polyethylene, polypropylene, or polyamide.
Discard worn bottles (those that are cloudy or scratched): Chemicals leach into food or milk more easily when plastics break down.
Don't heat plastic bottles in the microwave, or wash them in the dishwasher, since heat degrades plastic, releasing chemicals.
With so many news reports concerning toxic chemicals leaching from plastic baby bottles into baby's milk, more and more parents are going back to the traditional glass baby bottles as the safest option after breast feeding.
The key benefits of using glass baby bottles include:
Glass bottles are naturally BPA and lead-free.
Glass bottles eliminate potential health problems for your newborn.
Using glass is hygienic and is easy to clean in dishwasher, boiling water or sterilizer.
Easy to use as made from strong, tempered heat-resistant glass.
No sticky residue or smell from previous feeds is left on glass bottles.
Glass, unlike plastic, does not turn cloudy or get scratch easily.
Glass, unlike plastic, is a renewable resource and can be recycled for additional use.
The main concern that most parents have regarding the use of glass baby bottles is that they have the potential to break very easily. Now with the introduction of glass bottles with protective sleeves, parents do not need to worry about bumps and breakage anymore, when using glass baby bottles.
Currently, the Weego glass bottles have made their way to Singapore. The Weego glass baby bottles are created by, Pam Marcus, long time pediatric feeding specialist and award-winning designer Daren Joy.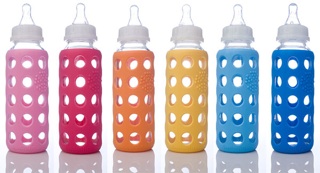 The Weego glass bottles are BPA-free, making them a safe choice for your baby and taking away the concerns over chemicals leaching in plastic baby bottles. Lifefactory fuses scientific research and modern design to make bottles that are healthy, innovative, developmentally appropriate and earth-friendly.
The Weego baby glass bottles are covered with a trendy, developmentally appropriate and eco-friendly sleeve that will help protect the bottle from breakage and provide a great gripping surface and tactile experience during feeding.
Key Features/Benefits:
Bisphenol-A (BPA), phthalate, and polyvinyl chloride (PVC) and polycarbonate free.
Silicone sleeve (with measurement) is 100% NON-TOXIC and free of plastics.
Silicone nipple is NON-TOXIC and latex-free.
Plastic ring, plug and cap contain no polycarbonates and are food grade, FDA approved and recyclable.
Sleeve provides a good gripping surface during feeding and also a great tactile experience for your baby.
Both the bottle and sleeve can be sterilized, microwaved or put in the dishwasher.
Fits perfectly on a Medela pump.
Both the bottle and sleeve can go into the freezer, making breast milk storage simple.
Weego glass bottles are available at Lazada.
Article by www.75volts.com/C/Babe75.
* * * * *
Have you heard of BPA before and have you switch to BPA free glass baby bottles? We love to hear from you. Simply leave us a comment below.
Want to be heard 👂 and seen 👀 by over 100,000 parents in Singapore? We can help! Leave your contact here and we'll be in touch.