Today, one in three Singaporeans are involved in volunteerism. Yet, volunteer involvement declines sharply in one's mid-20s. Even though participation returns in the 30s, it is not as high as before.
How can parents encourage young children to form a habit of giving right up to adulthood? The answer lies in transforming our social culture, where self-service becomes the default, where giving becomes part of our DNA.
Dr Carol Loy, Director of Curriculum at Kinderland Singapore, shares tips and ideas on how parents can instill the spirit of giving in our children from a young age.
Why it is important to instill the spirit of giving from young?
Higher chance of children volunteering to adulthood
When children are exposed to the concept of giving from young such as when they decide to donate their used books to charity, there are higher chances for them to put it into practice and continue the habit of giving through adulthood.
This is because children absorb all the information around them in their early years and it is therefore recommended to nurture good values in them as early as possible.
Personal development and growth
As children embrace the spirit of giving, they learn what it means to be a global citizen, the multiplier effects of small acts, and the difference they can make on others. They also get to learn about the world beyond their own experiences, reflect on what giving means to them, and the kind of changes they would like to see.
How can parents introduce or teach the concept of giving in children?
Children listen to their parents and emulate them. As parents, we can introduce the concept of 'giving' by leading the way.
To get started, you and your child can participate in a cause together. This also allows your child to learn life skills such as dealing with different types of people and the importance of helping those in need.
Parents' involvement also sends a powerful message. It shows that giving can coexist with the demands of building one's career and family because one can be never too busy to do one's bit for society.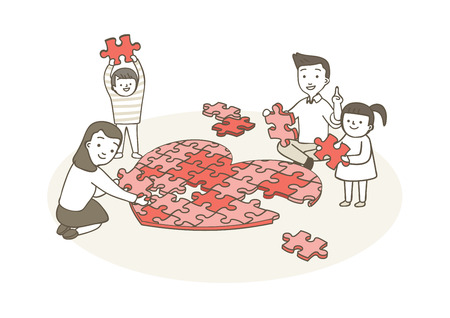 Make philanthropy a part of our lives
There are many instances in our daily lives that we can use as life lessons for our children. You can encourage their children to set up a book donation corner for them to sell their used books at a book fair; proceeds can go towards a cause that your child believes in.
In this way, they will want to make the act of giving a part of their lives. You can also encourage your child to sell toys they no longer play with, and donate the proceeds from the sale to a charity that cares for the needy in your community.
⇒ Related Read: Teaching our children the value of giving thanks
When is a good age to start introducing this concept?
It is never too young to start volunteering. The key is to find age-appropriate activities for your child, and a cause that your child cares about.
A preschool kid can join their parents in an environmental thrash pick-up by the beach, chime in to help with hanging trinkets on the Christmas tree, and perhaps even join their parents to put up simple performances at home during this festive season!
⇒ Related Read: Where To Volunteer With Kids In Singapore
Different ways to encourage this spirit of sharing and giving in children
Charity begins at home. For a start, your child can choose which old clothes they would like to donate or give away. You can assist your child in the packing process and have them donate it to the less fortunate children together.
In efforts to provide a holistic education to children, schools are placing greater emphasis on character development. For example, at Kinderland Singapore, corporate social responsibility (CSR) is a cornerstone of our curriculum.
Kinderland's students took part in the Sulawesi Earthquake Relief project, a CSR initiative that came about following the 7.5-magnitude earthquake in Indonesia.
As part of the initiative, the students went around the school to encourage teachers and parents to donate to a cause. We raised over $11,000 for the victims of the Sulawesi Earthquake and Tsunami.
CSR projects can help nurture individuals with compassion and social responsibility from young. At the same time, it allows children to learn about the multiplier effects of their small acts and the large impact their actions have on the community.
What should I do (or not do) if my child does not respond well to this idea of giving?
If your child does not respond well to the idea of giving, first determine the cause to better address the issue.
If the reason is due to the inability to grasp the idea of giving, you can turn to role-play or storytelling to teach empathy. This entails presenting a scenario to children, then getting them to decipher the feelings of the characters while providing the necessary guidance.
If it is due to fear of the public, you can take it slowly with your child and start small. At home, parents can encourage their children to donate some of their toys to the less fortunate children. Your child must be willing to be a part of this donation exercise for them to experience the joy of giving.
This article is contributed by Dr Carol Loy, Director of Curriculum at Kinderland. This is part one of a series by TNAP and Kinderland, focusing on developing E.Q skills in children.
* * * * *
Like what you see here? Get parenting tips and stories straight to your inbox! Join our mailing list here.
Running a service or business targeted for parents? Reach out to a wider audience in our Preschool Singapore compilation. Leave your contact details here and we will get in touch with you.